It Was An Arty Pop Up Party
A creative celebration of the Emerald Coast Arts Scene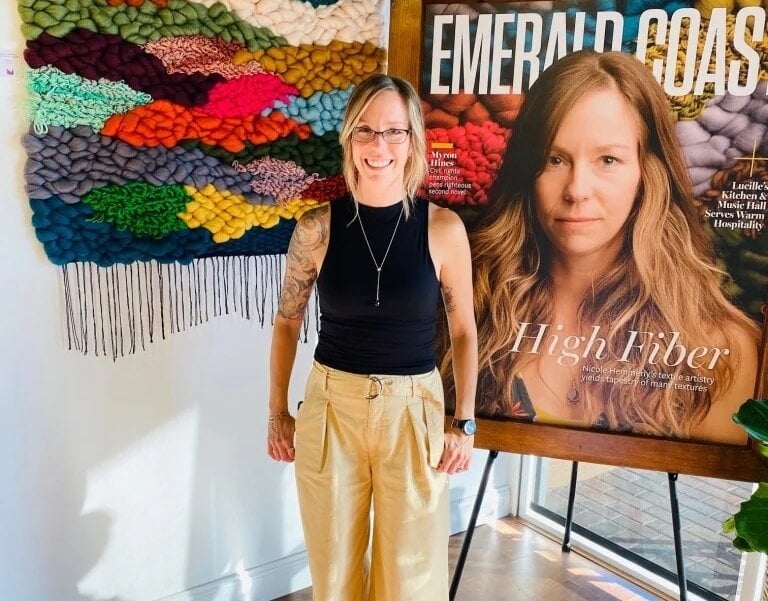 It was an arty Pop Up party. Artists, designers, gallerists, photographers, musicians, writers — even mixologists — gathered at Maxine Orange Studio + Gallery in Fort Walton Beach on a warm spring evening in May.
The creative Pop Up Party coinciding with Art Month was the perfect way to celebrate the April/May "art issue" of Emerald Coast Magazine. The mood was festive as guests from Panama City to Pensacola mixed, mingled and shopped artwork by many of the artisans featured in the current issue.
Luscious woven fiber art by "cover girl" Nicole Hemmerly of MossHound Designs warmed the gallery walls. The Niceville-based artist was humbled by the cover story and already is getting interest from the story.
"I'm getting calls. People have been so warm and welcoming to me and my art. It has been amazing being able to show my work in this gallery and now this story. I'm excited about it all," she said.
Women's flowy fashions, embellished jean jackets, and plucky painted bucket hats — a new trend just in time for summer — by 30A designer Mary
Ellen DiMauro filled a wardrobe rack and table in the center of the gallery. Hand-forged metal jewelry art by Santa Rosa Beach artist Merry Beth Myrick added sparkle and shine. Artist/illustrator Jason Lindblad, owner of J. Leon Gallery in Miramar Beach, and Emerald Coast writer Hannah Burke had a chance to catch up at the event since Lindblad's interview for the Citizen of Style column.
Gallery owner/artist Maxine Orange was a welcoming host and Emerald Coast Magazine associate publisher McKenzie Burleigh kept conversations flowing by brokering friendly introductions between magazine readers, Emerald Coast staffers and guest artists.
"It's an honor to host this event. I love EC magazine because they are a big supporter of the local arts and so this is fun for me," Orange said.
Guests got a chance to view Michael Lunsford's Star Wars-themed art collection, talk with Alan Moore of Moore Family Art about his recycled sea-themed artwork, and former cover artist Bradley Copeland (February/March 2022) about her bold mixed media pieces along with other local creatives while nibbling on charcuterie bites as moody music played.
Posing for keepsake photos with oversized gold-framed cover art and the opportunity to enter and win an Emerald Coast Resort Getaway at the beachfront Hilton Sandestin Golf Beach Resort & Spa only added to the excitement.
A toast was in order and thanks to Black Sheep Tequila, Timbercreek Distillery and Palm Folly guests had delicious handcrafted concoctions. Each spirit partner deliciously demonstrated to guests that creating libations is an art form, too.
Black Sheep Tequila is produced at the Integradora San Agustin, S.A. de C.V. distillery in Tototlán, Mexico in the Jalisco Highlands. Black Sheep describes its Tequila as a "farm to bottle," "single estate, small-batch line of Tequilas."
The Timber Creek Distillery is located on a family farm just north of Destin, Florida. Their vision is to take the best local fruits and grains from the Florida Panhandle and transform them into the finest Craft Spirits.
Palm Folly founder Meaghan Easterhaus and head brewer, Josh Espinoza (son of Mako Mark), personally poured refreshing new recipes of all-natural citrus-infused, vegan, non-GMO hard seltzers. This event marked its debut on the Emerald Coast event scene. Soon they will pour their seltzers in their new taproom, slated to open in The District, in Santa Rosa Beach in August.
Award-winning bartender Michael Jones (The Craft Bar) shook up Toast of the Emerald Coast and EC Expression and other specially curated cocktails to celebrate the occasion. With one sip of his signature pear-infused rye cocktail, it was crystal clear how Jones earned the first annual Golden Shaker Award in April at the South Walton Beaches Wine & Food Festival.
"I love taking the time to create balanced flavor profiles," Jones said while shaking a grapefruit-infused Paloma. "Plus, these events give me a chance to get out in the community and that is fun." Jones has been busy overseeing the build-out of Beach Camp Brewery, which will open in Destin (in the old Hog's Breath location) this summer.
Capturing the moment was 2021 South Walton Artist of the Year Chandler Williams and the talented Modus Photography team. He launched Modus Photography in 2006. During recently opened a stunning new working studio space on 393 and also is expanding his creative portfolio into Fine Art.
The quality of any community is often measured by the health of its art scene. Clearly, this year's 147-page arts & culture-themed issue tells us the Emerald Coast is alive, growing … and well worth celebrating.
"Music and other arts speak a universal language. They unite us, promote understanding and enlarge perspectives," Burleigh wrote in her associate publisher's letter in the April/May issue." Our creations are extensions of us, reflections of who we are. They tell stories. It is like art, universal in nature, and at its best, lasting."
We look forward to the next time we can connect to celebrate another issue … our community and one another.