A Gamer with Game
Jason Lindblad realized a fantasy by opening gallery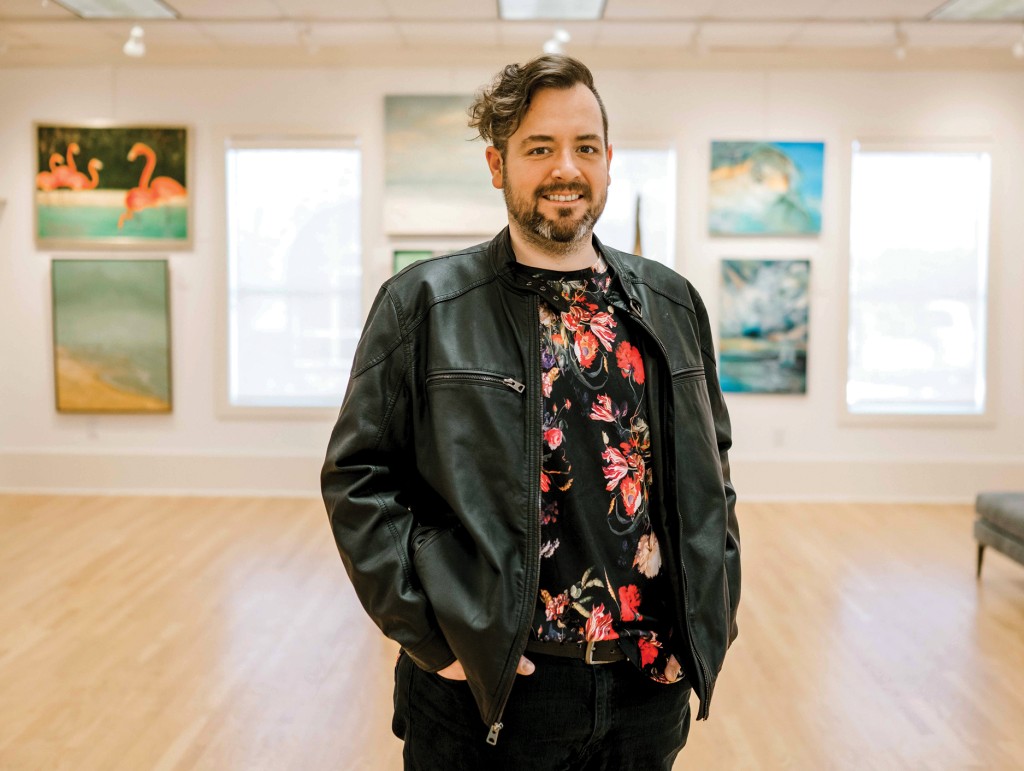 When I arrived at the J. Leon Gallery + Studio in Destin last winter, its entrance was festooned with clusters of pink, red and silver balloons. From behind a counter, Jason Lindblad, the gallery's owner and featured artist, assured me the froufrou was not to welcome me, but was instead for an upcoming "Sip, Shop and Stroll" event.
In addition to artist workshops and ceramics classes, Lindblad hosts these occasions monthly, inviting the community to enjoy libations and peruse the work of 19 mixed-media artists.
Lindblad led me through a sea of beachscapes and depictions of marine life to a couple of velour loveseats at the back of his place. Here, a wall was splashed with Lindblad's own work: chromatic, contemporary etchings of liberated performers with impressive cheekbones and untamed pastel hair.
"That's my 'Dancing Divas' series, which was primarily inspired by Pride month," Lindblad said. "It's the way the light hits your face on the dance floor, the big, wild wigs worn by drag queens that fly around when they're moving."
Lindblad's art is to his gallery as Lindblad is to Destin: anomalistic.
As a curator, Lindblad said he is usually the one "pushing for the innovative, contemporary art that wouldn't typically sell in this area." And, whether for recreation or inspiration, you won't find Lindblad at the beach or aboard a fishing boat. He prefers spending his free time engrossed in his PlayStation, thrift shopping with friends and making art at home.
Taking the form of both pen-and-ink illustrations and digital paintings, Lindblad's creations are often inspired by the vivid world of video games — especially the wispy, watercolor Final Fantasy character concept art by Yoshitaka Amano. Lindblad's forearms are tattooed with these characters as a reminder of his late grandmother, Virginia, with whom he played the game series.
For Lindblad, illustration is the ultimate form of self-expression. Growing up in Paducah, Kentucky, he began taking private art lessons at age 5 and, unlike most LGBTQ+ kids from
small towns, was able to flourish in a supportive, nurturing environment.
His high school English teacher gave him books by David Sedaris to read, and Lindblad said his art teacher "taught me how to look at art, develop a sense of style and be my most authentic self — she's still a good mentor of mine."
Lindblad attended both SCAD Atlanta and the School of the Art Institute of Chicago. In Chicago, he gained an appreciation for the Art Deco movement.
"I'm not a planner," said Lindblad. "Often, I listen to music while I'm drawing and let the movement of whatever song is playing influence the direction of dots and lines. Usually, it's upbeat electronic music with lots of different sounds and rhythms."
Lindblad frequently draws women who inspire him. His longtime muse was Madonna, but lately, it's been English electronic musician Alison Goldfrapp. During my visit, her songs, with their siren-like vocals and ethereal, synth-pop percussion, were playing at the gallery.
"Powerful, elaborate women have always intrigued me," he said. "I'm always drawing them and my fashion ladies."
Indeed, Lindblad frequently defaults to sketching vintage fashion models. These women, with their signature oversized, platform shoes and ostentatious costuming convey his love of theater and outmoded style.
"Fashion is art, and art is fashion," Lindblad said. "You can't have one without the other. Designers sketch their concept, it goes to a sewing machine, then a runway and to the magazine where somebody sees it and redraws it. It's cyclical."
Lindblad today is dressed in a black tee, dark denim and Converse sneakers. Later on at the Sip, Shop and Stroll event, he'll wear one of his loud, printed dress shirts.
"I love print!" Lindblad declared. "If I could wear funky wallpaper all the time, that would be my wardrobe. That and velvet sports coats. I like to wear crazy stuff, and I don't think things have to cost $100 to be stylish."
He cites his mother as one of his major style influences, as well as the "cool, vivid programming" of old-school Nickelodeon that featured production design by pop and street artist Keith Haring.
While attending school in Chicago, Lindblad enrolled in classes in the fiber arts department, where many of his peers were fashion students.
"I was this kid from Paducah wearing ratty T-shirts and cargo shorts, and my friends were like, 'We're going to Yves Saint Laurent, and you cannot show up like that!'" he laughed. "I learned a lot from them, and it was actually a friend from there who told me I should start going by J. Leon, my middle name, because it was much more stylish. My last name tends to be misspelled or mispronounced, anyway."
For Lindblad, opening the J. Leon Gallery + Studio in 2020 was a dream realized. Despite having attended art school, Lindblad said drawing had remained a "side gig" and a mere creative outlet while he worked for many years at GameStop.
"Going from working at the same company for so long to owning an art gallery is a completely different world," Lindblad said. "I'm learning something new every day, and I get to be an artist while supporting all the other artists in this community, which makes me very happy.
"Even in the past year, the art and culture in our area have grown so much. I want to help keep things moving forward and to make sure artists have a space to showcase art and make art for art's sake."