Meet Maxine Orange
A Creative with A Passion for Life as Zesty as Her Name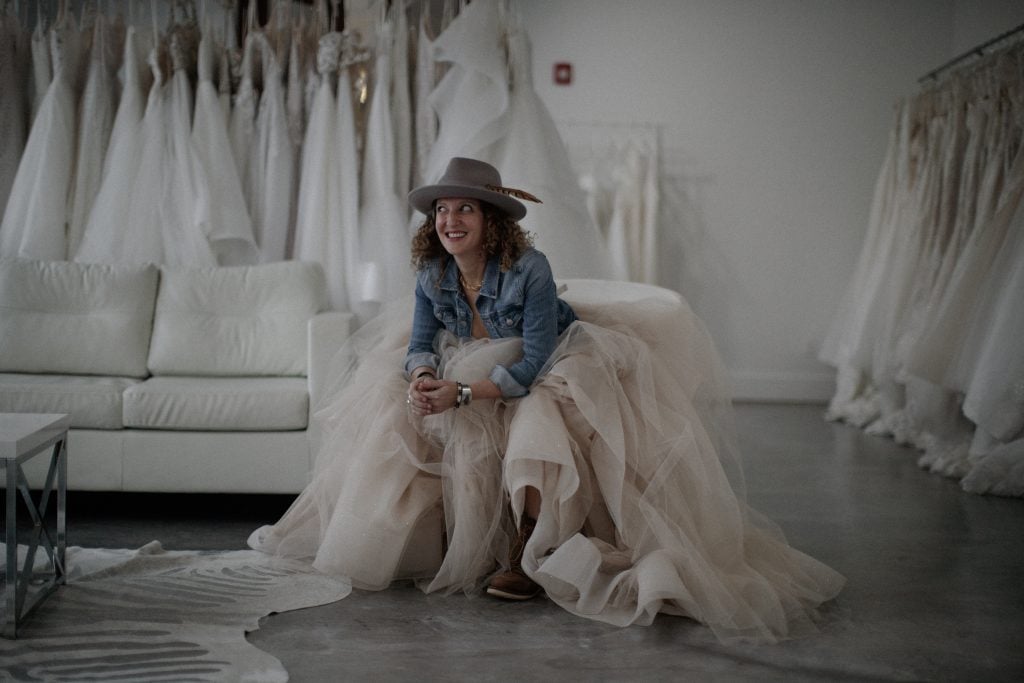 With a given name like Maxine Orange, you might expect someone bold, colorful, and original. Indeed, you get that — the Southern gentility from being born and raised in Montgomery, Alabama, is sweet frosting.
Orange, 42, is hazel-eyed with a crown of cascading curls. A BFA degree from the University of Alabama is put to good use for this abstract mixed media painter with a graphic design background. Not surprisingly, this outgoing artist has found a unique way to channel her ample art skills and passion for fashion with her brainchild: Abstract Bridal Portraits. Essentially, bridal couples commission her to create original works of art to commemorate engagements, weddings, and anniversaries. Some clients invite her to capture the milestone moment by painting live at weddings. Orange's distinctive painting style is apparent in her dramatic use of color and texture.
"My work has a lot of energy and motion," she says. "Of course, I love to paint the dress, always, but I also just the way the suits on the men look, just the way scribbles can capture the wrinkles in the fabric."
An Artful Life
Orange and her sister grew up steeped in the arts: dancing, singing in show choir, and attending art classes.
"My grandmothers were both crafty. They each always had a big, huge closet full of arts and crafts supplies," Orange recalls. "I would get to their houses and just to straight to the closet to see what I could get into."
She also attended Baldwin, Montgomery's first arts-focused magnet middle school.
"I had a great art teacher named Jim Gunter, who I'm still connected with," Orange says. "He's an amazing artist, so that was a big impact as well."
Orange has been married to her husband, Neal Bern, for 11 of the 20 years they've been together. After living in New York City and Huntington Beach, California, a business opportunity, and a desire to be closer to family brought them back to the southeast and in 2012 they relocated to Destin.
As dynamic as her artwork, Orange supports other local creatives with marketing and social media consulting services. Her vibrant work graces the walls of Beachworx office space in Destin. And in 2020, during the pandemic, she poured her creative passion into a podcast she called "Creative People," featuring streaming interviews with local artists and creatives.
But of all her creative endeavors, the one she is most proud of is also the most unlikely.
"The underwater sculpture for the Underwater Museum of Art is one of my greatest creative challenges," she confesses.
Touted as the first permanent underwater sculpture garden in the nation, this creative collaboration was launched in phases by the Cultural Arts Alliance of Walton County beginning in 2018, spans one acre in size, and is located about one nautical mile off the coast of Grayton Beach in South Walton submerged 60 feet below the emerald Gulf waters.
Orange's piece, entitled Love Thyself, was a collaboration with concept designer Maurice Hunter with body casting by Velia Lala, and welding by Kyler Fitch and Eric Shackelford.
"It's a woman in a dress standing in front of a full-length mirror, looking up. Across the top of the mirror, it says "Love Thyself. If you're on the opposite side, the frame of the mirror is empty, so she's your reflection in the mirror."
The exhibit of 25 pieces is a dive site. Because the depth is below 40 feet, it requires divers to be certified. Orange is conjuring the courage to visit her artwork in person.
"Before I did the piece, it was the one thing that I was never interested in doing. Scuba diving kind of freaks me out, but now that I have a reason to go, I'm like, if everybody else can do it, I can do it," she says.
We have no doubt that she will.
Lending An Artist's Perspective to MKAF
For three years Orange has served up her creative insight and talent serving on the board for the Mattie Kelly Arts Foundation (MKAF) in Destin.
"I'm passionate about exactly what Mattie Kelly's purpose is. So, I've loved being a part of it."
She also is excited that Demetrius Fuller — whom she calls a "kindred spirit" — is at the helm.
"We are both overflowing with ideas all the time," she says. "He's always open to my ideas, and I love that."
Recently, for the MKAF board retreat, Orange led a collaborative vision board workshop designed to "open your mind in a visual way."
Having been an exhibiting artist for several years at MKAF's Festival of the Arts gives Orange a unique perspective of the event. For the second year, she will be doing an "Instagram takeover" giving viewers an insider's guide to the event on both Saturday, Oct. 30, and Sunday, Oct. 31 in the MKAF Cultural Arts Village in Destin.
"As an artist, I'm excited to interview the exhibiting artists and get them talking about their work. It's going to be a lot of fun," she assures.
If you need a reason to attend the 26th annual Festival, Orange has a couple.
"We have more artists this year, and a lot of different ones that have never shown here before. So that's one great reason and then, just to support the arts, and all the important things that Mattie Kelly's doing with its ArtsReach programs is certainly another," she offers.
For Orange's Next Creative Act …
The Cultural Arts Village isn't the only place soon to be burgeoning with visual art. Orange recently opened an art gallery in the Fort Walton Beach plaza at Eglin and Hollywood Boulevards.
Orange is exhibiting her artwork along with work from locals, but also is showing some of the artists she's met along her creative journey.
"It's colorful, and has a lot of fun, energy."
Again, with Maxine Orange signing her name to it, we are not surprised.