A Priceless Visual Feast
15th Annual Digital Graffiti Festival showcases 41 local and global artists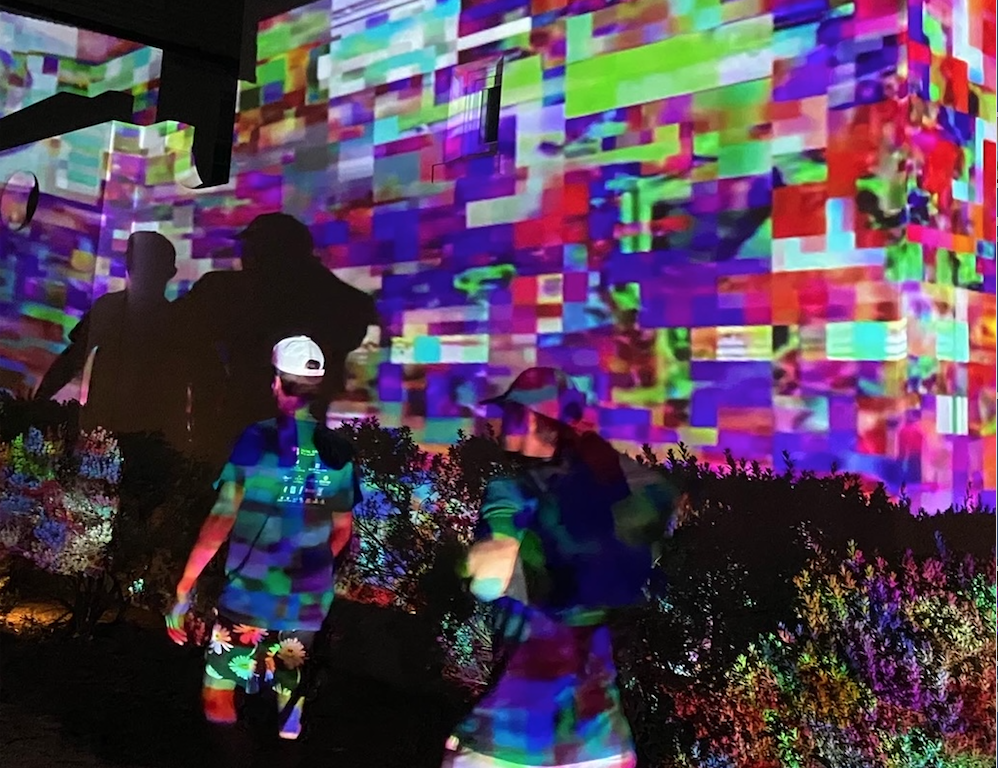 If a picture is worth a thousand words, the Digital Graffiti Festival (DG) at Alys Beach is … priceless.
The 15th annual installation of the world's first juried projection art festival showcased the original digital art of 41 artists from around the globe May 13-14.
Strolling the pebble pathways, cobble-stone bridges and tree-lined walkways of the architectural marvel that is Alys Beach is a sensory experience in and of itself. But then to see the town's alabaster walls illuminated with a vast range of different digital art is Alice in Wonderland-esque. Each digital piece (we counted 42) is distinctly different — some are mini storytelling films, others are a visual feast of moving images and yet others are interactive, in-the-moment creative experiences that end the moment you step away.
The Digital Graffiti Festival box office was a smooth operation — tickets for both Friday and Saturday showings sold out. A handy app put essential DG details at your fingertips.
The artwork was exhibited in a horseshoe of sorts that took viewers from West Garza Lane through the fire pit courtyard, up to and across Lake Marilyn, and along Central Park and Caliza Pool. Along the way, cash bars refreshed thirty adults and frozen Swell Pops surprised and delighted young ones. Food trucks fed the peckish who took a moment to people watch from bistro tables dotting McGee Drive. The evening's end energy was pulsing around the Caliza Pool deck as people mixed, mingled and danced to DJ beats.
It was heartening to see several Emerald Coast artists in the show. Jonah Allen's Boundless Breakers was a captivating blend of relaxing wave images paired with intergalactic music. Chandler Williams (2021 South Walton Artist of the Year) projected Warhol Lake — featuring several of the photographer's iconic Western Lake images awash in vivid '60s colors a la Andy Warhol.
"I actually thought about this idea about four years ago, but finally completed it this year. The physical pieces are 40″ x 60″ with hundreds of different printed pieces on them. I love how they turned out. Seeing the pieces digitized and put into motion while on display at Digital Graffiti was such an honor."
Williams made his Digital Graffiti debut this year but he says the welcoming Alys Beach team and community reception have already inspired an idea for next year.
A four-person panel comprised of Geoffrey Platt (digital media specialist), Ariel Adkins (digital media and art curator), Marieanne Khoury-Vogt (town architect) and John Collette (DG 2022 curator). The 2022 awards include Best of Show ($5,000 prize), Curator's Choice ($2,000 prize) and three Special Recognition honors (at $1,000 prize each), selected by the judges. The Alys Foundation has donated more than $200,000 in awards and artist stipends over the past 14 years, all to further digital work in the public realm.
The 2022 awards are as follows:
Best in Show – Michael Betancourt (Savannah, GA), Instaglitches
Curator's Choice – Tracey Miller-Robbins (Mason, OH), women
Special Recognition – Chris Cameron (Tallahassee, FL), Gwen Draws
Special Recognition – Irene Mamiye, Homage
Special Recognition – Keaton Fox (Chicago, IL and Miami, FL) and Renee Silva (Andover, MA), Florida Fever Dream