Alys Beach Town Architects Receive Design Excellence Award
The Urban Guild recognizes excellent architectural design within the context of good urbanism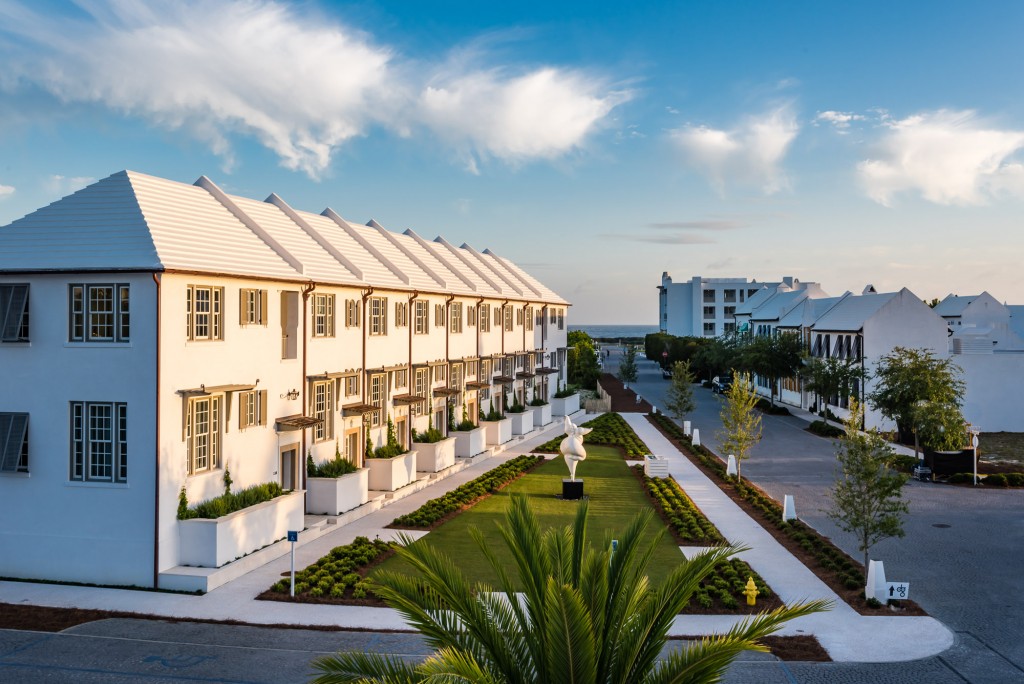 Alys Beach Town Architects, Erik Vogt and Marieanne Khoury-Vogt, with their architecture firm Khoury Vogt Architects (KVA), have received an Urban Guild Merit Award for Design Excellence for Caliza Courts, one of only four awards given. The Urban Guild recognizes excellent architectural design within the context of good urbanism, celebrating "built design work that masterfully applies timeless design principles in a manner that refines them and best integrates them into their urban context."
The Caliza Courts project is recognized as a collection of nine attached rowhouses fronting Caliza Courts Park, located just south of Caliza Pool.
Completed in 2017, the Caliza Court rowhouses are comprised of seven 3-bedroom residences bracketed on the ends by larger 4-bedroom units, together forming a unified façade 'en filade.' Caliza Courts contributes uniformity and repetition in support of the larger town context, framing the approach to Caliza Pool, one of Alys Beach's most important amenities, and also providing the outdoor gallery framework for Christian Peshke's sculpture Tänzerin, one of the town's most significant public art works.
Caliza Courts embody the restraint in design language derived from the Bermudian style, with slightly more ornamentation in the entryways intended to add interest for the pedestrian vantage point.
In her acceptance discussion with Urban Guild taskforce chair, Brandt Hay, Marieanne Khoury-Vogt acknowledges KVA's project manager, Jason Hill, as well as landscape designer Kendall Horne. She also commends the skills and excellence of area craftsmen for realizing the ambitions of KVA's designs.
Alys Beach is proud to announce this acknowledgment of KVA in their successful design of Caliza Courts as within the overall urban context of our town.
KVA have been dedicated stewards of the overall design vision of our New Urbanist town, with thoughtful approaches to every detail, from termination points to trim color, and each project's contributions to, and relationship with, Alys Beach as a whole. Please join us in congratulating KVA, 2020 Urban Guild Award winners.
…
Visit alysbeach.com (facebook.com/alysbeachfl; instagram.com/alysbeachfl) for more information about Alys Beach.