The Vogts Are In
Meet the Town Architects of Amazing Alys Beach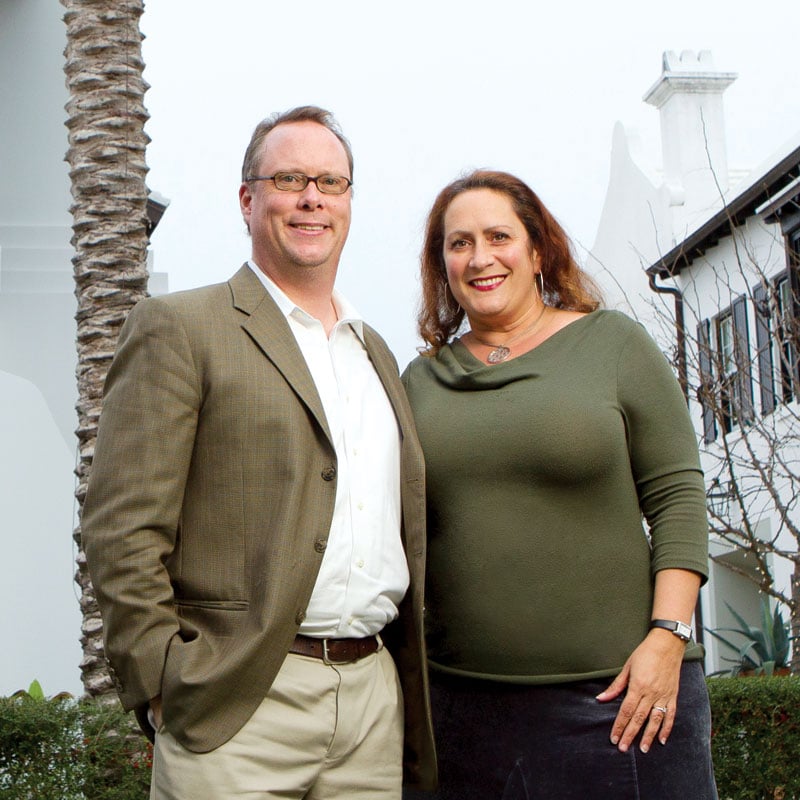 When the husband-wife team of Erik Vogt and Marieanne Koury-Vogt started their own architecture firm in Miami in August 2001, they didn't know what the future would bring. After several successful years in business, friend and colleague Andres Duany introduced them to the Stevens family of Birmingham to discuss plans for a town development founded in New Urbanism that would include codes for sustainability and fortified building.
The land for the development was on Highway 30A near Rosemary Beach and had been owned by the Stephens family for many years.
The family hired Miami-based Duany Plater-Zyberk (DPZ) to create a master plan for 158-acres, including a mixture of radiating streets, parks and parkways crisscrossed by pedestrian paths, sleepy lanes and a nature preserve.
"We traveled to Birmingham to meet Jason Comer and the Stephens family and learn more about the project," says Marieanne. "Even though it required us to relocate, we thought it was a wonderful opportunity."
Armed with their education and experience working on design projects around the world, they were ready to focus their talents on one singular project. Marieanne received her undergraduate degree in Paris and a double Masters in Architecture and Urban Planning from the University of Wisconsin, Milwaukee. Erik had a Bachelor of Architecture from the University of Miami and Master of Architecture from Yale University. He was back in Miami teaching when he met Marieanne, an outgoing, articulate architect with a passion for urban planning and traditional design.
They made the move to South Walton in March 2004 and immediately knew the project was a great fit for their talents. Erik, a perpetual scholar and analytic, likes Mediterranean-style architecture — traditionally-based, stripped down, clean, simple, modern in character. He gravitates toward coastal communities such as those found in Morocco, Italy and Greece — towns with coherent architecture. Marieanne shares those sentiments. She is drawn to the architectural styles of Egypt, Spain and Portugal and likes the blend of outdoor with indoor living.
Many of these design elements became the foundation for the town, which was named Alys Beach after the matriarch of the Stephens family. As the town architects for Alys Beach, Erik and Marieanne's primary responsibility is to safeguard the vision. In the early days, they spent much of their time establishing the design codes — urban design codes, sustainability codes, fortified building codes and landscape codes, among others — to provide the framework for development.
The town reflects a blend of tradition and romance, the union of English and Spanish, resulting in an architectural style that is simple and timeless. The all-white town is inspired by Bermuda and Antigua Guatemala with white stucco walls and white-ridged roofs. Design elements embrace the Venturi effect, which takes advantage of wind currents, capturing coastal breezes to keep the town cool. The signature courtyard homes seamlessly blend indoor and outdoor living. The thoughtfully designed town is focused on sustainability and limiting impacts on the environment.
Today, the Alys Beach team has grown tremendously, and Erik and Marieanne's role continues to evolve. Their time is divided among departments, including construction, sales, marketing and town planning.
"We see all disciplines working together," says Erik. "We enjoy every aspect, but I selfishly enjoy the design work the most."
Both Erik and Marieanne agree that every day is unique and even more rewarding than they could have imagined when accepting the job eight years ago. On any given day, they work with a variety of individuals and departments, including new buyers who wish to build a custom home; the landscape team to identify native species that would best complement new town developments; the developer on design details such as hiding utilities or design concepts for new phases; the construction team for building that is currently underway; the marketing team on collateral and website updates; and the sales team meeting potential buyers who want to know more about the town and the building process.
"I love engaging design work, but it is exciting to work with an incredible team that all have something to contribute. We help each other, making the result even better. We continue to improve and learn lessons along the way," Marieanne says.
Like any plan, the master development plan continues to evolve over time, and changes have been made to address changes in the marketplace and needs that are identified over time.
"There have been changes to the town center and the Gulf-front home design. We've broadened the architectural influences," explains Erik. "Bermudan language can be limiting, so we've been able to enhance with Mediterranean, Spanish and Moroccan influences. The styles permeate the architecture here and make the town more exciting."
One of the recent changes to the master plan was on the south side of Highway 30A. The team engaged the talents of Demetri Porphyrios, a Greek architect and author based in London, to create multi-family homes on some of the Gulf-front property. The new design is three-story instead of two-story, and the intricate work is architecturally different than Alys Beach's signature courtyard homes.
Changes to the town center from the original DPZ plans are underway as well to ensure the right mix of retail, commercial, apartment living and public space. Construction will begin later this year on the Town Center's Market Café, which is slated to open late 2014. In the meantime, construction is underway on the Alys Shoppe, which will open early summer.
"We've had a great year in 2012, second only to 2005," shares Erik. "We hope this year is just as good. More owners and more growth allows for more parks, greens and commercial spaces."
Erik and Marieanne's work has not gone unnoticed. They have been recognized with three prestigious Palladio Awards for public spaces, including Fonville Press, Caliza Pool and Sea Garden Path, as well as awarded the Shutze Award by the Institute of Classical Architecture for Caliza Pool.
When asked if this is their dream job, sharp-witted Erik laughs, "I haven't really given it any thought. I can say this, if I met the person with my job, I would be jealous."
The Vogts have nestled into the job and their home in Alys Beach quite comfortably. While the lack of division between work and personal time may seem wearing to some, the Vogts find it most enjoyable. "When you love a job so much, it is a seamless transition from personal to professional life," says Erik.
The couple has become integrally involved in the local community. With two daughters (Eva, 12, in the seventh grade at Seaside Neighborhood School, and Maya, 8, in third grade at Bay Elementary) they can frequently be found at school fundraisers and sporting events.
Both Marieanne and Erik agree that the best part of the job is seeing their designs come to fruition.
"It is so rewarding," says Marieanne. "It never gets old — having the opportunity to work together on this project and seeing our designs realized."
Alys Beach defines itself as "A life of balance. A life of beauty. A life of simplicity. A life of grace. A life defined." Marieanne and Erik are ensuring these elements remain intact while living these principles within their own family. Quite simply, it's a life of many simple pleasures.