Pop-up Party Celebrated the Arts and Brought Baytowne Marina to Life
Festivities so grand that Gatsby would have given them a nod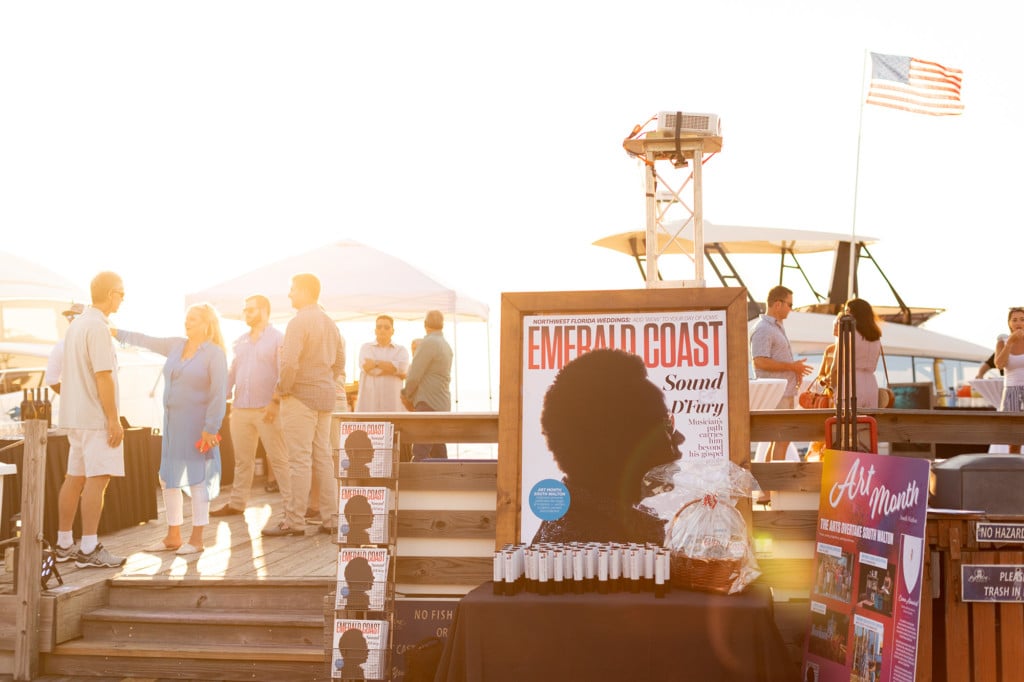 I associate the writer Seth Brady Tucker with the desert.
His first book of poems, Mormon Boy, was borne of his experiences in the first Gulf War, prosecuted against Iraq after it occupied Kuwait.
But I met him Thursday night in a setting far removed from conflict and aridity. Tucker had taken a position on a couch in the salon aboard a statement boat, a 520 Prestige, built in France. I approached him there.
We talked about the Longleaf Writers Conference, held annually in Seaside as part of Art Month South Walton. Once upon a time, Tucker, the conference's co-director, worked summers as a bartender in Seaside while working toward his doctorate in poetry at Florida State University.
He introduced me to the novelist Rebecca Makkai and the poet and essayist Brian Turner, visiting writers at this year's conference. I asked them if, among students at the gathering, they had found any surprises. Immediately, Tucker landed on one who had emerged as an impressive, powerful reader of his own work.
"Most people, when they read, talk over the words," Turner weighed in. "But this student, you could feel the words exit his body. They were in him."
Surprising, Tucker said, in that the student is ordinarily extremely reserved. But that's the thing about art: It brings people to life.
Art took center stage Thursday night at a luxurious, lively "pop-up party" held at the Sandestin Golf and Beach Resort's Baytowne Marina as a lead-in to the Digital Graffiti competition at Alys Beach and to benefit the Cultural Arts Alliance of Walton County. The event also served as a coming-out party for the annual arts edition of Emerald Coast magazine.
"The Cultural Arts Alliance of Walton County greatly values our ongoing partnerships with Rowland Publishing and Galati Yachts, and we were honored to be selected as the beneficiary of Emerald Coast's art issue launch party," said Jennifer Steele, the alliance's executive director. "It was a beautiful evening showcasing local and visiting artists, and the celebration of the art issue fit perfectly into the first Art Month South Walton."
The happening at the marina was the realization of a dream for Maria Galati Hill of Galati Yacht Sales in Destin. She had envisioned art displayed on the white flanks of a spectacular, gleaming vessel.
And, on Thursday, as night fell, an M70 Maritimo, a yacht of Australian manufacture, became a canvas that received the creations of winners of past Digital Graffiti winners.
"Projecting art on boats, that's something that had never been done before," Galati said. "When Galati Yachts established a relationship with Emerald Coast magazine, I started talking to Kenzie Burleigh (Rowland Publishing's vice president for corporate development) and, over the next year, the event came together."
At some point, Maria had to convince her father to make yachts available for use as floating arts venues.
"She did a good sales job on me," said Joe Galati, a man who appreciates good sales work. "We started out talking about one boat and wound up with three."
The Maritimo and the Prestige were joined by a V72 Princess.
Like athletes, sportfishing vessels and motor yachts seem to get bigger and more powerful all the time. Today's yachts are of lighter construction than used to be, their engines are bigger and their ranges are greater.
"And the advances in technology have been amazing," Galati said. He noted joystick control docking systems that enable a person to move a boat in any direction and allow for simultaneous use of bow and stern thrusters. Stabilizing Seakeeper systems reduce boat roll by 85 to 90 percent.
"We promote the boating lifestyle," Galati said, "and if we provide people with a good experience, one boat tends to lead to another."
The pop-up party was a celebration of the arts, yes, and more generally the coastal lifestyle. Jay Gatsby would not have been out of place there. You remember Gatsby, he of the lavish parties on the tiny isle of West Egg …
There was music … through the summer nights. In his blue gardens, men and girls came and went like moths among the whisperings and the champagne and the stars. At high tide in the afternoon, I watched his guests diving from the tower of his raft, or taking the sun on the hot sand of his beach while his two motorboats slit the waters of the Sound, drawing aquaplanes over cataracts of foam. On weekends, his Rolls Royce became an omnibus, bearing parties to and from the city between nine in the morning and long past midnight, while his station wagon scampered like a brisk yellow bug to meet all trains.
At the pop-up party, the Shane D'Fury Band, positioned on the bow of the Maritimo, filled the night air with island sounds. Personnel from The Henderson luxury hotel poured lavender champagne for guests as they headed down the docks to the party boats. Chandler Williams of Modus Photography in Santa Rosa Beach contributed striking images to the onboard art activities and Herring Design Co., also of Santa Rosa Beach, added a 4-foot replica of the 8-foot, stainless steel "Grayt Pineapple" that was made part of the Underwater Museum of Art off Grayton Beach last June.
The pearl and gemstone jewelry creations of Bijoux de Mer Fine Jewelry in Destin were, fittingly, on display aboard the Princess — and also adorned the Emerald Coast magazine team. Destination Jets crew members played a video that reminded viewers that luxury travel does not have to be confined to highways and the high seas.
Dockside, Signature Catering and Chef Christopher Holbrook supplied bites light and not so light. If you missed out on the Cowboy Roll at Holbrook's sushi station, partner, you shouldn't have.
Brewmaster Frasier Hansen of Idyll Hounds Brewing Co. in Santa Rosa Beach offered cups of his latest creation, Gnarmadillo, a crisp IPA with a clean finish. Reneé Moss of Farmer's Daughter Vineyards in Thomasville, Georgia, stood behind her newly rebranded vintages including Troublemaker, a sauvignon blanc, now being poured at Bud & Alley's restaurant in Seaside. O'Brien Estates Winery brought to the party fine Napa selections. Timber Creek Distillery of Crestview served up responsible splashes of spirits including its Florida Whiskey.
Alissa Aryn Photography of Santa Rosa Beach (still shots) and Land Sea Air Productions of Destin (drone photography and videography) ensured that the pop-up party was recorded for posterity while Emerald Coast Audio Visual provided uplighting that gave the whole scene a glow.
The guests included at least one hulking fellow who could have played F. Scott Fitzgerald's character, Tom Buchanan. And there were the likes of Daisy and Jordan about. But it was the ladies three with the broad beams and the classic lines that stole the show.
Tucker has written a poem, "Aqua Man," about a loser at love who is saddened by the realization that he is a lower-class superhero "because I could swim, but never fly."But here, Aqua Man, were three vessels that can swim and fly, or nearly so. They were uneasy, perhaps, straining at their bow lines, eager to head into the Gulf, if even for a short run to catch spawning black snapper beneath the full moon.
See more photos from the event courtesy of Alissa Aryn Photography