Band D'Fury Gets Audiences To Their Feet
The elite band is bringing the funk to the Emerald Coast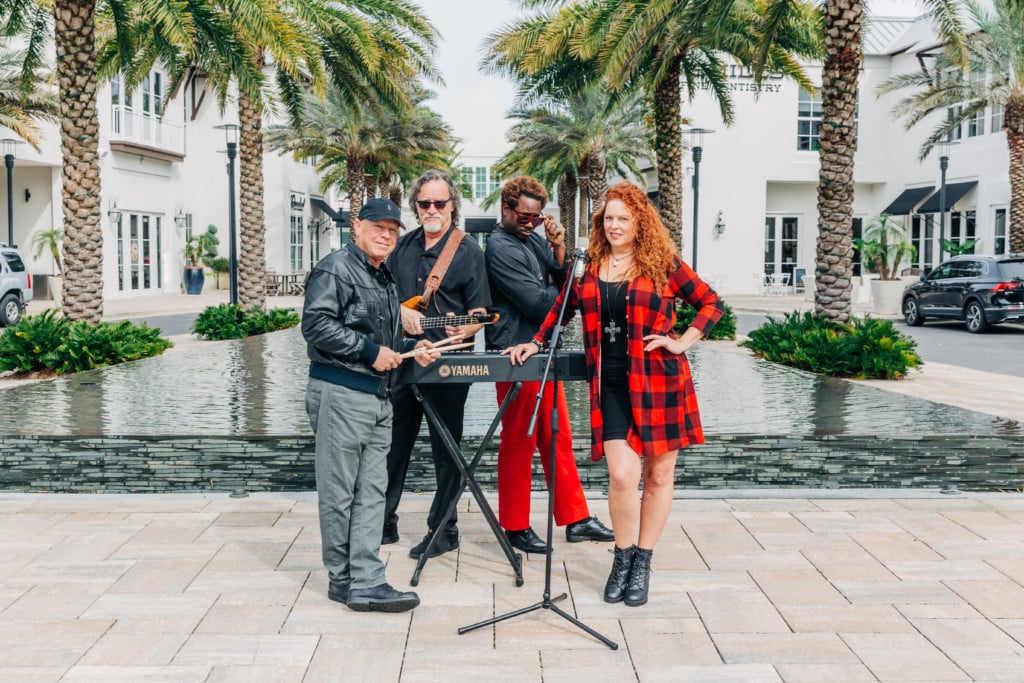 The debut performance last year of the Band D'Fury lit the joint up like a nighttime NASA launch.
Santa Rosa Beach's humongously down-with-it bistro, 30A Songwriter Radio Music & Coffee, was standing room only by the time owner Josette Rhodes dims the house lights and flicks on the "On Air" sign.
"And now, live from 30A Songwriter Radio," purrs Rhodes, "make some noise for Shane D'Fury!"
Bandleader D'Fury enters, stage left, in purple tails and the vest of a circus ringmaster minus only a top hat and megaphone.
The amused audience bursts into applause and D'Fury takes up the microphone as two guys and a gal — all three elite musicians — slide in behind him and go for their instruments on the post-card sized stage.
"Hello folks, we're here tonight, our first gig together, hoping to entertain you and introducing Dennis Kelly on drums, Mel Senter on bass and vocalist Amy Blizzard. I'm Shane D'Fury, and we are the Band D'Fury!"
With that, D'Fury pivots to his keyboard and the band dives into a thundering rendition of the Mission: Impossible theme that sets the glassware behind the bar to rattling.
"Ladies and gentlemen, your mission, if you choose to accept it, is to enjoy yourselves!" D'Fury rallies a crowd that really needs no encouragement.
Band D'Fury next segues into a three-quarter speed "Ain't No Sunshine When She's Gone."
D'Fury rolls into the song's melancholy lyrics, mellow like sunshine breaking through clouds.
On the bridge, he scats, while improvising jazz-like discordances — little shots of hot sound on the keyboard.
Together with Kelly, Senter and Blizzard, the sensual rhythm is almost synesthetic, like the sound of the smell of lavender.
And on the next number, when you think you've heard it all, the band doubles down in a full-tilt boogie for Amy's vocal, as she tears "gitchi-gitchi, ya-ya" a new sound hole.
Bandleader D'Fury is a composer/producer with a CD in the works. He's self-taught on bass, drums and classic rhythm-and-blues piano.
Band D'Fury's repertoire is largely a reflection of its leader's musical background.
D'Fury's own compositions form part of the band's musical mélange: two hours of sometimes high energy and otherwise soulful music including reggae, Motown and perennial American rock favorites from the past five decades.
In performance, D'Fury's combination of vocal virtuosity and irresistibly sunny charisma eventually incites even shy fans into cutting loose before God and everybody.
Between numbers, D'Fury exchanges good-humored asides with both band members and the audience. During a song's bridge, he abandons the stage for a quick turn around the dance floor with a lady in the front row.
D'Fury grew up around Montego Bay, Jamaica, the third of seven siblings.
At age 4, he wanted to be a doctor.
At 9, he was singing in a church choir, where awareness of his real vocation was gradually dawning on him.
"When I got to be a teenager, I wanted something hipper than church music," he says.
"Then, came the 2003 tourist season. I was 14. That's when I became a cabaret performer. I'd been singing with four guys from church. We called ourselves Kahil. One of us found a booking agent and, suddenly, we're singing pop and reggae at a local resort. My church people weren't that pleased."
"Gone to the musical dark side?" D'Fury is asked. He grins.
"That's about the way my mom took it," D'Fury says. "But it was Mom who told me how gospel means 'good news.' And, good news makes people happy, right? So why not play any music that makes you happy?"
Band D'Fury is a cosmopolitan lot. Bassist Mel Senter side-gigs in Memphis as a pediatrician.
Drummer Dennis Kelly graduated from the University of Wisconsin in music and counts trumpet as his first love.
Vocalist and Emerald Coast home-girl Amy Blizzard is a licensed massage therapist with an office in Freeport.
In Jamaica, "irie" is about feeling groovy, or copacetic.
And courtesy of the Band D'Fury, the Emerald Coast is discovering firsthand what irie is all about.