Xanadu: The Musical Caps ECTC's 9th Season
Roller skating musical fantasy adventure runs 10 performances May 13-22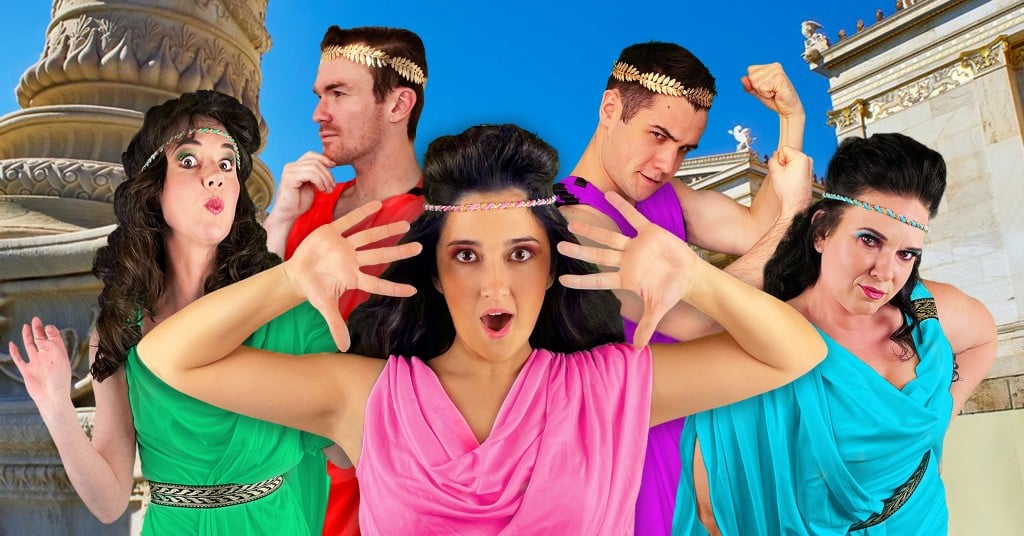 Get ready to roll with it! Emerald Coast Theatre Company (ECTC) continues its 9th Mainstage season with its most ambitious production yet — Xanadu: The Musical.
The show opens Thursday, May 13, and runs two weekends through Sunday, May 22. Performances are Thursday, Friday, Saturday, and Sunday at 7:30 p.m. with 2:30 p.m. matinees on Thursday, May 19 and Sunday, May 15 and 22.
Slap on your roller skates, pump up the glitter, and get hip to the muses in Xanadu, the laugh-out-loud musical stage adaptation of the 1980 film.
Xanadu follows Clio, the lovely and precocious Greek muse who decides to put on some roller skates, leg warmers, and an Australian accent to help Sonny Malone, a chalk artist with half a brain, and a heart of gold, rediscover his creativity. With both help and hindrance from the other muses and from a clarinetist-turned-real estate mogul named Danny Maguire, Sonny and Clio work to rebuild their "apex of the arts" — a roller disco.
More than a dozen pop songs from this '80s cult classic round out the soundtrack, including Xanadu, I'm Alive, Dancin', Have You Never Been Mellow, and more.
"We invite everyone to forget their troubles and join us for this hilarious roller-skating musical adventure filled with '80s pop rock music," says ECTC producing artistic director Nathanael Fisher.
"We are thrilled to cap our season with such a fun and funny show."
This production is directed by Nathanael Fisher. Vincent Pelligrino is musical director and choreographer. Lighting and set design are by Rebeca Lake. Costume design is by Kristen Taylor. Sound design and stage management is by Phillip Padgett, assisted by Madi Fann.
The cast features both new and faces familiar to the ECTC stage.
New to ECTC stage is Kevin Ganzekaufer (Sonny Malone) who recently appeared as Claude Bukowski in Hair, Sam Himmelstein in The Wild Party, and Orcus in She Kills Monsters.
Arianna Reyher (Kira/Clio) returns to ECTC's stage having appeared earlier in the season in The Marvelous Wonderettes. When not on stage, she assists with ECTC's children's programs.
Abigail Huhtala (Melpomene) moved to the Emerald Coast in 2014 and has been performing regularly in Fort Walton Beach with Stage Crafters Community Theater, in Destin as a member of The Village Belles, and most recently with ECTC performing in Miracle on 34th Street: A Live Musical Radio Play.
Hillary Marshall (Calliope) marks her seventh production at ECTC after appearing in First Date, A Christmas Carol, Treasure Island, A Midsummer Night's Dream, Nunsense, and Miracle on 34th Street. She has also been involved with the Pensacola Opera and appeared in H.M.S. Pinafore last season.
Adam Silorey (Danny/Zeus) will be familiar to ECTC audiences from his memorable performances in First Date, Dancing Lessons, Around the World in 80 Days, The Fantasticks, and Buyer & Cellar.
For Meghan Chase, Horrigan Erato is her third role with ECTC. Graduating from the University of Tampa with a BFA in musical theater, her favorite roles include Meg in Little Women, Amber Von Tussle in Hairspray, and Hen in Click Clack Moo: The Musical.
Rounding out the cast is Josh Hudson, Seth Patterson, Samantha Savoie and Arin Walker.
A part of the Professional Theatre Mainstage series, Xanadu will be staged in ECTC's performance space located on the second floor of 560 Grand Boulevard in Grand Boulevard Town Center in Miramar Beach. Arrive early to enjoy the display of original artwork in the ECTC Lobby Gallery sponsored by the Cultural Arts Alliance of Walton County. The exhibit features artwork by local artists. All of the artwork is available for purchase. Proceeds benefit ECTC and its theater education programs.
Tickets to Xanadu are $36 per person for adults, $34 for seniors (55 years old and up)/military and $30 for students (must show ID). Purchase tickets online at www.emeraldcoasttheatre.org.