Emerald Coast Theatre Company Was Founded by Two Passionate Theater Lovers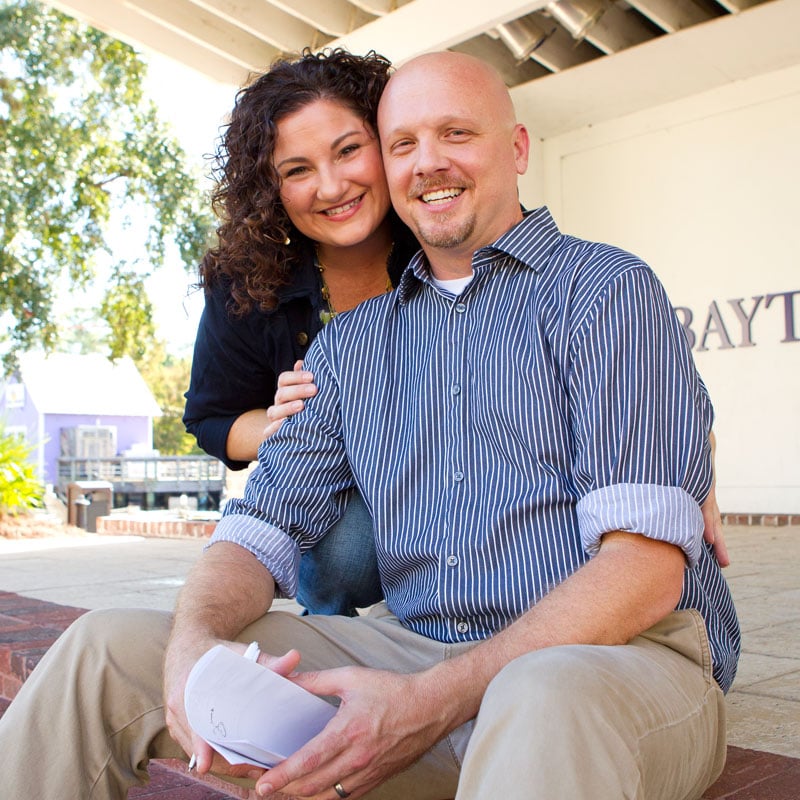 One vibrant couple is taking their passion for acting, directing, costume designing and everything else theater-related and transforming it into their dream for the community.
Nathanael Fisher, 42, and Destinite Anna Fisher, 38, met 11 years ago on Halloween night in Virginia Beach, Va., where Anna was studying theater in graduate school at Regent University and Nathanael was visiting friends. It was love at first glance for these two bubbly and charismatic people, and within a year Anna moved to Orlando to marry Nathanael. In Central Florida, Anna taught high school English, and Nathanael worked at Islands of Adventure mostly as the entertainment figure, Spiderman. He also walked on stilts, made balloon animals and played the role of Imhotep when The Mummy ride was first introduced.
"He used a lot of self-tanner for that one," said Anna, both of them breaking out in laughter, which seemed to define their playful relationship.
Seven years later, the couple ended up back in Virginia Beach for Anna to finish her graduate degree and do contract work at schools that involved teaching theater and putting on shows for elementary students, and for Nathanael to begin and complete his Master of Fine Arts in Acting. All the while raising their 3-year-old twin daughters. 
About 18 months ago, the couple moved to Santa Rosa Beach. In January 2013, two life-changing events happened for the accomplished couple — they welcomed their third daughter into the world, and they officially kicked off their non-profit organization, Emerald Coast Theater Company. As their primary roles in the company, Anna is the associate artistic director as well as the costume designer, and Nathanael is the executive and artistic director. Together, they compose scripts and direct shows to be performed at local schools and venues with the goal of enriching and entertaining the Emerald Coast community through professional and educational theater.
In addition to building a theater company together, the two keep their skills sharp while working as professional theater instructors. Nathanael teaches acting and theater at UWF, and Anna visits local schools representing ECTC to teach theater to our youth. We recently put the Emerald Coast's newest stage stars in the spotlight, and this is what they had to say.
EC: Why did you form Emerald Coast Theatre Company?
NF: Theater is a way in which we can see through someone else's eyes. We can see the conflicts, the relationships and the approach to life through the stories of theater. The wonderful thing about theater is everyone is breathing the same air. It's all experienced right there. I want to see that happen right in our backyard.
EC: What is your vision for the company?
NF: Our vision is two-fold. One is theater arts education. Anna and I have seen how kids that get involved in theater go from being shy to having that self-confidence that theater builds. Theater is a community sport. I don't really want it to be our thing — I want it to be a community thing.
AF: Our goal also involves achieving the professional side of the theater company, and to find good, professional actors locally.
EC: How can locals get their children involved and support this non-profit arts organization?
NF: There's no way Anna and I can pull off what we dream for this area without people coming alongside and helping, which is why we went through the hassle of trying to create a 501(c)(3) as opposed to just doing a for-profit business. We offer low cost adult improv classes as well as free local shows, and workshops at Sacred Heart [Hospital on the Emerald Coast]. We invite anyone interested in sharing their talent as part of our company or helping with sets, props or costumes to contact us.
EC: ECTC plans to continue to host adult improv classes in 2014. How would you describe these classes?
NF: It's games that help you work on listening and responding, being in the moment.
AF: Improv is good for anybody who finds themselves in a social situation.
EC: What do you have planned for your company's spring 2014 timeframe?
NF: I'm hoping to add one or two more either after-school or Saturday classes at Destin Elementary School, continue with summer camps, expand programming with Arts and Medicine at Sacred Heart, and add more shows at HarborWalk Village and The Village of Baytowne Wharf to the summer schedule.