Emerald Coast Theatre Company Brings Broadway to Grand Boulevard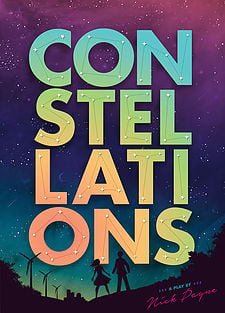 Emerald Coast Theatre Company launches its 2016/17 season with an intriguing look into the multi-universe theory. Author Nick Payne's romantic journey, Constellations, is a two-character drama recently performed on Broadway by Jake Gyllenhaal and Ruth Wilson.
The play is one that will keep your wheels turning as the boundaries of our world are questioned. Can one word alter the course of your life? Through a dizzying fugue of vignettes, audiences watch as Marianne and Roland's relationship unfolds across time and space, with each variation sending their relationship on an entirely new trajectory.
The company has announced Kristin Devine and Broadway's Kevin DeJesus-Jones as the cast of the upcoming fall show. DeJesus-Jones made his Broadway debut in 2013 as the Hero Flyer in Spiderman: Turn off the Dark. He graduated in 2011 from the University of Miami with a bachelor's degree in Theatre Arts and a minor in Dance.
Devine is a proud graduate of the University of Miami's BFA Musical Theater program and brings a breadth of experience with her to ECTC. She recently closed Passing Fancies (Liana) at Slope Arts Festival in Brooklyn, New York.
The show will run Thursdays, Fridays, and Saturdays at 7:30 p.m., with a Sunday matinée at 2 p.m., Oct. 20 through Nov. 6. A VIP preview will be held Oct. 20 at 7:30 p.m. Tickets are $25 for adults, $20 for seniors, $15 for students and $40 for the VIP preview that includes a post-show reception with ECTC's board and the cast of the show. Performances will take place in the beautiful new venue at 560 Grand Boulevard.
For more information and or to purchase tickets, visit www.EmeraldCoastTheatre.org or call (850) 684-0323.
A pop-up art gallery called "Beyond Boundaries" will be presented along with Constellations. Lori Drew and Sherry Londe are curating the gallery, which will feature the work of local artists. This will be the third time ECTC has collaborated with local artists to add a visual art element to the theater experience.