The Statue of Liberty Turns 129 Years Old
The Statue of Liberty is a Colossal Lady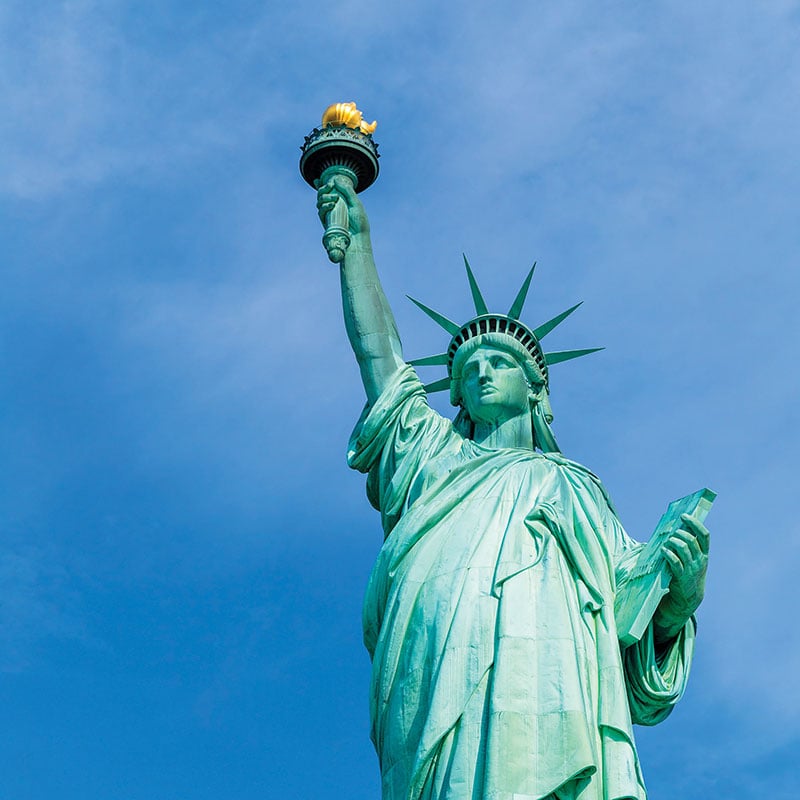 She will be 129 years old on Oct. 28, 2015, but the years have been kind. She stands erect and unbowed. With untiring constancy, she beckons with her lighted torch the homeless, the hopeful and the oppressed of the world. On her island pedestal, she is a welcoming symbol of the greatest dream of mankind — liberty.
How many hearts have gladdened at the sight of her? How many millions have felt their prayers answered upon arriving in her presence? How many refugees have felt secure at passing behind the folds of her robes? To millions of immigrants, she represents a new beginning — her torch the flame of opportunity.
Perhaps it is fitting that she, too, is an immigrant. Born in Paris in 1884, she was named La Liberté éclairant le monde. A gift of the people of France, she came to this country at an early age and assumed her vigil in New York Harbor in October 1886. Her creator, Frédéric Auguste Bartholdi, chose the site with the thought of "liberty enlightening the world."
Designed to celebrate American liberty and the friendship of two nations, she became a symbol of hope to people the world over.
The American people immediately shortened and Anglicized her name and accepted her into their hearts. Tens of thousands visit her on her island each year. There, high above the waters of the bay, the panorama of metropolitan New York unfolds in unparalleled splendor. There, the visitor can follow her gaze seaward in search of incoming ships. To others, she seems to wave a bon voyage with best wishes for a safe return.
Her dimensions are awe-inspiring. Standing on her 150-foot pedestal, she towers yet another 150 feet to become a significant part of the New York skyline. Her skeleton framework, designed by Gustave Eiffel, the designer of Paris' Eiffel Tower, supports some 200 tons of copper and steel. The tablet, inscribed with the date July 4, 1776, which she holds in her left hand, measures an immense 23 feet. Everything about her is colossal.
And yet perhaps it is the distance that sets her in the proper perspective. Watch her someday from the deck of an inbound ship or from the window of a circling airliner. Or stop someday in Battery Park in lower Manhattan and watch her from across the bay. See her in the fullness her creator intended. Gracious, proud and radiant, she stands amid the fruits of a society founded in her name.
Just as Americans have adopted her as their own, it is also their hope and dream that someday she will embrace all mankind. In her name, the sacrifices of our patriot forefathers are being repeated today in all corners of the world.
The grandsons and granddaughters of our forefathers are now in more than 200 countries around the world fighting oppression, defending liberty, providing health care, feeding the hungry, building schools, constructing safe water systems, teaching hungry minds and serving a multitude of other humanitarian tasks.
We have many memorials immortalizing the deeds of our founding fathers. Yet she is our only national monument to the motivating ideals they so cherished and their sons and daughters are now defending.
"An empty shell of copper and steel," the realists will say. But though no heart beats within her, she is herself the heartbeat of America.
For she is liberty.
How did she make a difference to me?
I spent most of the Cold War winter of 1977 on sensitive intelligence missions to Poland, Czechoslovakia and Russia. The temperature never rose above 8 degrees Fahrenheit. After a long but successful period, I was escorted over rough terrain, deserted back streets and various hiding places for five hectic days and nights until the timing and opportunity were ripe to catch an Air France flight out of Moscow bound for Shannon, Ireland.
When I boarded the connecting flight to New York, I had gone without sleep for at least 80 hours.
The flight attendant awakened me as we approached New York, and she raised my window shade.
There she was, the Statue of Liberty.
I was home.