Emerald Coast Theater Company Kicks off Its 8th Annual Season In September
Red Riding Hood | 'Uplift! A Fun Evening Filled with Broadway Favorites, Laughs and Joy'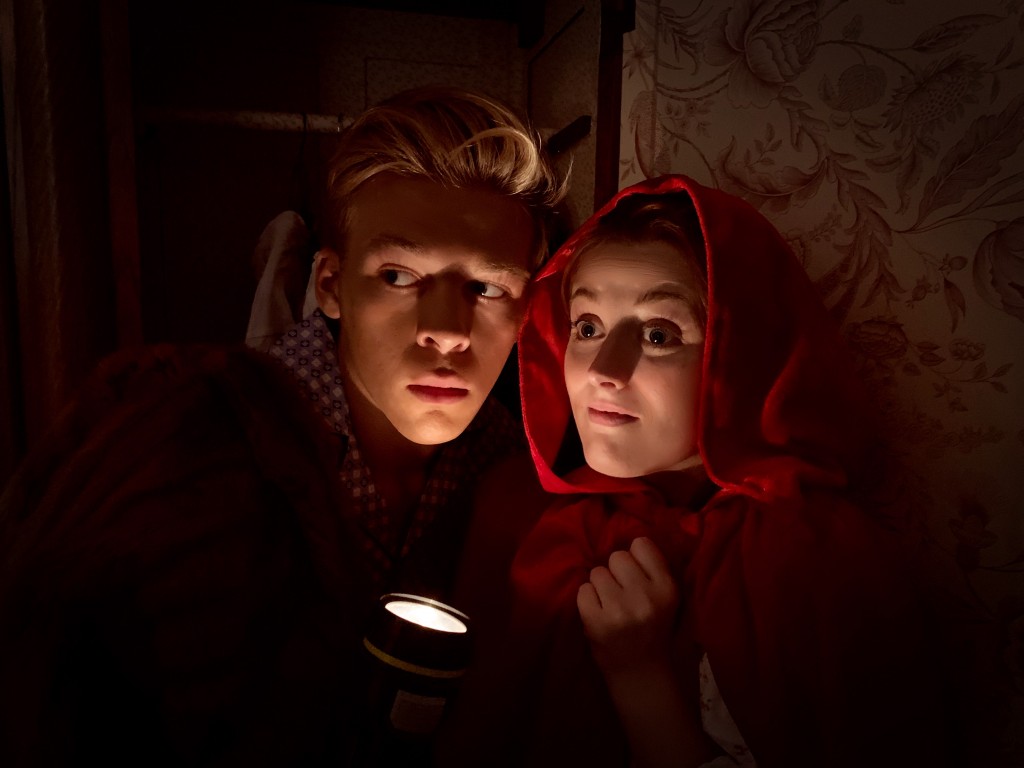 Miramar Beach, Fla. (Sept. 9, 2020) — Are you wishing life was a fairytale, right now? Escape into the magical world of live theater and it can be.
Emerald Coast Theatre Company (ECTC) kicks off its eighth annual season on the Northwest Florida Gulf Coast in September with two special productions performed in ECTC's performance space located at 560 Grand Boulevard, in Grand Boulevard at Sandestin in Miramar Beach.
"Given the extraordinary times we are all experiencing, we are especially honored to begin a stellar season with a range of offerings for theater lovers of all ages," said Fisher.
The season curtain rises with a modern adaptation of the classic fairytale Red Riding Hood, ECTC's the first professional Theatre for Young Audiences (TYA) production of its 8th season. ECTC's TYA program showcases professional actors performing productions especially selected for young audience members.
Tara Padgett (Miss Bennett: Christmas at Pemberley) and Grant Oberle (seen locally in Moonlight and Magnolias and Thoroughly Modern Millie) star in this musical comedy that opens Saturday, Sept. 19 at 7 p.m. and runs Sunday, Sept. 20 at 2 p.m.; Sept. 26 at 7 p.m. and Sept. 27 at 2 p.m.
In this version, directed by ECTC producing artistic director Nathanael Fisher, Bridget and Stephen are on a sleepover at grandma's house and neither of them can sleep. Bridget finds a red cloak in the wardrobe and imaginations soar as they act out their favorite story with props and costumes found around the attic. Reality and imagination blur, and soon the children find themselves in the deep dark woods with a hungry wolf tracking them down.
Set and lighting design by Rebeca Lake; costume and prop design by Anna Fisher; stage management and sound design by Phillip Padgett; music direction by Peter Lake.
Tickets to Red Riding Hood are $18 for adults; $16 for seniors/military; $12 for children 4 to 12; children ages 0-3 are free and must sit on an adult's lap.
Proceeds benefit ECTC and its Theatre Education programs.
For the second season offering in ECTC's 2020-2021 season, Broadway sensation Nicholas Ward debuts his solo concert performance, Uplift!: A Fun Evening Filled with Broadway Favorites, Laughs and Joy for one-night-only on ECTC's stage on Tuesday, Sept. 29 at 7:30 p.m.
"We invite everyone to join us in welcoming back home Niceville's own Nicholas Ward," says Fisher. "What a treat to be able to enjoy the supreme talent of Broadway's best right here on our ECTC stage."
Ward, who grew up in Niceville, Florida, was a featured performer in ECTC's Virtual Talent Show as well as Cabaret Broadway Playlist Live this past summer comes back to ECTC's stage fresh from performing King Agnarr in the original cast of the Broadway hit musical, Frozen. Ward, who appeared as Mufasa in The Lion King, made his Broadway debut in the critically-acclaimed revival of On the Town opening the show with his rich basso profundo voice, singing Leonard Bernstein's stirring number, I Feel like I'm Not Out of Bed Yet. He earned a Drama Desk Award nomination for his performance in In Transit, Broadway's first a cappella musical, which was then performed at Carnegie Hall.
Other credits include Olin Britt in The Music Man at The Kennedy Center with Norm Lewis and Jessie Mueller; and as a featured soloist in Andrew Lippa's Kristin thrilling opera, I am Harvey Milk starring Kristin Chenoweth.
Favorite regional roles include Jim in Big River, Joe in Show Boat, Caiaphas in Jesus Christ Superstar, and The Giant in Big Fish. You can even catch Nicholas sharing the screen with the legendary Meryl Streep and Audra McDonald in the lively film, Ricky and The Flash.
Tickets to Uplift! are $28 per person.
To reserve tickets for ECTC productions, purchase online at www.emeraldcoasttheatre.org.
Purchase a season subscription and enjoy a 20 percent savings off ECTC's 2020-2021 season. All seats are general admission.
ECTC VIP Memberships are $300 per person and include: VIP badge of honor, one ticket to all Professional productions, TYA productions; VIP reserved seating (advanced reservations required); access to the ECTC VIP lounge and one complimentary beverage (per person/per production). Purchase VIP memberships online at www.emeraldcoastthreatre.org/tickets.
ECTC is implementing its Safety Protocol Plan in accordance with CDC guidelines to ensure our patrons can enjoy all offerings in a safe environment. Patrons can find the detailed plan on ECTC's website home page.
The 2020-2021 Professional Mainstage season continues with First Date, Oct. 9-25; A Christmas Carol, Dec. 4-20; Florida Girls, Jan. 15-31; and Popcorn Falls, Feb. 12-28. Find the entire season roster online at www.emeraldcoasttheatre.org.
ECTC's 2020-2021 season is made possible with support from Grand Boulevard at Sandestin, St. Joe Community Foundation, Howard Hospitality, and the South Walton Tourist Development Council.
To make a tax-deductible donation, volunteer or learn more about Emerald Coast Theatre Company, find them on Facebook, call (850) 684-0323 and visit www.emeraldcoasttheatre.org.
PHOTOGRAPHY
Follow this link to a gallery of Red Riding Hood images. Photo Credit: Phillip Padgett for Red Riding Hood publicity shots
Follow this link to images of Nicholas Ward.
Follow this link to graphic art for the 2020-2021 season.
ABOUT EMERALD COAST THEATRE COMPANY
Emerald Coast Theatre Company is a 501(c)(3) founded in 2012 by Nathanael Fisher, MFA, and his wife, Anna Fisher. Based in Miramar Beach, Florida, ECTC's mission is to enrich and entertain the Emerald Coast community through professional and educational theater. ECTC operates year-round with a two-fold mission to provide both educational and professional offerings to the Northwest Florida community. Educational outreach includes after school and home-school programs, touring and staged productions, summer camps, workshops and classes. The professional theater efforts are focused on thought provoking productions, festivals and collaborations as well as acting and improv workshops and classes for adults.
MEDIA CONTACT:
Zandra Wolfgram
Wordplay Ink
zandra@wordplayink.com
(850) 218-8805