New Nonprofit and Feature Film "The Paper Bear"
Film shines spotlight on the Florida Panhandle's rich biodiversity through the eyes of majestic black bears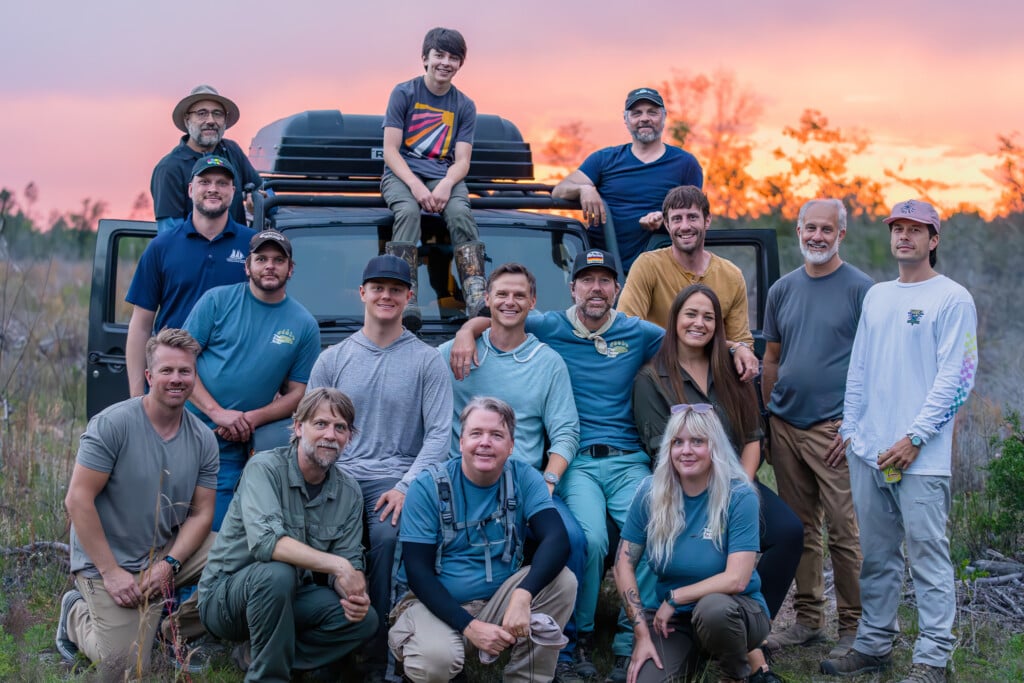 A new nonprofit and coming soon feature film called "The Paper Bear" has been announced. Millions of people visit the Florida Panhandle for its beautiful beaches and emerald-colored waters. Soon they will learn there is far more to discover, love, and protect beyond the coast.
Audiences will embark on a coming-of-age adventure and immerse themselves in the region's natural wonders through the eyes of majestic black bears.
"The Paper Bear film is a love letter to the state of Florida and, more specifically, the Panhandle of Florida," says Arix Zalace, director and co-founder of The Paper Bear. "It's also an adventure, a drama, a comedy, and all of the elements that will entertain while simultaneously educating you so that more are inspired into action."
The Florida Panhandle is a national treasure and is one of North America's five richest biodiverse hotspots. Florida has over 80 distinct ecosystems, and at least 57 can be found in the Panhandle alone. One umbrella species can help protect it all—the black bear.
An umbrella species is used as a conservation tool to help protect a larger group of species and their shared habitats. These magnificent creatures have extensive home ranges and rely on numerous biodiverse ecosystems, which is why they play a vital role in maintaining their delicate balance.
Cinematography is a critical component in capturing the essence and beauty of the Florida Panhandle for a feature film. It is pivotal in transporting viewers into the region's heart, immersing them in its natural wonders, and evoking a sense of awe and connection. To help us achieve this goal, the team recruited local and national talent that has worked on award-winning national television shows and films.
In addition, the animation will play a critical role and provide a beautiful perspective of the region that couldn't be shown otherwise. Families and, more importantly, children will fall in love with the characters the team has developed and help foster a new generation of wildlife enthusiasts.
The Paper Bear is fiscally sponsored by the team responsible for Nokuse Plantation and the E.O. Wilson Biophilia Center. Together, they are responsible for maintaining a 55,000-acre nature preserve and educating over 6,500 students across five counties on the importance of biodiversity to encourage conservation, preservation, and restoration.
Since 2006, Dr. Matthew Aresco has been the Director of Nokuse Plantation, and his team has helped advise and gain access to some of the most rare locations for filming that will astonish audiences. Partnerships like this, along with other state parks, forests, and leading scientists across the Florida Panhandle, have helped make this project possible.
"This feature film will be a catalyst for a greater public appreciation and knowledge of the natural ecosystems and biodiversity in northwest Florida. Large-scale, meaningful conservation of these unique and incredibly beautiful natural areas can only be accomplished through greater public involvement in conservation and funding for land protection." says Dr. Aresco, "Each day, the incremental loss of habitat often goes unnoticed by the public. The rapid development trend of our remaining unprotected natural areas must be reversed soon. The timely release of this film will educate viewers on why we must strive to protect nature and wildlife habitat and instill a sense of urgency in the need for conservation."
Biodiversity stands as a critical weapon in the fight against climate change and in upholding the diverse tapestry of life on Earth. Safeguarding the rich biodiversity found in this region guarantees enhanced food security, the production of life-saving medicines, and the natural regulation of our environment.
Every year, millions of visitors flock to the Florida Panhandle for its breathtaking beaches, and an increasing number choose to become permanent residents. It is imperative that both residents and visitors grasp the profound depth of natural wonders that compose this biological hotspot and learn to coexist harmoniously within it.
The Paper Bear initiative has set forth a long-term vision to educate the community and stakeholders through a series of engaging long and short-form content. The team aims to kindle a shared passion among all individuals and foster dynamic conversations that translate into tangible actions across the region for years to come.
A special gallery presented by The Paper Bear and The Seaside Institute. From June 26 to July 31, 2023, the public can view and purchase limited fine art prints in Seaside, Florida, at 168 Smolian Circle, Seaside, Florida, 32459. The Paper Bear co-founder and director, Arix Zalace, created 14 pieces of fine art highlighting critical moments of his time filming and living with wild black bears in the state forests of South Walton, Florida. It took years of preparation, scouting, and waiting to capture the scenes the public will see on display.
To learn more about The Paper Bear nonprofit, their mission, and how you can help, please visit www.thepaperbear.org and follow us on Instagram, @thepaperbearfilm for regular updates.
---
The Paper Bear
The Paper Bear is a nonprofit organization with a mission to enhance public awareness and understanding of the immense biodiversity of the Florida Panhandle, using the lives and roles of the region's black bears as a focal point.
Based in Santa Rosa Beach, Florida, The Paper Bear was founded on the belief that nature's beauty and biodiversity needs to be shared, appreciated, and preserved.
They seek to inspire understanding, respect, and greater conservation action by focusing on black bears, a keystone species in the region, and creating feature films along with other short forms of content. Learn more at www.thepaperbear.org.
---