A Slow-Burn Thriller
Crestview native's film heads toward distribution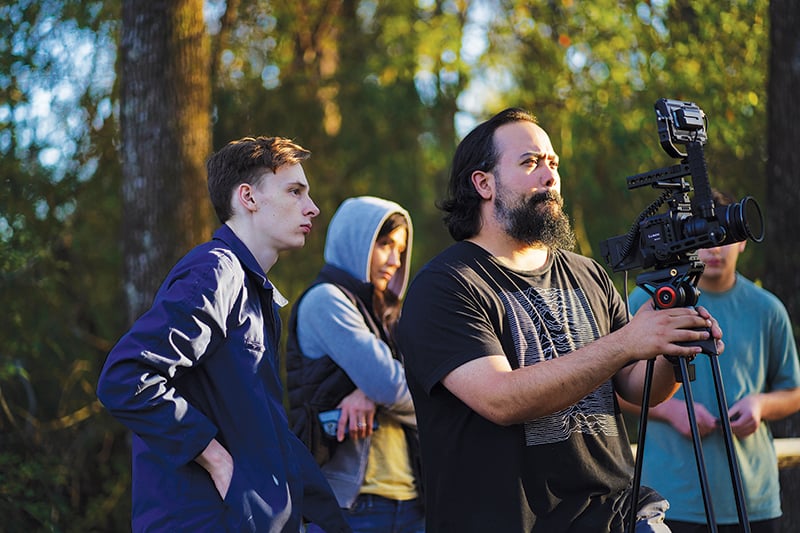 Javan Garza is most at home on the fringes of convention.
The 33-year-old writer, director and co-producer of When a Stranger Knocks, an independent horror film shot and produced in Northwest Florida, found purpose in a subversive genre that attracts what he calls the "outsider mentality."
"Growing up, I was stigmatized," said Garza, a Crestview native with over a decade of video production experience. "At school, I was one of the only Latino kids at the time and got picked on for being biracial. I was into heavy metal, and I was that kid in art class whose work was dark because I was processing things. I always want my work to mean something, and horror is a way to sneak in all sorts of thoughts and ideas."
With When a Stranger Knocks, Garza is one of many new filmmakers contributing to a subgenre that disposes of cheap thrills and gore galore, relying instead on inspired cinematography and frightful allegories that dare viewers to look inside themselves for profound meanings. Examples are films like Ari Aster's Hereditary and Jennifer Kent's The Babadook that get under your skin and stay there for a while.
On paper, When a Stranger Knocks is a slow-burn thriller loosely steeped in Venezuelan folklore. Pensacola actress and When a Stranger Knocks co-producer Dawn Hamil stars as Sky, a woman who, along with her brother Grey (Joseph Bishop) and husband Cecil (Ty Anthony Smith), returns to her childhood home to spread her recently deceased father's ashes. The task is made more daunting as the trio is stalked by an overbearing park ranger, who may prove to be not entirely human.
The film is aesthetically pleasing. Garza chose to shoot in black and white. He tells stories with the tones and shadows that play across his characters' faces and the stark, isolated woods of Milton. A somber, original score accompanies the grief-ridden journey and adds a touch of sentimentality. But where When a Stranger Knocks really succeeds is in maintaining a sense of likability for each of its characters.
"In writing When a Stranger Knocks, I watched an analysis of Hereditary and learned from Aster how to immediately get an audience on the side of your characters," said Garza. "The movie begins with his characters at a funeral. You immediately empathize with them. In my movie, I wanted Dawn (Sky) to instantly come off as a strong character. In the film's initial scene, I originally had Sky sort of lost in her own mind, while the other two characters were changing a tire. We ended up with her changing the tire while the men watched, which is probably how it would go in real life because Dawn is a very capable woman!"
Hamil has serious acting chops and even performed her own stunts while filming. Garza jokingly describes her as "the sister he never wanted," and said they have been working together for eight years, shooting projects like Garza's debut film, Melany Rose, and a variety of shorts. It was Hamil who encouraged Garza to get the ball rolling with When a Stranger Knocks, a project which took him six months to write, two weeks to film and ultimately eight months to edit.
"There's no ego between us; that's the key," Garza said of his collaboration with Hamil. "And, I've had ego run-ins. You squash it the best you can, but people inform you if they want to work with you again or not."
Garza has also enjoyed a friendship with actor Joseph Bishop since he was 18. He has worked for eight years with Steven Marlow, who plays the sinister park ranger, and created a role for his Northwest Florida State College professor, Clint Mahle, as Sky and Grey's father.
"Clint was in my first extended short, so it meant a lot to be able to bring him on and actually pay him," said Garza. "He gave a speech at the premiere that made me emotional, and I hate tearing up, but it meant a lot to me."
At this writing, the timing for the general release of When a Stranger Knocks has not been determined, but an agreement has been reached with a distributor. It did enjoy a local premiere in February at the Saenger Theatre in Pensacola, where over 500 people attended.
"I owe that all to Dawn," said Garza. "She's the one who made it prestigious, rolled out the red carpet and got a lot of really cool people to come out."
Garza is his own biggest critic. He doesn't quite believe it when you tell him you enjoyed his work, and he struggles to find words that can describe the surrealness of watching an audience gasp at the tense moments he's choreographed or laugh at a joke he wrote.
"You're not prepared for positive feedback," he said. "I feel like I let a lot of people down with my first film, and I really didn't want to do that to my team again. With When a Stranger Knocks, I'm slowly becoming proud of it."
Garza said he currently has several scripts in the works. He wants to keep writing and keep creating projects that spark dialogue and self-reflection.
"There's a deep answer for why I make films," he said. "My dad is a very salt-of-the-earth-type guy; you only ever see him happy or angry. We butted heads a lot during my teenage years, but one thing we always connected on was watching things, whether at the movies or on old VHS tapes. He would tell me things he never would have otherwise, all because of a certain scene.
"When I saw him smiling at me from the audience at the premiere, that was everything. I don't want to publicly say what a film is about. I want it to be up to others' interpretations and encourage people to dig deep."