Martial Arts Master Explores Bullying In Film
Filming for Dean Pyles' first film, The Coward, began in August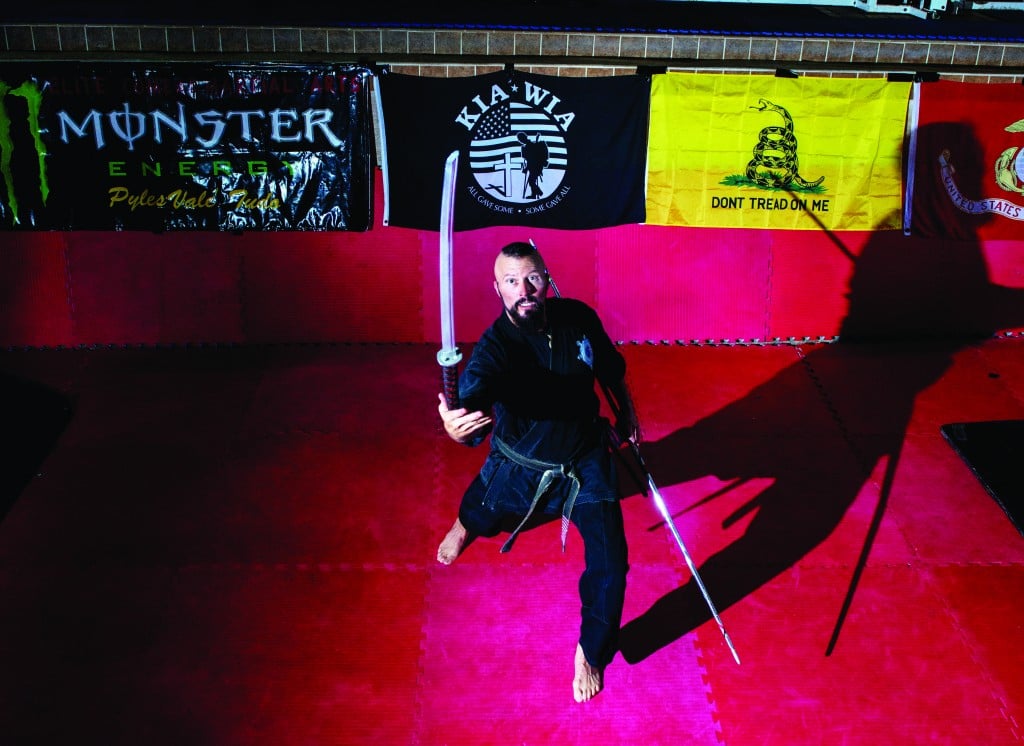 After winning his 44th world title in martial arts, Dean Pyles found himself at a crossroads.
The grandmaster martial arts instructor, stuntman and fight choreographer could either continue to compete or listen to that little voice in his head pining for uncharted territory.
Pyles had been floating the idea of a martial arts movie for quite some time, but it wasn't until he was trapped in a Virginia snowstorm with his daughter and a student that he finally pitched it and gained enough encouragement to take it seriously.
"They told me this was a movie they wanted to see and that it needed to be made immediately," Pyles recalled. "So when we got back home to Fort Walton Beach, I got on my kayak and prayed about it."
Pyles, who has owned and operated Elite Combat Martial Arts in Fort Walton Beach since 2009, often takes to the water to decompress and meditate. Amid waves and dolphins, he prays.
"I asked God to send me in a direction where I could use the skills that I and my instructors are blessed with, and everything seemed to tell me to make this movie," Pyles said. "There was just one problem: I've never written a movie before."
Pyles isn't the best speller. Growing up, his fists were more accustomed to throwing punches than wrapping around pencils and scribbling words. He is technologically challenged, he said, and doesn't even own a computer.
"So, this may be one of the first-ever scripts completely typed out on a smartphone," Pyles laughed.
But Pyles is persistent, a trait stemming from years of martial arts training, self-discipline and dedication. At age 4, Pyles began attending martial arts classes in the basement of a neighbor's home in Mount Airy, North Carolina. Upon receiving a Billy Jack cowboy hat from his uncle, Pyles found himself wanting to be the titular character who gave bullies their comeuppance by way of the foot and the fist.
As a teen, he traveled to Charlotte for training under Grandmaster Joe Lewis, a revered karate world champion and father of American kickboxing.
Pyles counts Lewis as one of the men who molded him into the grandmaster he is today. Inside Elite Combat Martial Arts, you'll find framed photos of Pyles and Lewis (along with snapshots of Pyles with Dana White, president of the Ultimate Fighting Championship, and former actor and mixed martial artist Randy Couture) lining the walls.
Pyles said it's a reflection of where he came from.
"I always tell my students to not drown the person who taught you how to swim," he said. "In America, everyone wants to give themselves all the credit. They use the teachers as a vessel and then try to drown them and outdo them. I tell them if you go about your journey the right way, good things will happen."
Good things are happening for Pyles, whose movie, The Coward, now boasts a properly formatted script and backing from director Ryan Callaway. But even mentor Joe Lewis had something to say about the movie's concept.
The Coward, which began filming in Alexandria, Alabama, this August, centers around Mark Stone, an ex-Special Forces soldier who, upon moving back to his hometown, finds himself targeted by a group of bullies.
"Bullying and martial arts," Lewis said, "hasn't that been done before?"
"Not like this," replied Pyles, who will gladly provide you with an in-depth analysis on why The Karate Kid isn't a movie about bullying.
Instead, The Coward focuses on the rarely talked about phenomena of the bullying one encounters as an adult, be it from a toxic workplace or a controlling partner or acquaintance. Pyles said the typical victims portrayed in films are "wimps, or people who can't physically stand up for themselves." Rarely do we see a target like Stone, played by Pyles, already equipped for retaliation.
"I thought it'd be cool if the person being bullied already had the tools to stop the bully but doesn't — for a certain set of reasons I won't reveal to you yet," Pyles said. "People don't realize bullies cause a ripple effect, so once the bully realizes Stone isn't going to fight back, he continues to escalate it to a point where it'll involve Stone's wife, children, friends and inevitably, the whole community."
You'll have to watch the film to find out if, after some soul-searching, Stone will step up and put a stop to it the best way he knows how.
"Even Jesus picked up a cat o' nine tails and went into the temple and kicked some behind," Pyles said of resolving conflict with violence. "Sometimes you have to braid your own whip."
Pyles said The Coward will also be unique in that it won't rely on computer graphics for fight scenes or Hollywood actors who can't really fight. Its cast comprises Pyles' martial arts-loving daughters, Kirra Barlow, Hylea Pyles and Alex Pyles, the latter of whom was an America's Got Talent finalist for her choreographed fight routines, as well as 25 to 30 martial arts greats, including Dan Severn, Ernest "The Cat" Miller and Bill "Superfoot" Wallace.
Martial artists are accustomed to rigorous training, and Pyles told them to hone their acting skills the same way. He's confident his cast has built up enough natural chemistry to eclipse the need for professional actors "who can't really fight, anyway," he said.
Indeed, The Coward will showcase some of the defense and tactical combative training Pyles teaches both Northwest Florida military enlistees and civilians at his studio. It is his hope this movie inspires its audience to pick up some form of martial arts for both self-defense purposes and lessons in tenacity.
"I tell my students all the time that the human body has an endless supply of 'go get it' if you just tap into it," he said. "If you want to be the best of anything you've got to out-train your competition, and win or lose, you have to keep at it.
"You're only as good as what you're doing right now. That's how I wanted to approach this movie and now, finally, it's happening."
The Coward
Filming for Dean Pyles' first film, The Coward, was scheduled to begin in August. Its main character, Mark Stone, is pestered by bullies who find out that they are picking on the wrong man. Indeed, the film will showcase some of the defense and tactical combative training Pyles teaches at his studio to both civilians and clients in the military. Pyles hopes that his movie inspires its audience to learn some form of martial arts for both self-defense and personal improvement purposes. For him, that inspiration came early. He began attending martial arts classes in a neighbor's basement when he was 4.