Tommy Bahama Restaurant, Bar & Store Gets Facelift
Grand Boulevard retailer and eatery excited for new look, staff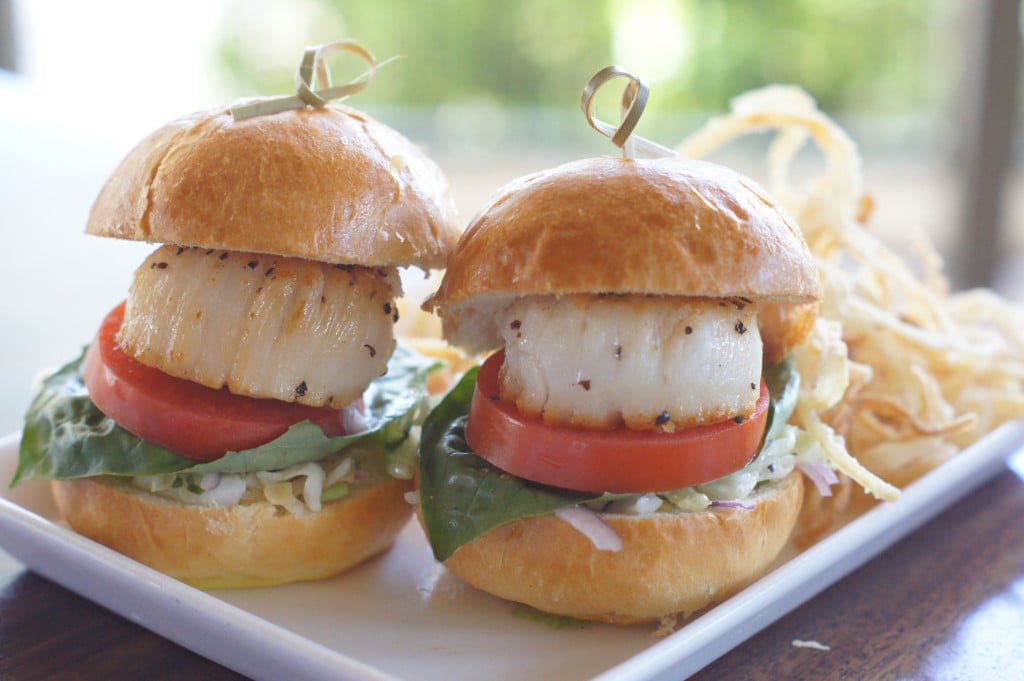 Since its launch in 2007, Tommy Bahama Restaurant, Bar & Store in Grand Boulevard at Sandestin located in Miramar Beach, Fla., has consistently furnished the Emerald Coast with California-style cuisine and cocktails, and a refined shopping experience. But as far as appearances go, said general manager Pratt Shirley, management felt it was "about time for a change."
Shirley is a product of that change. Having been with Tommy Bahama just shy of a year, he has witnessed firsthand the fruits of that effort.
"People love Tommy Bahama for what it is," said Shirley at an exclusive preview party last Thursday, June 20, "so the last thing we wanted to do was shock them with too much change. Our products and food are successful because of the way we portray the island lifestyle, so our new interiors— a brightened, coastal color scheme and enhanced lighting fixtures—serve to reflect that."
Last Thursday, guests gathered in a newly beautified reception space for a sampling of the restaurant's signature menu, including Tommy Bahama's classic mai tais and Key lime martini cocktails, coconut-crusted crab cakes, blackberry brandy BBQ-glazed pork ribs and, of course, their ever-scrumptious piña colada cake.
"Tommy Bahama was one of the first restaurants that opened in Grand Boulevard and really set the bar in terms of quality," said Stacey Brady, director of marketing and communications at Grand Boulevard. "The brand has long been known for its iconic retail, but locals saw that 'Tommy Bahama' very quickly became synonymous with delicious food."
In fact, said Brady, the Emerald Coast site has had an impact on the entire franchise. The blackened Mahi Mahi fish tacos- served with soft plantains, tomato relish, chipotle aïoli, island slaw and tangy lime, sour cream- originated in Grand Boulevard eatery and was such a sensation, it has since become a staple of Tommy Bahama menus across the nation.
For Shirley, such accomplishment comes from taking things "one guest at a time."
"One guest at a time, that's how we measure our success," he stressed. "There is nobody that comes in and out of this restaurant that I don't get to speak to."
Shirley, who spent the past 10 years as a director of operations for a different food service business, is grateful for his new role as general manager, as he now gets to "learn so many different stories, faces and names" he never would have been afforded the opportunity to before.
Added Shirley, "I already know some people well enough that I don't even need to offer them a menu. I could just serve up their entire orders without ever talking to them, because I know what they want."
Of course, he does, and extends the same treatment to his immediate staff. He is in particularly close communication with executive chef Andre Dobbs, who often sits down with Shirley for "hearty discussions" regarding food items and shared quality expectations for both products and their employees.
"(Former Tommy Bahama GM) Mario Mardones has been taking care of people over the past 10 years, and it's important to me that everyone knows that my staff and I are going to be doing the same thing," said Shirley. "We have an incredible team. I love what I do every day, and am so humbled by the people who work around me."