These Offbeat Dining Spots are Deliciously Different
Hungry for Something New?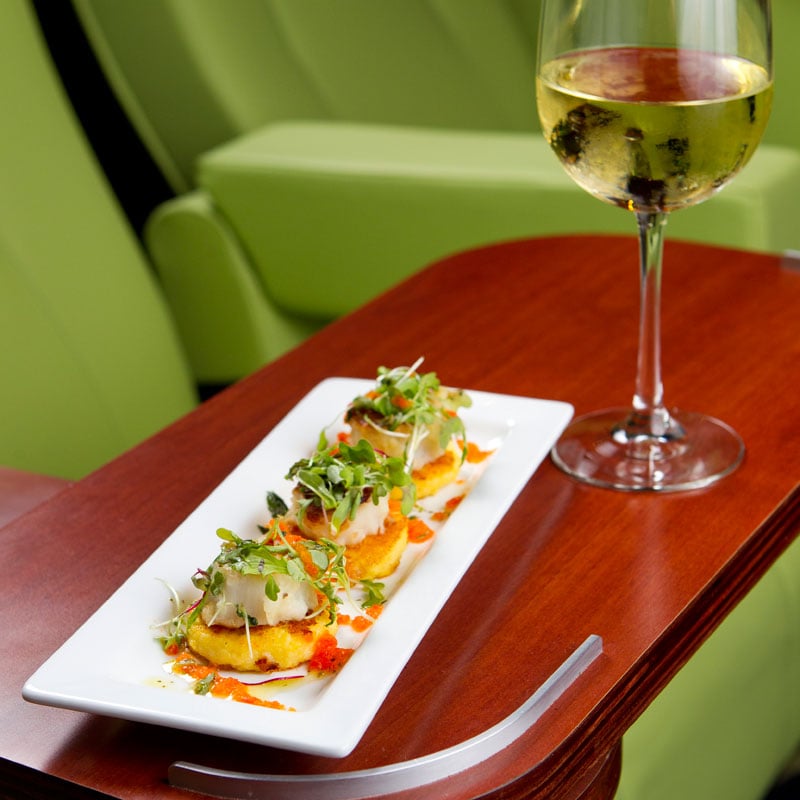 The Emerald Coast is known for dishing up delicious dining spots, but going to the same restaurant time after time can sour even the sweetest of date nights. A business lunch needs to be convenient, but who says it can't be fun? If you say a prayer before you try a new lunch locale, you'll surely think this spot is heaven sent. Before you say, "That's a fork load," tuck into these three unexpected places, and you'll find great food, friendly service and a refreshingly different atmosphere each its own.
The Oscar Goes to The Ovation Club
As Vesper Lynd says to James Bond in "Casino Royale," "There are dinner jackets, and then there are dinner jackets. This is the latter." It has us thinking that there are dinner-and-a-movie dates and there are dinner-and-a-movie dates, and Carmike Cinema's Ovation Room in Grand Boulevard is serving up the latter. 
The "VIP" Ovation Club, located within the 10-cinema screen complex, seats just over 100 patrons. It is open only to those 21 and over and has everything you need to snuggle up to your sweet someone on a romantic date. Cue the mood-setting lighting, and slide into the arms of an oversized leather dining chair. 
While you wait for your movie selection to roll across the Big D screen, the touch of a button beckons your personal server ready to take your order. The Ovation Club menu features appetizers, pizza, sandwiches and dessert items along with soft drinks, beer and wine selection, and, of course, bottomless buttered popcorn! The menu is available daily a half hour before each movie selection from about 11 a.m. until the last showing. 
We're pretty sure a starter of Seared Scallops and Grilled Polenta served with silver flatware and linen napkins paired with a glass of premium wine makes any movie night feel like you are taking your date to a red carpet affair. 
Ashley Rudolph, a 23-year-old Ovation Club server from DeFuniak Springs, had some understandable opening night jitters. "At first it was awkward, because you have to adjust to the dark, but you adapt to it." With her neat brunette chignon and black-aproned uniform, Rudolph would look at home in any fine dining restaurant, and she aims to please her VIPs, even if it is counter intuitive. "I'm not used to not disturbing customers as a server, but I've gotten used to it," she says. 
Weekends and rainy days are busiest at the Ovation Club, which means there will likely be a run on Chicken Pesto Pizza, Smoked Turkey Paninis and Steak Sliders for Chef Jason Irvy. "The customers are always amazed. They say 'This isn't what we expected' and 'The only thing missing is a recliner,'" Rudolph tells. 
That's exactly what Ivan and Sue Samuels of Santa Rosa Beach thought when they came to Carmike Cinemas to duck out of the heat on a warm June day to catch "Man of Steel," only to find the theater contained a full-service restaurant and a waiter on call. They ordered a pizza and drinks and settled in for a "super" evening. "It's a nice idea. It's very comfortable and something different," Ivan Samuels says. 
Different indeed. In fact, the Ovation Club at Grand Boulevard is only the second of its kind for Carmike Cinemas — whose Big D cinemas are named so for featuring bigger digital screens, bigger sound and bigger seats. The first is located in Chattanooga, Tenn. 
The steady stream of couples and groups of friends both local and visiting suggest this Big D experience is a big hit. "We are seeing people coming to celebrate anniversaries and birthdays," Rudolph says. "Some people order dessert first or sometimes only dessert. The Chocolate Molten Lava Cake is the most popular — even with the servers!" Good to know that as dinner-and-a-movie nights go, you can have your cake and eat it, too. 
Bowled Over by Cabana Café at Hurricane Lanes
Restaurateur Wayne Anderson strikes again. At 15, Anderson got dishwater in his blood while busing, and after four years in the United States Air Force as a civil engineer he settled on the Emerald Coast and worked his way up from a valet at the busiest joint in town — Harry T's. That was the late '80s, and he's been in the restaurant business ever since.
Hardworking in and out of the kitchen, Anderson, 47, is a tanned, trim triathlete, whose goal is to complete a full Iron Man. "When I set out to do something, it's done," he says. 
The same could be said for his business ideas. His first dining venture was Wayne's Dogs, a floating hot dog stand that doused Crab Island cravings in the early '90s. After serving as the general manager for Lucky Snapper for seven years, he opened his own place, Cabana Café located in Aerial Dunes within Seascape Golf, Tennis & Beach Resort in Miramar Beach. Lil' Cabana Beach Bar on Scenic Gulf Drive followed, and just a few months ago he revved up a roving restaurant called the Cabana Fire Company, which serves hot dogs, chips and cold drinks at events and festivals. And then there is Cabana Café catering. "We do parties, weddings, Bar Mitzvahs … we've even done a funeral," Anderson says.
Anderson is on a restaurant roll, so in February when he was asked to open a Cabana Café inside Hurricane Lanes Bowling Alley in Destin he said it was "a no brainer." All of the food ingredients are delivered from the main Cabana restaurant and prepared fresh on site each day. But menu offerings such as First Frames, Burger Alley and Little Leaguers remind you where you are dining. Though the small kitchen requires several runs a day to deliver a menu of Anderson's standards, he is happy to do it. "To bring good food to a family-friendly bowling alley is fun to do," he says. 
Cabana Café at Hurricane Lanes is open daily from 11 a.m. to 2 a.m. There are a few tall tables to sit at with a view of the bowling alley action and many more inside Rupert's Billards & Blues Sports Bar, also located inside the bowling alley. Or you can place your order for popular favorites such as stone-fired Cordon Bleu Pizza, Fried Green BLT Sandwiches and Homemade Potato Chips with Cilantro Dip and have it served right to the table of your assigned lane. 
The café is low on frills. A bell sits on the walk-up counter to ring for service, and condiments are self serve, but the wait service like that of Davis Posey is eager and efficient. After moving to the area from Memphis, Posey became fast friends with the staff at the Cabana Café bar in Miramar Beach. In December she was hired on to the Cabana crew as a beach bartender, server and office assistant. "I really met all of my friends here," she says, "Cabana is our Cheers." 
Though modest and laid back, after nearly two decades in the culinary world, Anderson is proud to take some due credit. "In real estate they say 'location, location, location.' For restaurants I say operator, operator, operator." Anderson credits his longtime success to hard work, good employees and quality food made with the freshest ingredients possible. "Everything is homemade. There are no microwaves at all in my restaurant. No can to the pan and no freezer to the fryer," he quips. 
The Cabana Café at Hurricane Lanes is a bit nostalgic for Anderson. "My parents bowled when I was a kid, my dad worked in a bowling alley for a time and my twin brother, Wade, is a pro bowler, so I feel like I've come full circle," he says. 
To that and our next bowling alley bite we say, game on! 
A Prayer Answered With Fireside Café at Destiny Worship Center
When you think of dining at a church for lunch, you might picture sitting down to a six-foot folding table to eat lunch off of a plastic cafeteria tray with compartments to separate your cold canned peas from your carrots. Thanks to the culinary talents of Georgia-born Chef Max Hornsby, the Fireside Café at Destiny Worship Center is a prayer answered for those looking for a healthy, affordable, tasty lunch in Destin.
After working in the Atlanta and Dallas culinary scenes, Hornsby relocated to the area in 2002 and began logging late hours cooking in many of the Emerald Coast's high-end restaurants over the next 10 years. Looking to connect to the community, he joined the Destiny Worship Center congregation and volunteered to help his church with food at events and meals for the church staff. The Fireside Café, located in the lobby of the church, was first meant for the congregation and staff, but it became so successful Pastor Steve Vaggalis decided to open it up to the public in 2010 and asked Hornsby to oversee it. "The pastor is amazing, and he strives for excellence in all he does, so it's an honor to work for him," says Hornsby. 
Three years later and the cozy fireside café, open Tuesdays through Fridays from 7 a.m. to 2 p.m., is still going strong. The restaurant is a service, and so it's priced to be affordable with most menu items just $5. What profit it does make is donated to the church's mission programs. 
The café serves breakfast, lunch and espresso-based coffee drinks to a steady stream of about 150 people each day seated at both dining and counter-height tables in the lobby awash with light from floor to ceiling windows. Due to demand, plans are in the works to expand the café by adding a second level to offer even more seating. 
Not only does the café allow Hornsby to showcase his passion for Mediterranean and Pacific Rim fusion cuisine, but with four kids under 9 years old, the reasonable restaurant hours afford this family man quality time to spend with his wife and kids — a luxury not many chefs are able to enjoy. 
Breaking bread at this church is clearly something the leadership strives to make comfortable for all. "The atmosphere and culture within the church is to create a sense of community," Hornsby says. "We want the Fireside Café to be inviting and for people to enjoy fellowship whether they are members or not." 
The food is fresh, and the atmosphere is casual. A chalkboard menu includes a half dozen or more soups, salads and sandwiches, including a different special each day. The Grilled Chicken Flatbread with Goat Cheese and Spring Mix and the Oven Roasted Turkey Panini with Smoked Gouda are the top sellers on the menu. If you cannot decide, you can pair a half sandwich with your choice of soup or salad for a little of each. 
Some ingredients, such as the basil in the Tzatziki sauce, are plucked fresh from Hornsby's herb garden located on site at the church. "It's something different you don't find every day. We try to take good food and kick it up a notch," Hornsby says. And (at the time of our interview) Hornsby was planning to heat up the menu at Fireside with barbecued meats hot off his brand new smoker. 
In addition to operating the Fireside Café, Hornsby finds time to consult with other business owners who come to him to whip their kitchens into shape. Still, this foodie isn't at all phased by the hard work and commitment required in the restaurant business that lured him at the tender age of 15. In fact, he says it's probably "a touch of OCD" that has made him a passionate worker all his life. "I'm an all-in type of guy," he says. "It's how I try to live my life, and be in my marriage and with my kids." Amen to that.
Cabana Café at Hurricane Lanes
34876 Emerald Coast Pkwy  Destin
(850) 424-3574
Daily 11 a.m.­–2 a.m.
Fireside Café
Destiny Worship Center
122 Poinciana Blvd  Destin
(850) 650-6800
Tuesday–Friday, 7 a.m.–2 p.m.
The Ovation Club 
Carmike Cinemas Boulevard 10
Grand Boulevard at Sandestin
465 Grand Blvd.
(850) 460-3288
Open daily, from around 11 a.m.
Order dinner 30 minutes before show time