The Zesty Baguette Brings French Flare to the Table
Say 'Oui!' to the French-inspired menu at Zesty Baguette Bistro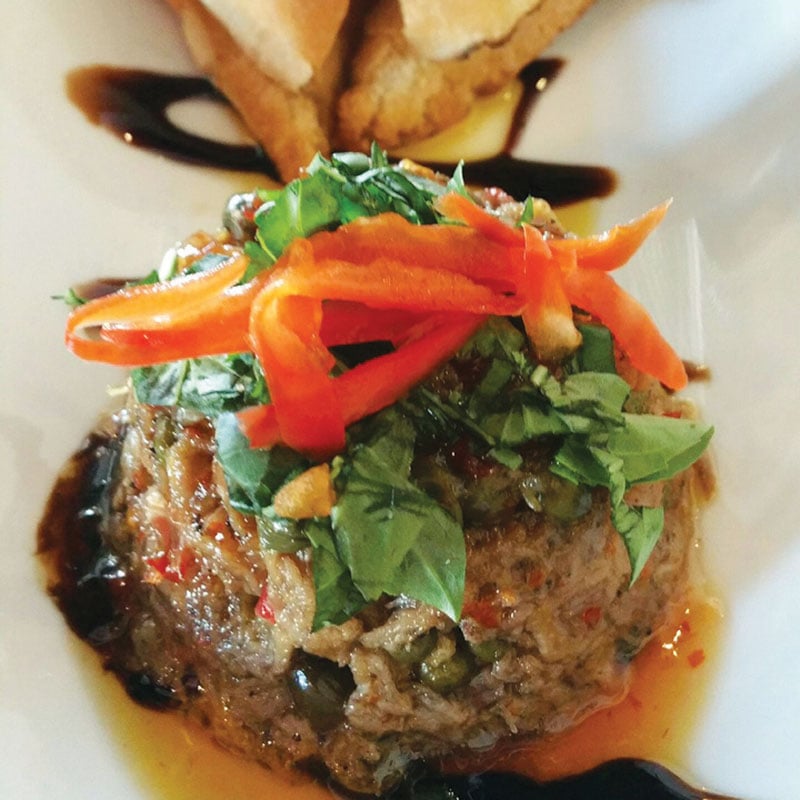 With a relationship dating back to the 17th century, the colonial architecture, lyrical music, weather-friendly fashions and many of Vietnam's flavorful foods have been influenced by the French.
In the hopes that their passion for flavorful French-Vietnamese food would provide a delicious detour to Destin's seafood-centric food scene, Chef Duc Tran, a Vietnamese immigrant, in partnership with Dr. Hien Dao of Fort Walton Beach, opened the Zesty Baguette Bistro in Destin's Paradise Key shopping plaza in March of 2016.
Zesty Baguette Bistro takes it name from the French bread that is sold in the streets of Paris from baguette (banh mi, in Vietnamese) stalls.
Before relocating to Destin to open Zesty Baguette Bistro, Tran was chef de cuisine at two successful Asian-themed restaurants in Atlanta, namely Ten and C'om.
Tran hopes the restaurant's "innovative fusion" concept fills a void, when it comes to foods that are available in the area. And with plenty of positive buzz and a growing list of regulars, he is also filling bellies.
"We wanted to offer French cuisine with Vietnamese flair, because we see food like fashion: people want different options," says Tran. "If you don't know Vietnamese or French, you can realize our cultural value with our unique menu that celebrates both."
The atmosphere is contemporary-casual, with distressed driftwood-hued wood floors, neat rows of wooden tables and banquette booths that line each wall. Red lampshades suspended from exposed ductwork provide a pop of color.
Tran is there most days, welcoming and thanking patrons with his low-toned voice and warm smile.
The duality of this already-popular bistro is apparent in its diverse dishes, which include the French Beef Rillette — tender, slow-cooked French beef rillettes served with toasted bread — and the Vietnamese Banh Mi — pickled carrots, cucumbers, basil, jalapenos, cilantro and French butter served on a baguette. And, yes, Asian-inspired frog legs with olive oil and pesto are on the menu, too.
Not surprisingly, one of the most popular dishes is the Vietnamese broth-based noodle soup, pho (pronounced "fuh").
Tran explains that the French introduced cows to Vietnam, which led to the creation of beef broth from the bones; so this popular dish is thanks to the French, as well.
Tran's pho is a traditional recipe, made with delicate, white-rice-flour noodles in a savory, beef-based broth and served with fresh cilantro and a choice of beef, chicken or shrimp. This is a "hands-on" dish that you customize at your table, with layers of fragrant and tasty garnishes: bean sprouts, Thai basil, jalapeno peppers, lime wedges and hoisin and chili sauces.
Coffee shops are a special place in Vietnamese culture: They are where people gather to have conversations, discuss business and relax. Tran transports his patrons to his homeland with his Vietnamese Espresso poured over sweetened condensed milk (served hot or cold).
This sweet treat is the perfect ending to any meal at the Zesty Baguette Bistro; but if you desire more, you can pair it with a slice of Asian mocha cake, compliments of the chef. "Oui!"
Open daily, 
11 a.m. to 9 p.m.
Lunch — $8–$16
Dinner — $9–$25
Children's menu, Carry Out & Private Parties
4418 Commons Drive E., Destin
(850) 460-8797, zestybaguettebistro.com
---
How to Eat Pho like a Pro
You will be served a bowl of hot broth and a side plate piled with fresh herbs, bean sprouts, limes and sauces. Sip the broth first, to honor it and enjoy it as it was prepared for you. Tear the herbs' leaves to release the flavor of the herbs and chop up the jalapeño. How much of what you add is up to you. Place chopsticks in your right hand and your soup spoon in your left hand. Lean over your bowl and breathe in the aromas. This will prepare your palate. Once the noodles are gone — if you can finish them all — raise the bowl to your lips with both hands and polish the pho off. And if you slurp, so be it. Like sipping wine, tasting the broth with some air allows you to savor all of the nuances of the flavors.