The Yards Milkshakes Are Worth Screaming For
The extravagant shakes are becoming a social media sensation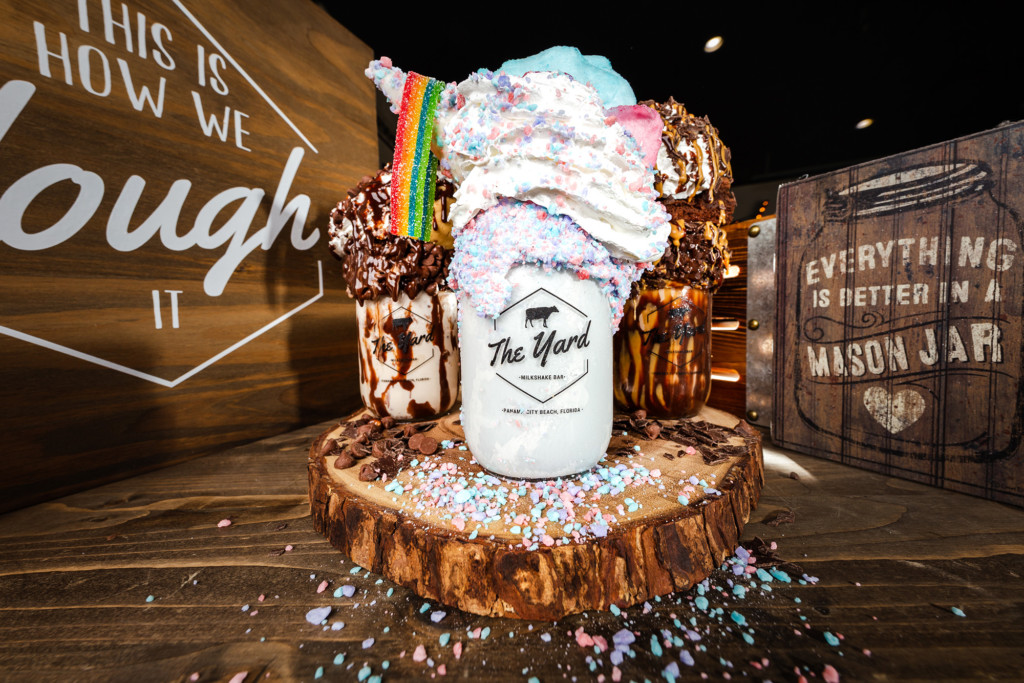 In Quentin Tarantino's film, "Pulp Fiction," Vincent Vega and Mia Wallace share a meal at Jack Rabbit Slim's diner before their iconic dance number.
Mia Wallace decides to top off her Durward Kirby Burger with the "Five Dollar Shake."
"Did you just order a five-dollar shake?" asks a bewildered Vega. "A shake — that's milk and ice cream."
"Last I heard," comes Wallace's retort.
Vega turns to the waiter. "Five dollars, and you don't put bourbon in it or nothing?"
Uh, no.
But at The Yard Milkshake Bar, where a pint-size shake runs $13 dollars a pop, abundant combinations of cookie dough and confectionary toppings ensure that even the parsimonious Vegas of the world get enough bang for the buck.
At The Yard, generous slices of cheesecake, whole cupcakes and soft pretzel sticks sit atop thrones of whipped cream.
The body of the shake, contained in chocolate-coated, souvenir mason jars, is made up of your choice from among 30 Hershey's ice cream flavors comingled with peanut butter cups, frosted animal cookies and fruit loops and such.
The finished product is a saccharine sculpture worthy of the MOMA. After all, owner Chelsea Green is an artist at heart.
"Growing up, I always knew I wanted to work creatively," Green said. "It just so happened that ice cream was the best way to express that."
The idea came about in 2017, when Green, who operated an ice cream shop in Gulf Shores, Alabama, with her mother, received an opportunity to move the business into a new and larger storefront.
"The space was in uptown Gulf Shores, where there's less tourists and more locals," Green recalled.
"There are tons of ice cream places around, so we wanted to do something extravagant. I had seen some crazy milkshakes on Pinterest, so we thought that would be something unique for the locals to enjoy."
Employing what she learned as a marketing student at the University of South Alabama, Green launched The Yard primarily through social media.
She posted pictures of her grandiose shakes on Instagram, boosted posts on Facebook and attracted a big crowd on opening day.
A day later, the crowd size doubled. On Day 3, the line was well out the door.
"I remember my sister-in-law calling to tell me how many people were posting Instagram stories about The Yard," Green said. "That's still one of my favorite parts of the business: sifting through all the pictures people tag us in online."
Green, who co-owns The Yard with husband Logan, say they have no doubt that the "Insta-worthy" aspect of the shakes has played a significant role in their success.
The bar features a 3-D, LED light-studded logo sign, which frequently appears in the background of #theyardmilkshakebar posts.
"I honestly think that's the biggest part of The Yard experience," laughed Green. "Everyone wants to get that perfect picture."
One of the hottest shakes shot this summer was "The Mermaid," which features birthday cake ice cream inside a blue marshmallow cream-dipped jar.
A rock candy stick breeches the "sea foam" whipped cream, along with pastel sprinkles and a white chocolate mermaid tail. And, of course, customers are encouraged to adorn The Mermaid with additional accoutrements.
Most especially, cookie dough.
"We make our cookie dough without eggs so it's perfectly safe to consume raw," Green explained.
Among seasonal offerings last winter, mint bark dough was frequently coupled with brownie batter ice cream.
In fact, business went so well during the "off-season" that the Greens secured a business location at Pier Park in Panama City Beach.
"My husband and I both come from entrepreneurial families," Green said.
"His father is an electrician and my dad owns a convenience store. But, Logan is braver than I am. He was definitely the one to push us into a new city. It made sense when he pointed out the similarities between Gulf Shores and PCB."
The Yard at Pier Park boasts a more spacious location, offering families plenty of room to snap photos of their creations.
The Greens have also implemented a wash-off station, where you can scrub the remaining salted caramel, fudge and chocolate-coated bacon from your jar and take it home.
"Every glass is screen-printed with our logo and completely dishwasher safe," said Green.
"It's always touching to see people tag us online when they're using their jars at home. We don't make much money off that, but we want people to have something to remember us by."
A third location is now open in Fairhope, Alabama, and many customers have inquired about opening a Yard in their home state.
Green says that franchising is something they're open to, and recently included a section on her website (theyardmilkshakebar.com) with licensing details.
"One of the greatest parts about this has been getting to know our employees and hearing that they want to grow with us," Green said.
"There are those who are already hoping to move to a new city and open their own location someday. We call it their business, too, so it really does feel like we're all on this journey together."