The Truth Behind Farm to Table Fresh Goods
Fresh Local Goods are Always in Season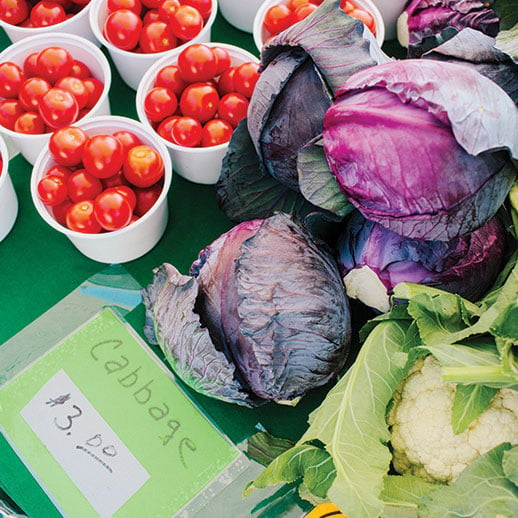 Photography by Pure 7 Studios
---
Locally grown. Seasonal. Farm to table.
These are words that have crept into everyone's vocabulary. If you paused over this page long enough to read this far, odds are good that you're at least a little interested in supporting area farmers and bringing the region's bounty into your own kitchen.
All around the Emerald Coast, every week of the year, people wander past stalls of brightly colored vegetables, freshly baked pies, hanging ropes of artisan sausages and hundreds of other items produced and artfully displayed by growers and producers who live and work a short drive from our beaches and communities.
It's a continuation of a market tradition that stretches back for thousands of years, all the way to ancient Egypt. Long before buying food meant driving to a giant store and pushing a buggy down endless aisles, farmers and their customers met each week at the local market. Foods were same-day fresh and usually peddled by the grower himself, though the selection was likely not so vast as today.
Our present-day obsession with healthy, high-quality, locally made foods is drawing new customers to participate in the farmers-market tradition all around the country. Here in the Emerald Coast, there are more than a dozen regularly occurring farmers markets, giving shoppers ample opportunities to fill their arms with fresh greens, bright red tomatoes, crisp ears of corn and buckets of plump strawberries — and much more.
Diane Kolopanas has been operating two such markets for a couple of years: the 30A Farmers Market in Rosemary Beach and the Grand Boulevard Farmers Market in Miramar Beach (adjacent to Sandestin Golf and Beach Resort).
"I really enjoy seeing the people who come to see us, the locals and the tourists," Kolopanas said. "We talk to neighbors, everybody brings their pets and there's a real sense of community."
Kolopanas started the Rosemary Beach market in 2013 and the Grand Boulevard market last year and recently began hosting a farmers market in WaterColor. She said that she saw an opportunity to meet a need and approached the communities with her idea.
Vendors at her farmers markets and at the other ones in the area certainly sell fresh fruits and vegetables, but they're just as likely to offer an array of other homemade products, such as organic dog treats; soaps and lotions; fresh seafood; artisan baked goods; homemade jams, jellies and salsas; freshly cut flowers; and kimchi, sushi, Vietnamese spring rolls and homemade soups, among other things.
"We have a woman who sells Argentinian pastries and another who sells Turkish pickled vegetables," Kolopanas said. "Unless you're in a really rural area, all farmers markets now are turning into broader markets, a one-stop shop for everything you want. The farmers markets have evolved into miniature world's fairs, with food from all around the world. It's neat because we also get to educate people about all these international and unusual foods."
Educating customers is something George Miller, of Miller Family Aquaponics, does often. First-time customers tend to have a lot of questions about aquaponics, he said.
For the past six years, he has been growing and selling the vegetables — mostly leafy greens, but also cucumbers, tomatoes and a few other vegetables — that he raises on his Pensacola farm at the Palafox Farmers Market, and now at the markets in Rosemary Beach and Grand Boulevard as well. 
Miller gets some help growing his produce from the 3,000 channel catfish he has in seven 1,200-gallon tanks. Waste products from the fish are piped into the beds of the vegetables, helping the plants to grow organically. He started the aquaponics farm nearly seven years ago as a home-school science project for his three children, but when Miller lost his construction job in 2010, farming became a way to support his family full time.
"Without the farmers markets, we'd be out of business," he said. "The first couple of years we did wholesale, but that's a lot of work for just a little money. The farmers markets are a lot less aggravation, less work and a little more money."
Sometimes Miller will also bring fish fillets to the market to sell, but he says vegetables are his mainstay. And because lettuces wilt easily and his operation is too small to justify purchasing a refrigerated truck, he came up with a creative solution to sell his customers the freshest lettuce possible.
"We bring it to the market live, with the roots still attached. We cut the lettuce for customers right there at the market," Miller said.
Erica Manthey at Seaside's Farmers Market
The trend toward organic and farm-fresh foods doesn't surprise Karin Frisbee in the least. Karin and her husband, Ed, are the owners of Cafe Organic and the Center for Healthy Living in Fort Walton Beach, and they help run the Emerald Coast Organic Food Co-Op. As longtime local proponents of healthy eating and living, the Frisbees have watched as, nationally and locally, people have begun to embrace the lifestyle choices they have long preached — and they couldn't be happier about it.
"People come in and ask, 'What is quinoa?' and 'What is tempeh?' And I'm so happy and excited to tell them about it," Karin Frisbee said. "I don't want this to be a rich man's game. I want everyone to be able to eat well."
For 25 years, the Frisbees, who are both chiropractors, have worked to bring healthier food and lifestyle options to the area, hosting classes on nutrition and making themselves available to answer questions. Over the past year, Karin Frisbee said, the number of people who have come into their café to ask questions about food and health choices has increased dramatically.
"People are just sick and tired of feeling sick and tired, and they're starting to connect the dots," she said. "They want to know why they're sick. They don't want to have to take drugs. People are finding that food is our biggest way to really make us healthy, really make us fit. That's what's really driving this trend. People want to be healthy."
Members of the Emerald Coast Organic Food Co-Op pay $50 to join the co-op and then $50 every two weeks for a bin of produce that they pick up from the co-op room next to the café. It's another way that people in the area can bring fresh, organic fruits and vegetables into their own kitchens.
(Ever'man Cooperative Grocery in Pensacola, which has been open for 40 years, is also a co-op, meaning it is owned by the members. However, members pay $12 a year to join and then shop as they would at any other grocery. Anyone can shop at For the Health of It in Santa Rosa Beach, which has been selling organic produce and other healthy products since 1995.)
Karin Frisbee said that Emerald Coast residents seem to be especially interested in organic meats.
"People are understanding that if you feed a cow a bunch of processed grain, steroids and antibiotics, you're not going to want to eat it," she said. "People have a harder time finding the organic proteins."
It's those hard-to-find items that drive many people to the markets to shop. Jenefer Richards has carved out a niche growing exotic vegetables at her home in Calhoun County and selling them under the name Jenefer's Garden. A native of the Philippines, Richards is particularly known for her Asian vegetables, such as giant radishes and purple Okinawan sweet potatoes.
"Customers are always telling me how beautiful everything looks and asking about the Okinawan sweet potatoes," Richards said. "They like them because they're healthier than regular sweet potatoes."
The products sold by Paul and Judy Ashman, who own Gulf Coast Saltworks, also appeal to those who are looking for something different to try at home. As one of only a handful of artisan salt makers in the United States, they make hand-harvested sea salt from the waters of the Gulf of Mexico. They sell it in four flavors: white flake, lime, pecan smoked and ghost pepper.
"There's this whole trend of shopping and supporting local because people want to deal with people who are in their community, they want to support small businesses," Judy Ashman said. "In a grocery store, that tomato can be waxy; maybe it was picked a month ago. People who know that know they will be getting something really fresh and tasty at a farmers market."
Paul Ashman, who is also a tenured professor at Gulf Coast State College, where he teaches culinary arts, said that the appeal of farmers markets is easy to understand.
"It's a neat thing to go to a farmers market and meet the people who make the food," he said. "There's something social about it that people really love. People are willing to pay a little more for really good, fresh food."
Ready to go shopping?
Let someone do the work for you at the one of these area restaurants that specialize in organic foods:
Bridge Span 14 Organic Restaurant
105 Carillon Market St. Ste 101
Panama City Beach
(850)588-5341 
Hibiscus House Café
86 Defuniak St.
Grayton Beach
(850) 231-2733
hibiscusflorida.com​
Cafe Organic
113 Truxton Ave.
Fort Walton Beach
(850) 585-3645
cafeorganicfwb.com
The Sidewalk Cafe
103 S. Wilson St. (Main St.)
Crestview
(850) 974-4974
sidewalkcafenwf.com
End of the Line Cafe
610 E. Wright St.
Pensacola
(850) 429-0336
eotlcafe.com
Sluggo's
101 S. Jefferson
Pensacola
(850) 791-6501
sluggospcola.blogspot.com
Ever'man Cooperative
Grocery and Cafe
315 W. Garden St.
Pensacola
(850) 438-0402
everman.org
Synergy Organic Juice Bar and Cafe
120 Miracle Strip Parkway
Fort Walton Beach
(850) 865-4919
synergyorganiccafefwb.com