The Mulligans Sell Out Venue for Emerald Coast Autism Center Fundraiser
The Mulligans have raised nearly $900,000 for local charities and causes.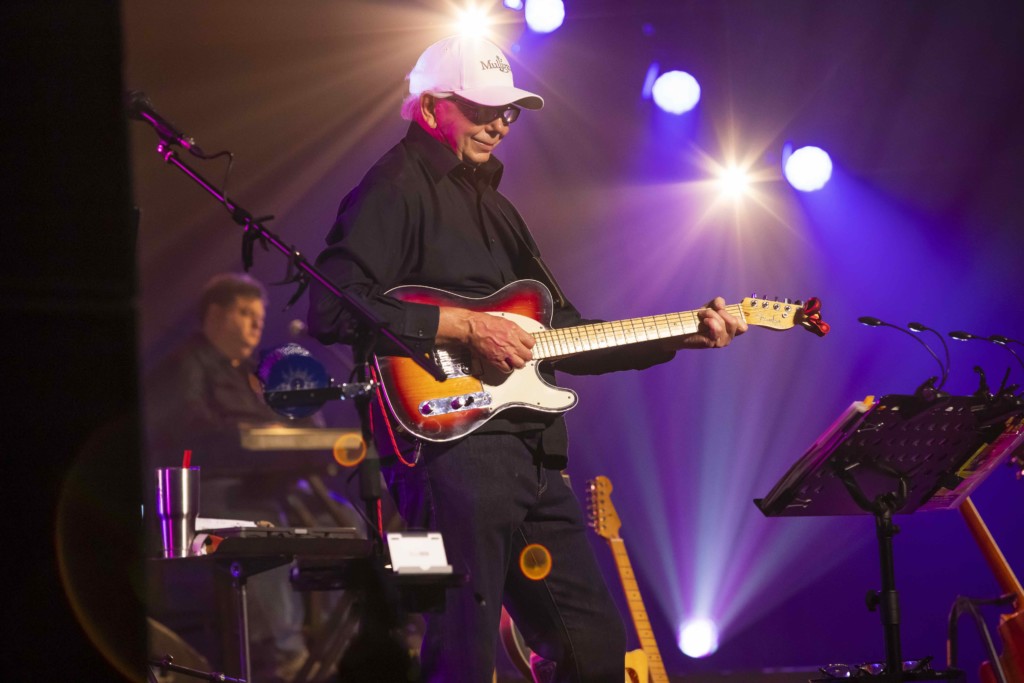 Summer Jam '19 lived up to its name. On July 13, the Mulligans' eight-member band jammed out to a sold-out crowd at the Emerald Coast Convention Center in Fort Walton Beach.
More than 1,000 music fans beat the July heat by filling white linen-covered tables of 10 inside the air-conditioned conference ballroom aglow with moody blue and purple lights. The lobby bar was hopping, and after "Shaky Ground" opened the first set, the only shaking was on the dance floor, which was packed the entire evening.
Diana and Ed Gilbert of Niceville were clearly comfortable fixtures on the dance floor. Why did they come out? "We love to dance and came to support autism, plus our church family is here," Diana Gilbert said.
"Old Time Rock & Roll" was like a siren's song beckoning sandled feet to the dance floor. When Mulligan fans were not dancing, they were singing along. This was made easy by virtue of every song being a bona fide hit … and they just kept coming.
Just ask Phyllis Enzor of Niceville. A self-confessed "groupie" who said she "loves too many Mulligan tunes to count." Why did she venture out to Okaloosa Island on this Saturday night? "I love the group, their sound and that they do so much for our community," she said.
A medley of "surf songs" sent the crowd into a frenzy. Then The Mulligans slowed things down with Neil Diamond's "Solitary Man" and some "Peaceful Easy" Eagles made tender with vocals by guitarist Tim Richey.
Dave Edmunds' "I Hear You Knocking" with Steve Spayde's velvety vocals followed soon after, but The Mulligans did not need to knock on wood for luck. This was their night. Later, Edwin Watts, who formed the band beginning with Spayde more than a dozen years ago, said it was "one of the best shows we've done."
The band practices weekly, and they make the most of it. Like most of The Mulligans' performances, tonight was special because it was all in the name of charity — with $15,000 of the proceeds going to the Emerald Coast Autism Center (ECAC). To date, The Mulligans have raised nearly $900,000 for local charities and causes.
Why is it that such a small town gives so much? "I think it speaks to the quality of people here," Edwin Watts told Emerald Coast Magazine before the concert. "We all believe individually in charity giving. As for The Mulligans, we present a fun format by providing a concert, so not only are you giving to charity, but you have a heck of a lot of fun. We have two things: great music and dancing. So, you can sit in your seat and see a great concert or get off your feet and have some fun on the dance floor, or maybe a bit of both."
And dance they did right up to the end of the first set which closed with a toe-tapping version of "Blue Suede Shoes" thanks Brad Sanko's fast fingers on keyboard. But not before arms were sent sailing into the air with fists pumping to the '70s classic "Taking Care of Business" featuring the pulsing beat of Harry Eckel on drums.
At intermission ECAC co-founders Heidi Blalock and Stacey Berryman addressed the audience. "ECAC was established in 2009 with five kids and five therapists. Today, we are proud to be celebrating 10 years and have grown to 90 kids and 70 staff members," Berryman said. She explained that ECAC support students range from ages 2 to 19, and because of the intense special needs of their clients, every program is individually tailored for each student. With high overhead expenses required to deliver effective behavioral therapy, the ECAC founders were visibly grateful for charity events like this night.
Though the second set was a well of greatest hits as good as the first half, there were some memorable music moments. Alan Jackson's "Remember When" opened the flood gate to memories and the dance floor once again. Followed by a Santana mash up of "Black Magic Woman." Spayde slayed the vocals, while Watts poured his soul into a solo on rhythm guitar. When Spayde gave Watts a nod by saying "Edwin Santana, everyone" the crowd erupted with cheers.
There was a lot to love about "Love Potion No. 9," but The Rolling Stone's "The Last Time" was likely my favorite. Ray Angerman tapped out the beat on the tambourine; Dan Mossman hummed harmonica; Greg Roth banged out the bass; and Edwin Watts nearly set his guitar on fire. Luckily it wasn't the best for last … not by far. Credence Clearwater Revival's "Green River" flowed effortlessly and let us "remember the things we love" (like this song!), and Dale Hawkins' sassy rockabilly ditty "Susie Q" were still to come.
The Mulligans closed out their three-hour concert with Lee Greenwood's "God Bless the USA," while screens on the stage streamed images of American flags waving in the wind. Though the band delivered nearly 40 songs, the enthusiastic crowd would have been happy to dance to more.
Before he took up guitar with a dream of performing in a band, for many years Edwin Watts developed global success based on brand name golf equipment, apparel and accessories for many years, so, it's not surprising he would borrow some golf lingo for his band's name. In golf parlance, a mulligan is a second chance to do things better. The Mulligans did not need a mulligan at the 2019 Summer Jam. It was a hole in one. Still, this concert is a beautiful reminder for us all that we can always do better by our most vulnerable — our children in need.
I'm already looking forward to the next time I get to hear Watts' solo on "The Last Time," and kick up my heels on the dance floor — all in the name of a deserving local charity.