Emerald Coast Autism Center Sets a New Standard
The brainchild of a concerned parent, ECAC is enabling clients to break barriers.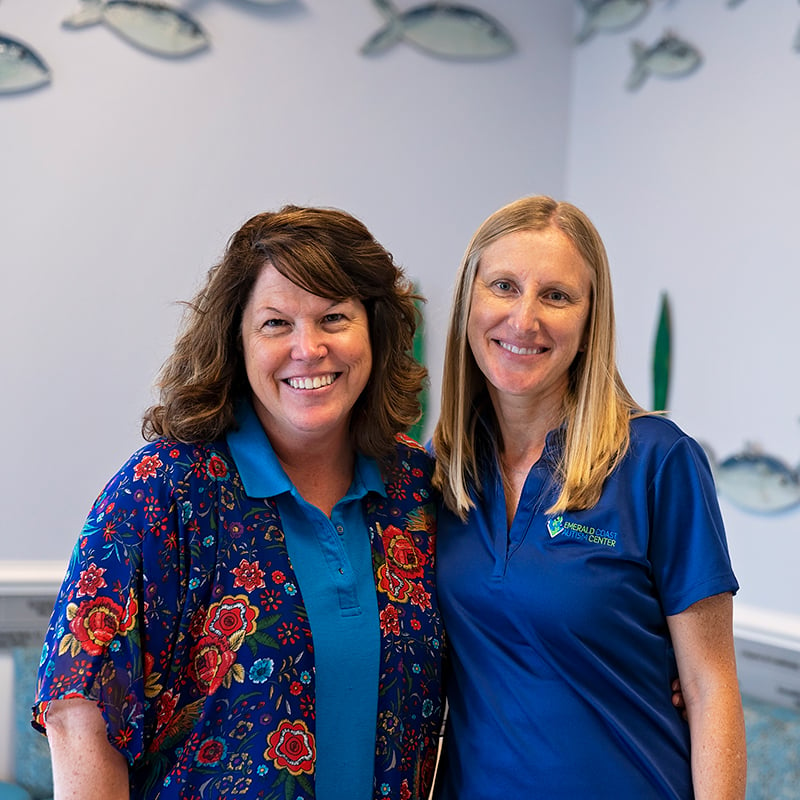 The lobby of the Emerald Coast Autism Center — its light blue walls adorned with a giant mermaid surrounded by schools of silvery fish and pink coral — is a happy kind of loud.
Therapists in bright red polo shirts usher small groups of chattering children inside after an outdoor activity.
With a squeal, a young boy flings himself onto a blue chair, clearly enjoying the cool vinyl on his hot face.
All the while, telephones ring, parents duck in for drop-offs and quick hellos, and ECAC staff members keep everything on track with calm voices and big smiles.
"When we started, we wanted it to be a happy, positive place because our kids deserve a happy, positive place," says CEO Heidi Blalock, who co-founded ECAC with Staci Berryman, the center's executive director.
"It is not easy work, but it is so incredibly rewarding."
'Intensive, quality ABA'
After her son, Max, was diagnosed with autism as a toddler, Blalock looked for a facility such as ECAC, which would establish an emphasis on Applied Behavioral Analysis, the leading treatment for autism.
"I had a neurologist who was telling me Max would never talk — and I knew he could do more," say Blalock, who has a background in finance and a master's degree in business administration.
She said she believed Max and countless other children would thrive in a center offering comprehensive ABA, a place where a dedicated team of clinicians would observe, assess and evaluate an autistic child's behavior and then apply specific interventions to alter and improve that behavior over time.
"We wanted intensive, quality ABA, and we just couldn't find that," Blalock says.
Unwilling to give up, Blalock teamed with Berryman, a board-certified behavioral analyst who has a master's in special education, to forge their own path.
In 2009, they opened ECAC with five students and five staff members at St. Jude Episcopal Church in Niceville.
The center today offers one-on-one therapy, an academic track for pre-K to second grade and functional academics for older students as well as on-site speech therapy and occupational therapy.
"Max is the reason I did this," Blalock says. "You can't get more homegrown than Staci and Heidi starting a school in a church. Literally, it's like starting a band in your garage. … We just wanted a place where kids with autism could learn effectively."
Their vision was simple but unique — a center where all activities and instruction are conducted in a manner consistent with ABA, where all staff members are ABA-trained therapists and where parents are encouraged to learn the same ABA protocols to reinforce their children's treatment at home.
Blalock laughs when she thinks of those early days, before the nonprofit organization made a big move.
"The church was wonderful," she says. "They took us on as a mission, but we are not quiet. … We are noisy. We punch holes in the walls. We break dishes, and at the end of the day, they were like, 'Wow!' … We are so grateful for them, but we kind of outgrew each other."
In 2016, after a successful capital campaign, ECAC moved into its current $2.5 million facility on the Northwest Florida State College campus in Niceville.
The building features numerous classrooms, a lunchroom, an indoor playground with a rock wall and a fenced-in playground.
Artwork in an undersea theme — donated by Angela Stevenson of Big Orange House Designs — brightens walls throughout.
Today, almost a decade after it formed, ECAC serves 90 children and employs 70 staff members.
It maintains intensive ABA, with all of its staff members either ABA therapists, certified teachers or taking master's level coursework toward certification.
"Our focus initially is often not on academics because there's really no point in learning math if you can't sit or focus or you're going to punch yourself," Blalock says.
"Our focus is on getting them able to function, behave, communicate, and a lot of times, their frustration levels come down."
A life skills classroom is set up as a studio apartment where older kids learn how to make toast, hang up clothes, make beds, stock a pantry, wash dishes and generally take care of themselves.
"We need our kids to be less dependent on therapists and family if they are going to go out into the real world," Blalock says.
Space at ECAC is in high demand, but that doesn't surprise Blalock given the increased prevalence of autism spectrum disorder.
According to the latest data from the Centers for Disease Control and Prevention, roughly one in 59 children in the United States has been diagnosed with autism, up from one in 68 two years before.
"We have just grown very quickly," says Blalock, who gives two to four tours of ECAC each week.
"Right now, we have about a six- to eight-month waiting list … It's just a sad commentary on the state of autism."
'Dignity and respect'
For many families, ECAC is far more than a learning center — it's a haven.
In 2013, Arriell Anderson and her husband moved their family from New Orleans to Crestview for the purpose of enrolling their 9-year-old daughter, Madalyn, in ECAC.
"They literally saved my child's life," Anderson says. "I don't say that lightly. We were in a place of crisis. … Madalyn was miserable."
Diagnosed with autism at 2, Madalyn had grown increasingly aggressive and disruptive and spent most of her waking hours biting, hitting and generally melting down.
By Anderson's count, she and her family were dealing with roughly 100 assaults a day.
Public school was no longer a viable option, and they were desperate for help.
At ECAC, they found ABA therapists who were able to take what Madalyn dished out — which, for one big-hearted therapist, included a bucket of sand over the head.
The therapists followed her specific protocols and taught Anderson and her family how to do the same at home.
It took a while, eight months in all, but her ECAC team got Madalyn stabilized to a point of no aggression.
"They went the distance," Anderson adds, her voice full of emotion. "They give our kids dignity and respect. It's the first place I've been where they look at my child the same way I do."
Madalyn is learning to make financial purchases and read street signs.
Her goals include handling her own bank account and holding a job.
"She is straight-up happy," Anderson says. "Madalyn now has choices in her life!"
For Blalock, it's especially rewarding that Max — who's now 6-foot-2 and starting to read and write at age 13 — has been among those helped by the center she helped found.
"I look at his progress and I couldn't be happier," Blalock says. "He can communicate with us, and that has changed our lives."
Want to help?
Emerald Coast Autism Center is in need of new or used iPad donations for students. To help out, call the center at 850-279-3000.