The Edge Seafood and SkyBar
New Destin Harbor dining option hovers above the water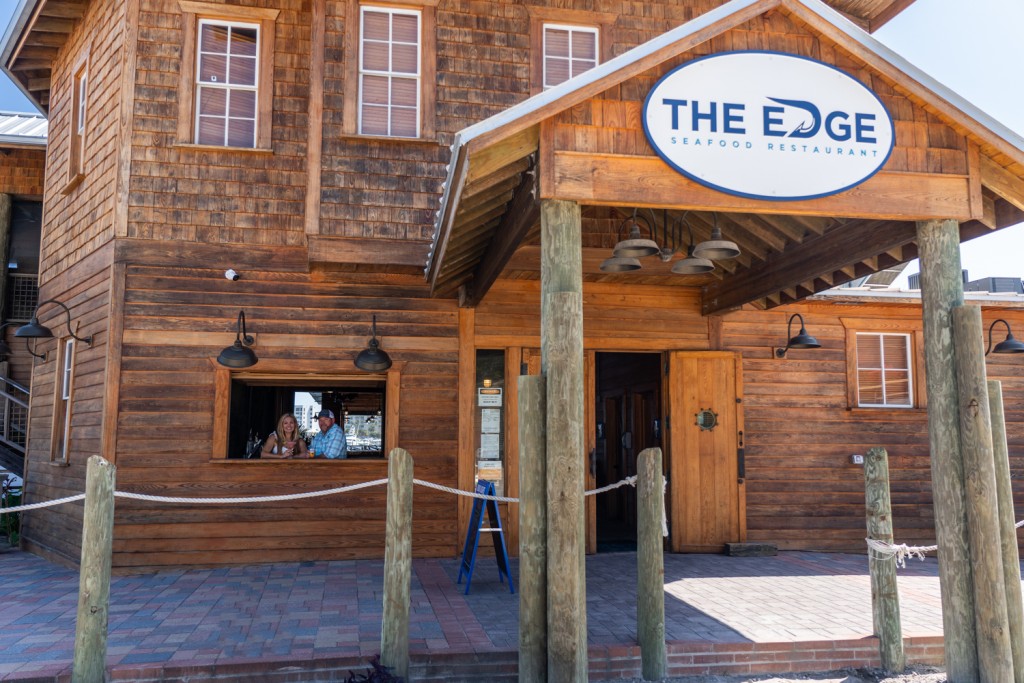 As Florida natives descended from Florida natives, Heather and Chris Thomas have a long history of being on and near the water. Their newest venture, The Edge Seafood and SkyBar, is as close as you can get to the water without getting wet.
The Edge Seafood and Skybar is the only Destin restaurant built directly on top of the water. The two-story structure aligns with a dock on the first floor, close enough for a passing dolphin to join you for dinner. The second floor features the sky bar and provides panoramic views of the harbor, Destin Pass and the Gulf.
The Thomases own a highly successful rental and tour boat company, Destin Vacation Rentals, which attracts more than 300 visitors a day. They established the restaurant on the same property to take advantage of that captive audience leaving the water.
At 16, Heather began working in the restaurant industry. She maintained her connections to it even as her career shifted. When the time came to open her own restaurant, she already knew people she wanted on staff, including a kitchen manager she had met 30 years earlier.
"As boat people, it was important to us to have a space that was accessible by both boat and car, making it the ultimate Florida-style restaurant experience," Heather said.
The first floor is casual enough that you can go directly from boat to table and not feel underdressed while sitting down to an upscale meal. The open-air concept allows for unobstructed views and gulf breezes no matter where you sit. For those seeking to-go food, there's a fast-casual window where food can be ordered.
The adjoining dock and boardwalk of The Edge Seafood and SkyBar are accessible day and night. Lights illuminate the water after sundown, attracting fish that young and old love to feed.
The sky bar is reserved for adults and serves cocktails and small plates from 4 p.m. until 11 p.m. The laidback lounge is equipped with a fire pit, patio seating and sectional couches, creating an intimate setting ideal for gatherings of friends.
The downstairs menu emphasizes Gulf fish and locally farmed ingredients. The conch fritters, ceviche, hand-breaded coconut shrimp and fried whole snapper are all popular options.
Chris's father was a charter boat captain. The family has been in the fishing game for over 30 years, and the couple's three sons are following the same trajectory.
"When people dine here, we want them to leave with a good sense of what Florida is and what it's about," Heather said. "Whether it's feeding the fish from the dock or supporting local fishermen, we cater to the Florida lifestyle."
To see the menus and learn more, visit edgeseafood.com.