An Inside Look at the Life of Destin's Commercial Fishermen
Harboring the Truth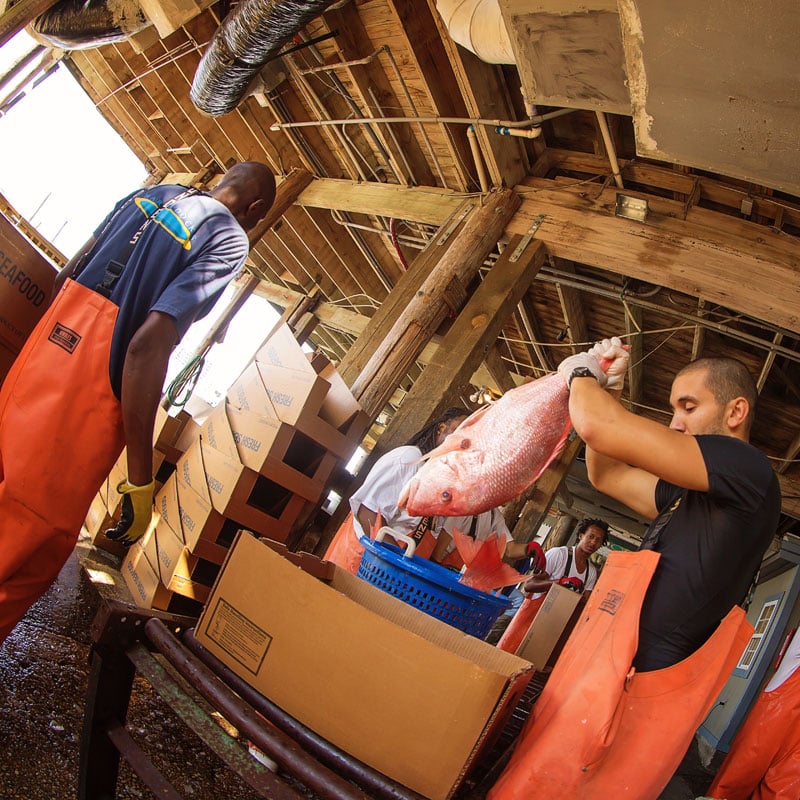 Consider the Red Snapper. The reef she calls home is 12 miles off the coast of Destin and 150 feet underwater, where an old chicken coop dropped on the bottom has become a great place for she and her schoolmates to poke around, looking for shrimp and crabs to eat on the Gulf floor. Suddenly, her eye lights on a piece of fish, just floating there in the water, a perfect morsel. And she eats it.
It's a beautiful fall evening, and you're sitting on the dock of a Destin Harbor eatery enjoying a glass of crisp, refreshing sauvignon blanc as you watch the clouds tinged shades of pink and orange by the setting sun. Your server sets in front of you a plate of grilled Red Snapper accompanied by ginger rice and finished with a lemon caper cream sauce. You flake off a bit of the filet with your fork, take your first bite and it is … sublime.
This is the story of what happens in the hours between Paragraph 1 and Paragraph 2.
Some in this cast of characters, like the fishermen and the chefs, are obvious. The fish cutters, packers, license holders and boat owners, maybe not so much. And there are others in the mix too, such as regulators, biologists, fishermen of yore, perhaps even the hand of God that you may not have considered at all.
A Little History
Let's begin with the beginning of the Earth.
By now, pretty much everybody who's been around here more than 15 minutes knows about that quirk of underwater topography — the famed "100-fathom curve" — where the relatively shallow waters one finds along the Gulf of Mexico coastline drop off dramatically just south of Destin. A look at a nautical map shows that nearby port cities such as Panama City and Pensacola don't have the fast access to deep water — a fathom is 6 feet, so we're talking about 600 feet deep — that Destin enjoys.
Kathy Marler Blue, whose family has lived in the area for four generations and is associate director of the Destin History & Fishing Museum, explains what this means: "All of the Gulf's species live in a column somewhere of depth, surface to floor, (and) anglers out of Destin can reach every depth of fishable water for all Gulf species quicker than any other ports." The museum itself features more than 75 mounted fish, all caught in the Gulf off Destin.
Because money is made when fishing, and not burning time and fuel getting to where the fish are, Destin Harbor has served as a base for commercial fishermen for more than 175 years.
When Leonard Destin came to the area in 1835, there were no motorboats. Boats were powered by men with oars. There was no such thing as fishing reels, and there was no ice to keep the fish from spoiling. Consequently, fishing in the early days was done near shore with seine nets.
For the first 100 years, in the remote area then known as East Pass, Blue says pioneer families were "poor dirt farmers and poor fishermen."
In the mid-1930s, a bridge was finally built that would connect the small community with Pensacola to the west. And over the years, the fishermen's equipment and techniques would improve.
A quantum leap came after World War II, with the advent of electronic devices that could pinpoint with great accuracy the underwater reefs and rock formations that attracted quantities of fish. Before that time, "you had to be very, very skilled to find where those structures were. It was an artificial cap (on the number of fishermen)," says local businessman Dewey Destin, the great-great grandson of Leonard. "There is no cap anymore. You can fish anywhere all over the world in any depth of water with those electronics and go right straight to the structure every time as long as you have a number that tells you where the structure is."
But with that electronic breakthrough came regulation.

The Rules
While a landlubber's romanticized vision of commercial fishing might include a grizzled boat captain and his mates enjoying the salt air, dropping hooks and hauling in the bounty of the sea, the reality looks quite different.
Fifty-year-old Danny Bryant captains the Dawg Hunter ("It's a Georgia thing," he says), a boat owned by another person. After 35 years of fishing, he does have the grizzled look, but with multitudinous regulations to keep track of, as well as taxes and the cost of fuel, ice, bait and tackle, his life is far from carefree. Even his blown out flip-flop — what he calls "slaps" — that cost $40 a pair and have to be replaced every six weeks or so, were on his mind. After a fishing trip that yielded mostly Vermillion Snapper (aka mingoes or b-liners), he and mate Mike Meyers were cleaning the boat after some particularly harrowing weather — "Took three (waves) broadside, breaking over the whole boat" — that set off the Emergency Position Indicating Radiobeacon (EPIRB), a safety device that alerts the Coast Guard that a boat is in distress. "We were about 20 miles from Pensacola when I saw a C130 circling me, (then a) helicopter pulled up on top of us," Bryant says. He was half expecting the feds to appear and slap him with a fine for the false alarm.
Fishing in the Gulf of Mexico is subject to a dizzying array of ever-changing rules created and enforced by multiple state and federal agencies. There are regulations about the species, sizes and numbers of fish that can be caught. What can be used to catch them. Where and when they can be caught. Permits required for commercial fishing in general and specific fish in particular. Reporting what is caught. And that's just for the commercial fishery. There's a whole different set of rules and permits for charter and recreational fishers.
"You need to have an onboard attorney," quipped Destin.
But even the fishermen recognize the need for regulation.
"The regulations, as a whole, are a good thing. It needs to be regulated before we wipe (the fish) out. We have the technology to do that," comments Meyers. "They've just got to do it some way that it's fair for everybody."
On the Dock
In the early days of his Harbor Docks restaurant, owner Charles Morgan figured out the equation: Fish minus middleman equals lower prices.
And so, in the morning, before the locals and tourists arrive in droves at the Destin Harbor landmark and begin digging into their fried Seafood Combo Plates, the dock below the restaurant is abuzz with activity at the Harbor Docks Seafood Market.
The wholesale market supplies fish for Harbor Docks and Morgan's other restaurants — Camille's in Destin, Dharma Blue in Pensacola, as well as four Five Bar restaurants in Birmingham, Ala., Tuscaloosa, Ala., Athens, Ga., and a fourth slated to open in Gainesville in the fall. Their website lists nearly 40 local restaurants serving their fish, which are also shipped to restaurants and wholesalers throughout the U.S. and Canada.
On a spring morning earlier this year, Chatham Morgan (son of Charles) was sorting snappers by size from a huge vat into purple plastic baskets. Five or so workers in bright orange rubberized waders grab the fish, dunk them in an ice water bath ("It kind of pretties them up a bit," says one.), pack them with fresh ice into cardboard cartons and load them into a refrigerated truck.
Chatham Morgan says the market will ship 25,000 to 30,000 pounds of fish on a busy week, "a few thousand" on a slow week. "I'd say our busiest week we pushed 80,000 pounds of fish." All the more amazing when one looks inside the market, which consists of a crammed order-taking office, a fish-cutting room and an icy storage area that's no bigger than a decent-sized master bedroom.
"A lot of stuff (comes) in and out … it's a revolving door," says Chatham Morgan. "If you're not constantly buying and selling fish, the fish is getting old. You've got to have fish constantly coming in; you've got to have fish constantly going out. It can get very chaotic."
Eddie Morgan (another son of Charles) says it is very possible that a fish swimming in the Gulf in the morning could be on your plate within hours. "Our mullet guy … starts at daylight (and) gets here at 9:30 in the morning. And we're cutting mullet for lunch."
The brothers say their own restaurant and others are the top customers for their piscine wares. Faraway seafood markets pay less and get what can't be immediately sold.
"We don't want to send it to New York, who's going to send it to another market in New York, who's going to send it to a processor, who's finally going to send it to a restaurant," says Chatham Morgan. "We say, 'Cut out as many people as you can and get straight to a restaurant.'" Using a brokerage called Sea to Table, the market can pack and ship orders to restaurants overnight.
There's one species of fish that hardly ever makes it out of Destin. As he was giving a tour, Eddie Morgan spied a triggerfish on ice. "You need to make sure you get that triggerfish before they try to sell it," he instructed one worker. Fish cutter Eric Stovall concurs. "I love triggerfish. They used to call them trash fish, they used to throw them back 20, 30 years ago. Now, it's great."
The dock is populated by characters, including Tony Martin, who describes himself as "a worker, I guess. Partner, manager, indentured servant since '84." He's the guy who sets the price the market will pay for fish. It's not like the New York Stock Exchange, with posted prices. Martin keeps it all in his head — the law of supply and demand in action — all day, six days a week. He's also aware of what boats are coming into the harbor and what sorts of fish they've caught. "It could be sold before they even touch the dock," he says.
While he drives a hard bargain, Martin says it's more than an exchange of money. It's more like a friendship and a partnership with all the fishermen.
Harbor Docks owns a few boats. Most of the suppliers are independent fishermen, although Martin estimates between 40 and 60 boats sell exclusively to the Harbor Docks market. "I'm not high every time, but in general they make more money selling to me," he says, because they're supplying Harbor Docks' affiliated restaurants. Last year, the restaurants used $650,000 worth of seafood items, according to Martin.
One of the most expensive fish crossing the dock is the tuna, and a fish's value is determined by a grade between one and three based on color, clarity and fat content. No. 1 is the best — sushi grade. Stovall, who's been cutting fish for 15 years, demonstrated "plugging" a tuna to determine its grade. He shoved a thin metal cylinder under the fish's fin into the meat, pulled it out and then pushed out a worm-sized core sample of the meat. "What you want to look for is the blood line; you want to see how red the blood line is. You want it bright red." The fish he was testing had a brownish cast when held in the sunlight, so it didn't make the (sushi) grade. "This would be a No. 2. It's perfectly fine to cook. That's a pretty fish, but it's not a sushi-pretty fish."
The fish-cutting room has a concrete floor that's wet as the cutters hose gore off the waist-high stainless steel table in between fish. The process is surprisingly low-tech. Order takers write down the types of fish and poundage needed, and the forms are clothes-pinned to a line for the cutters to see. "I don't do anything until somebody says, 'This is what we need.' It is hard. It's monotonous. I just stand there for eight, 10 hours just cutting away." While he's constantly sharpening them, Stovall uses only two different knives to cut everything from little mullet to thick-skinned cobia. Although he's just 33 years old, Stovall wears braces on his wrist and elbow and admits, "I've got scars and puncture wounds all over me."
The Last Word
Despite all the laws, the hard work, bad weather, danger and the uncertainties of the trade, the fish business is still Captain Bryant's job of choice:
"It's better to be out there ridin' around in the salt air, in your shorts and slaps, instead of a son of a bitch cramped up in an office wearin' a suit."