The 15 Best Sandwiches of The Emerald Coast
We have plated up 15 of our favorites from all along the Emerald Coast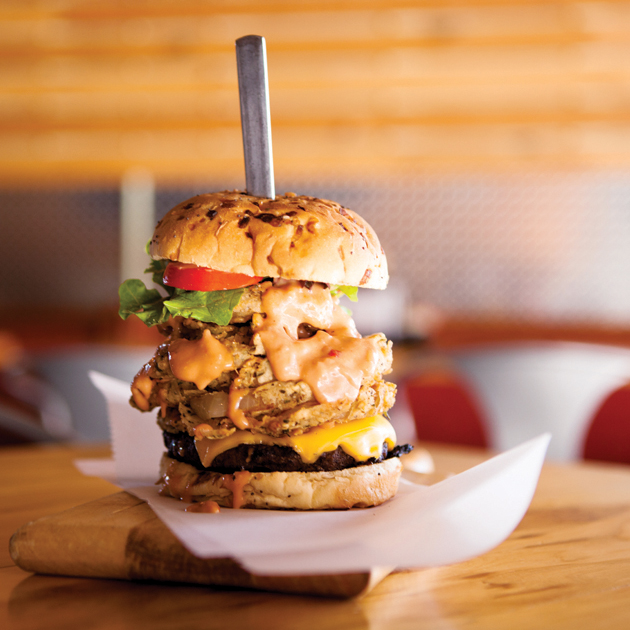 Any way you slice it, the sandwich is almost a sacred food. What's not to love about a complete meal that you can pick up with your fingers? Ask someone to name their favorite sandwich and they won't hesitate to tell you exactly how they like theirs. And yet any sandwich survey will surely stack up many different answers.
John Montagu (Nov. 13, 1718–April 30, 1792), 4th Earl of Sandwich, claimed to be the eponymous inventor of this food combination. After all these years, the beauty of the sandwich may lie in the vast variety of options. A sandwich is not for the indecisive. There are many decisions to be made. Do you prefer it hot or cold? What kind of meat, or are you thinking vegetarian? What to put it on? Bread? Hoagie? Wrap? Pita? Bun? Roll? Or go rogue (and healthy) and wrap it in lettuce leaves?
Americans like sandwiches with cheese, but what cheese? Swiss? Provolone? Muenster? Or something fused with flavor — horseradish cheddar to complement roast beef, or maybe a mellow Colby jack cheese to pair with a honey maple ham? And what is there to layer on? Lettuce and tomato are the most common extras, but you can get creative and add anything you like, from cucumbers and sprouts to prosciutto and pickles … or all of the above.
There are few rules with sandwiches, which is another plus. If you can fit it on a sandwich, it's fair game. Very few go totally topless. When it comes to sandwiches, that would surely be boring, so go for it and top away.
Finally, to condiment or not to condiment — that is the question. You can slather mayonnaise, mustard, ketchup or your favorite dressing, or drizzle a little vinegar and oil, or go dry.
​Dagwood may have been a cartoon character, but he was one of the world's best when it came to taking the "sky's the limit" approach to building a great sandwich.
With so many options, there is surely a sandwich to sate everyone. If you're still not sure which is your favorite, perhaps you can try one of ours. During lunch, we hunted all along the coast, and we can easily say there was no shortage of great contenders. But in the end, hands down, we choose the following as the sensational sandwiches of the Emerald Coast.
The club sandwich is a classic. This tasty version layers fresh roasted turkey, crisp bacon, garden tomato, Monterey jack cheese and mayo on toasted white bread. Served with your choice of cucumber or potato salad. Now this is a club we are happy to join. $7.75
---
Biting into a Grouper Sandwich at Dewey Destin's is like tasting a bit of local history. Destin is the heart of the Emerald Coast, and Dewey Destin's is the perfect signature sandwich for this area. It's served fried, grilled, blackened or bronzed on a white bun with French fries and hush puppies. The original Destin location (down a gravel road off Calhoun Drive) is near the exact spot where Leonard T. Destin landed and the story of The World's Luckiest Fishing Village began. How's that for a fresh taste of local lore? $9.95
---
Barbecue Sandwich
98 BarBQue, Santa Rosa Beach
Jon Seeling and his wife, Nicole, have turned up the heat on Highway 98, and since it opened in 2006, locals and tourists are drawn to this little Santa Rosa Beach hot spot like moths to a hickory-smoked flame. For traditional barbecue lovers, this little "hole in the wall" serves up a great pulled pork sandwich served with your choice of French fries, creamed corn nuggets, onion rings, coleslaw or potato salad. Wash it down with homemade iced tea. Yee-haw. $8.95
---
EverQuake
Synergy Café, Fort Walton Beach
Sometimes your diet falls off the rails. This quaint organic café is a great way to get back on the train to healthy town. Synergy serves breakfast and lunch daily. (On Wednesdays, you can stock up on fresh fruits and veggies from 4 to 6 p.m.) Everything is homemade and organic, and the menu ranges from "turbo-charged" shooters and smoothies to salads and sandwiches. The EverQuake includes avocado, tomato, cucumber, sunflower seeds, sprouts and mixed greens tossed in the Evergreen marinade. Ever so good! $10.95
---
Big Daddy Burger
McGuire's Irish Pub, Destin and Pensacola
Though the traditional Irish food and in-house brewery are good, McGuire's is famous for its giant, hand-trimmed, lean Angus steak burgers. There are 25 different trimmings. We like the Big Daddy Burger with bacon, cheddar and jalapeño, but to really impress, for just a buck more try the Terrible Garbage Burger, which piles on some of everything. $9.99
---
Roast Beef Po Boy
The Marigny, Santa Rosa Beach
This neighborhood-style restaurant/bar is quickly becoming known for one particular dish popular in New Orleans: the Roast Beef Po Boy. This version features succulent, slow-cooked bottom round roast beef drizzled with debris thickened jus and served "dressed" with Blue Plate mayo, lettuce, tomato and pickles on French bread from the Leidenheimer Baking Company in Baton Rouge. Chris Rose says right on the menu: "We talk too much and laugh too loud and live too large and, frankly, we're suspicious of others who don't." Well, these boys certainly put a mouth-watering winner where their mouth is on this one. Who dat! $11.95 (for medium)
---
Chef John Jacob and Todd Reber of Vintij Wine Boutique in Miramar Beach serve an Oyster BLT Sandwich that is so popular, it has been a signature item on the menu for more than a decade. This decadent ditty features plump, pan-fried oysters, Applewood smoked bacon, wild greens, tomatoes and Brie cheese on homemade toasted bread. With a wine boutique located inside the restaurant, it's easy to raise a glass to this Vintij offering. $12
You're only half-way there!
View more sandwiches on the next page…
You don't have to head to the East Coast for this seafood classic. Restaurateurs Heavenly and Bill Dawson nibbled their way along the entire Eastern Seaboard in search of an elegant sandwich with an Emerald Coast twist. They offer seafood lovers one of the few Lobster Rolls in the area, if not Northwest Florida. The ingredients say it all: Fresh Florida lobster is served on a toasted bun with romaine lettuce, warm butter and a slice of lemon. Enough said. $21.99
---
Classic American Grilled Cheese
The Melt Down, Seaside
We all melt down every once in a while. After tasting the warm, gooey Classic American Grilled Cheese on Texas toast served out of one of Seaside's iconic Airstream trailers, it's been very hard not to want to melt down every day. As the Modern English song says, "I'll stop the world and melt with you!" $5
---
Fried Green BLT
Cabana Café, Miramar Beach
There is a movie called "Fried Green Tomatoes," and we think this sandwich deserves top billing. Cabana Café owner Wayne Anderson says people come for the pizza, but we are partial to the Fried Green BLT. This sandwich features fried green tomatoes, crispy bacon, fresh lettuce and Creole mayo served on Texas toast. We paired ours with homemade potato chips (yes, we said homemade) served with homemade cilantro chip dip. $8.99
---
Callahan's is famous for its home cooking, and this chargrilled sandwich definitely puts the "c" in comfort food. It centers on chargrilled rib eye steak layered with lettuce, tomato and mayo on a toasted sub roll or with sautéed onions, peppers, mushrooms and mayo. The eyes have it — rib eye, that is. $9.99
---
Grilled Bruschetta Chicken Sandwich
Chanticleer Bakery, Grayton Beach
Italian herb bread toasted with garlic butter is just the beginning of what's delicious about this sandwich filled with flavorful grilled chicken, garlic aioli, a generous portion of fresh-made bruschetta and topped with melted provolone cheese. This juicy gem is served with your choice of pasta salad, baby carrots with bleu cheese dressing or chips. $10
---
The Tucker Duke
Tucker Duke's, Valparaiso
We like any sandwich with sass. Though he hails from Niceville, Chef Brian Cartenuto will not vary this version for anyone, so unless you want a fight on your hands from a recent winner of "Cutthroat Kitchen," order it as is — topped with fried onions rings, American cheese, tucker sauce, lettuce and tomato. Served with just a little sarcasm. $10
---
Classic Carol
Chicken Salad Chick, Destin, and Panama City Beach
Why did the chicken cross the road? To eat lunch at Chicken Salad Chick! This cheery eatery features 15 different chicken salad concoctions. All of them start with the ingredients of the Classic Carol and go from there. All of the variations are named after friends of founder Stacy Brown of Auburn, Alabama, whose passion for the perfect chicken salad led her to hatch her own business, which is now a successful franchise. Served on wheat, sourdough, croissant or a hoagie roll (or with crackers). And if you want to be an "original chick," your meal comes with a pickle spear and a cookie of the day. $5.49-$8.49