Sweet Treats To Share With Your Valentine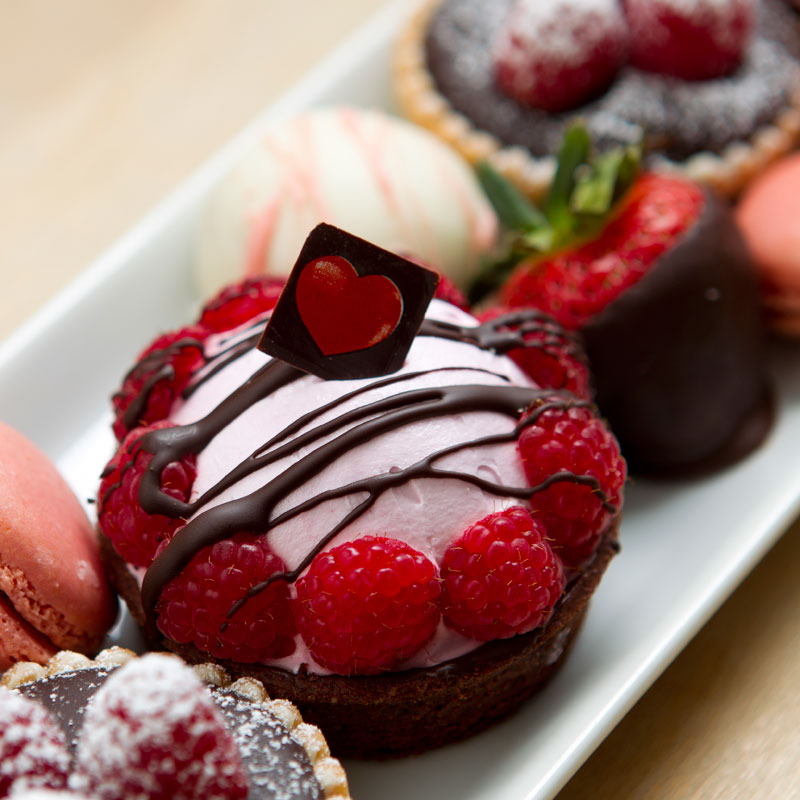 Love is in the air, and thanks to a new class of artisan bakeries on the Emerald Coast, so is the smell of their hot and steamy delicious treats.
Breaking bread together is an intimate experience, one that is savored and affirms a partnership and peace. Bread in all its forms is the most widely consumed food source in the world. It dates back more than 30,000 years when prehistoric man made gruel from water and grains, then found he could fry it on a hot stone and create a solid food source. But how did modern day bread become light and fluffy? Around 300 B.C., the skilled bread makers of ancient Egypt began using commercial yeast in bread production in a process known as leavening. Without yeast, the bread is flat, similar to Indian naan, Middle Eastern pita and Central American tortillas, to name a few. 
Despite the fact that the carbohydrate has become a four-letter word to some, modern science has uncovered the nutritional benefit of whole grains. More and more consumers prefer the texture and nutty taste of a rustic loaf — and lately, the addition of gluten-free products. As far as dietary needs, whole grain bread is an integral part of a healthy eating plan, is rich in B vitamins, iron, fiber and protein, and will provide sustained energy. When shopping, make certain to avoid breads with enriched wheat or white flour, or unbleached flour, as they are refined. Also look for labels with no more than 3 grams of sugar and at least 3 grams of fiber with no trans fat per serving to get the best benefits.
Emerald Coast bakeries are gaining popularity with handcrafted loaves that area locals and restaurants can't wait to tear into — including savory pastries and spicy cupcakes that have the community licking their lips for more. Just in time for Cupid's visit we give you four confections and the "secret recipes" to help you achieve sweet success in winning over hearts (and taste buds) on Valentine's Day.
Oh Snap!
Howard Robinson
Decadent Chocolate Chip and Peanut Butter Sandwich Cookies dipped in chocolate is a fan favorite at Oh Snap!
Located in Pensacola, Oh Snap! delights patrons each morning when sharing photos on Facebook of hand-dipped chocolate cookie sandwiches and fresh baked Red Velvet cupcakes — fans' most popular flavor. 
"We start every morning with a blank slate and bake from scratch with no mixes, providing the highest quality cupcakes on the Gulf Coast," says Erin Stevens, the manager who is a baker, cakemaker and certified pastry chef. "It is tough to do, but we also make delicious vegan, dairy-free and gluten-free cupcakes daily." 
Though wedding cakes, birthday cakes, pull apart cakes and cupcake towers are a big part of their business, special order cupcakes are also available, making for a sweet gift. They are topped with a homemade butter cream and cream cheese frosting made every day from scratch by the in-house frosting maker. 
Last year Oh Snap! partnered with a local florist for Valentine's Day, bundling cupcakes and roses up to a dozen, and Stevens says, "It was wildly successful. We called it Cupcakes For Sweethearts and are planning to do it again!"
Bon Appetit French Bakery and Café
For nearly 30 years, Bon Appetit French Bakery and Café in Fort Walton Beach has shared its delicious pastries and Mediterranean cuisine with local residents and visitors. In fact, many restaurants in the area source their daily fresh-baked bread here. 
"About 90 percent of the recipes are from my grandfather," owner Vasken Palanjian confesses. "As we changed equipment we had to adapt them, but they still taste the same." Palanjian explains that though his family is Armenian and originally from Lebanon, his grandfather learned pastry techniques from bakers in a nearby French colony. 
Napoleons, éclairs, crème puffs and five types of croissants made fresh each morning are just some of the local favorites. For Valentine's Day Bon Appetit will once again roll out the red carpet with its Chocolate Raspberry Tarts, French Macaroons, Raspberry Mousse Tarts and Chocolate Dipped Strawberries. Délicieux! 
Stacey Bakes
Scott Holstein
Stacey Bakes' Salted Caramel Crème Brûlée is served in a cup overflowing with sweet goodness.
Located in the Shops of Grayton, Stacey Kidder, the owner of Stacey Bakes, can be found whipping up tasty treats, soups, salads and lunch specials on a daily basis. The menu changes daily, and she uses the freshest and best organic fruits and vegetables in her creations, along with Bob's Red Mill flour in her baked goods, which are nearly all gluten and dairy free. 
The sandwich bread, similar to multigrain, is made with flax, pea and coconut flour. It is so popular, even those without intolerances are coming in to buy it, and Kidder often sells out. Though the sandwiches are successful, so are the luscious key lime donuts and chocolate chip cookies. 
When asked about Valentine's Day, Kidder blushes, "I am thinking decadent. I am planning on some sinfully good things, but definitely the Flourless Chocolate Torte and the Salted Caramel Crème Brulee." 
Thoughtful indeed. 
KaraBoo Bakery
Scott Holstein
Kara Enache, owner of KaraBoo Bakery, with her heart-shaped chocolate frosted cakes, the perfect dessert during the season of love.
What started as a bakery at home for professional pastry chef Kara Enache, quickly grew into a successful and award-winning venture. Though husband Boo's background is in corporate finance, Kara says, "He quickly picked up pastry techniques and has a passion for cooking and baking. He does a lot of research and is a real natural." 
Once the Miramar Beach location was set, Boo joined Kara at KaraBoo Bakery, and together they create spectacular wedding, birthday and special event cakes, cupcakes, delectable croissants and other pastries, savory and sweet. Carrying fair-trade coffee, they are the perfect spot for breakfast with a treasured friend or loved one. 
They recently decided to showcase Norman Love Chocolates from Fort Myers, Fla., which Kara describes as "works of art." For Valentine's Day the duo is planning on a variety of choices for two, such as teacakes, heart-shaped cakes for two and heart-shaped fresh fruit tarts. Don't mind if we do … two! 
Crust Artisan Bakery
Scott Holstein
Triple Dark Chocolate and Sea Salt Cookies at Crust Artisan Bakery in Santa Rosa Beach make a sweet treat for a Valentine's Day crush.
A true hidden local gem, Crust Artisan Bakery located in Santa Rosa Beach is well known for its popular hand-tossed brick oven pizzas and Italian Specialty Nights. This is when owner Mark Fressell shares his grandmother's recipes with a packed house of salivating patrons from 6 to 9 p.m., Tuesday through Sunday. Be warned, as owner Kim Fressell says, "We have grown four times busier since last year." Apparently, word has gotten out about the eatery, so reservations are a must at dinner along with bringing your own bottle of wine. Many guests enjoy sitting on the deck under the white lights, which Fressell assures "is very romantic." 
French baguettes are sold in the restaurant; specialty breads are sold each Saturday at The Seaside Farmers Market and on Sundays at the 30A Farmers Market in Rosemary Beach. 
For your Valentine, Crust will offer specialty croissants of ham and Gruyere, almond or chocolate, coffee cakes, muffins and their special triple dark chocolate and sea salt cookies. Crust's gluten-free Flourless Dark Chocolate Cake is another winner — so moist, thick and topped with a medley of fresh berries, it pairs superbly with red wine. Cheers!
Oh Snap!
707 East Cervantes Street, Pensacola
(850) 466-3363, ohsnapcupcakes.com
Bon Appetit French Bakery and Café
420 Mary Ester Cutoff NW, Fort Walton Beach
(850) 244-a848, bonappetitfrenchbakery.webs.com
KaraBoo Bakery
10859 Emerald Coast Parkway West, Unit 404, Miramar Beach
(850) 532-1750, destinbakery.com
Stacey Bakes
26 Logan Lane, Grayton Beach
(850) 213-0969, stacey-cakes.com
Crust Artisan Bakery
4821 US Highway 98 West, Suite 101, Santa Rosa Beach
(850) 622-1022, eatmorecrust.com