Stories From the Heart: Roger Hall
A legend in his own right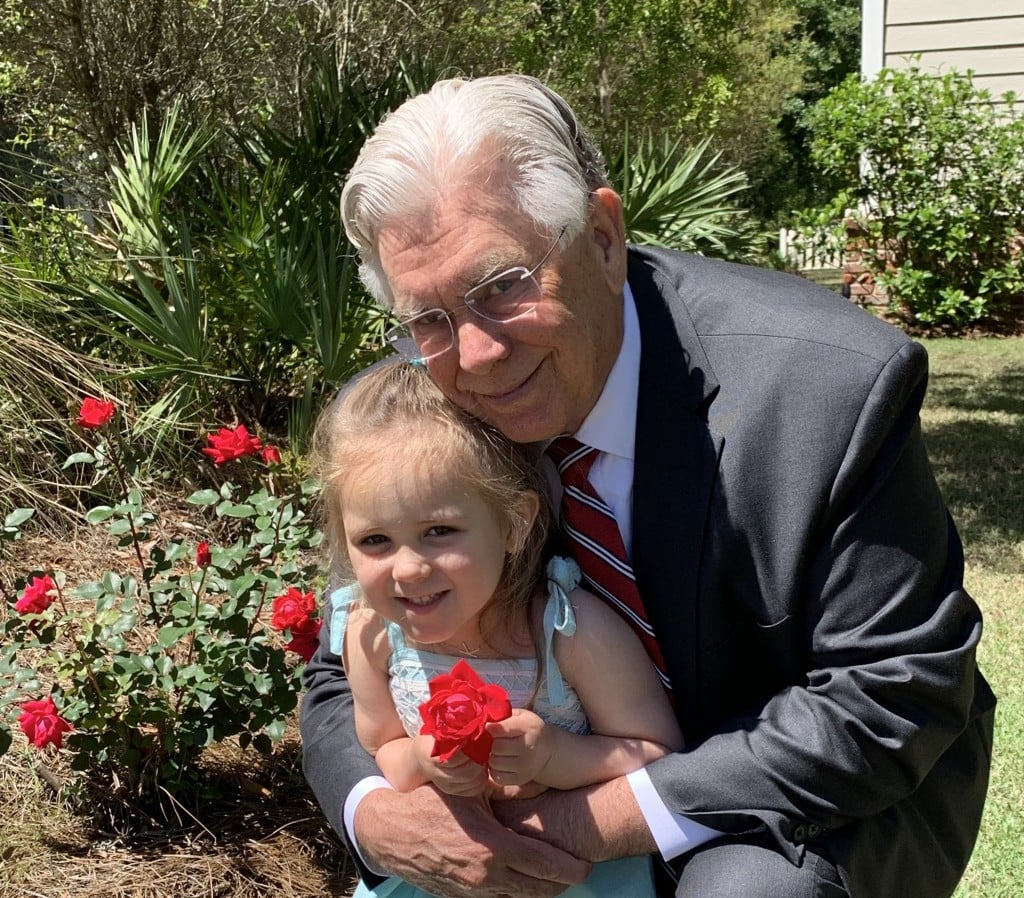 Roger Hall and his identical twin brother were born in Decatur, Illinois, before the family moved to Florida in 1956. He and his brother attended Crestview High School, where being identical twins had its drawback. "Whatever my brother did, good or bad, I was given accountability," says Roger, "and he likewise for what I did. When we graduated, only seven people in the whole high school could tell us apart."
The two have maintained their close relationship. Roger considers his sibling to be the most important person in his life other than his wife, Susan, with whom he has been married nearly 40 years.
After attending and graduating from Samford University and the University of Alabama, he went to work in the steel services industry as a distributor, earning his Master's in Business Administration (MBA) from Samford.
Once he and Susan were married, Roger felt the need to make a career change. Healthcare was something he always had an interest in, so he began to explore jobs in that field.
After he was hired by Humana as an assistant Chief Financial Officer (CFO) without even an interview, he realized he needed to be knowledgeable about reimbursement and went to the business office manager for information. He was given a 17-inch thick Medicaid manual and told to read it. At the time, the hospital had the third-largest burn unit in the world, so Medicaid reimbursement was extremely important.
In going through the manual, he learned about filing for cost outliers. (A cost outlier is defined as an inpatient hospital discharge that is extraordinarily costly. Hospitals may be eligible to receive additional payment for the discharge.)
So he went to the office manager to ask for the Medicaid outlier's information, but he was told there was none. He presented the manual's regulations concerning reimbursement, only to have management tell him the hospital didn't file because it was believed Medicaid would never pay for it.
So Roger went directly to the State of Georgia. A spokesperson confirmed, "Yes, in fact, that's right, no one's ever filed." In addition, the hospital was eligible for its Medicaid cost outliers and was able to recover $4 million due to Roger's due diligence (which he attributes to Divine Intervention).
Fast forward to 1996, when Roger moved back to his home town of Crestview to become CEO of North Okaloosa Medical Center. Looking for a tertiary partner hospital (one able to provide a higher level of needed care), he met with Patrick Madden, President and CEO of Sacred Heart Health System, now known as Ascension Sacred Heart. Patrick expressed interest, and they formed a loose affiliation that successfully increased market share for both their hospitals, along with other areas of expansion.
Then one day in 1999, Roger was approached and asked if he would be interested in becoming CEO of a 50-bed hospital Sacred Heart planned to build in Destin. Patrick told him, "You'll have access to capital, and you can build it."
Roger said "yes" and so the hospital project was announced. Meanwhile, he continued his role as CEO at North Okaloosa Medical Center, where the doctors kept asking him what he knew about it. "Can you believe Sacred Heart is going to build a hospital in Destin? … It will never make it. … It will be just a Band-Aid station for tourists." Roger would just reply, "It might be successful."
He raised over $30 million to help fund Ascension Sacred Heart Emerald Coast. It has grown to 72 beds, and while it opened with 138 associates, now there are over 700. It has been ranked in the top 100 hospitals in the country five times and is also one of seven five-star hospitals (as is Ascension Sacred Heart in Port St. Joe). Deliveries in the Family Birth Place (which has a Level Two Neonatal Intensive Care Unit) have grown from 500 to 1,500-plus.
Roger believes that quality healthcare is a two-way street: The community challenges the hospital to provide services to meet its needs; at the same time, the hospital is challenged to be a servant of the community by taking care of those in need. "And what better way to do that than to ask them to help us?" he says. "Give us direction, help us fund it. Every project we've done has been through gifts from our community. I think that's what's made us successful: partnership with our community, partnership with our doctors and having the oversight of Ascension. It hasn't been me — I am happy to have been the conduit. I am blessed."
Roger Hall retires on July 10, 2020.