Moonshine Goes Legit
Flavored varieties prove to be hot sellers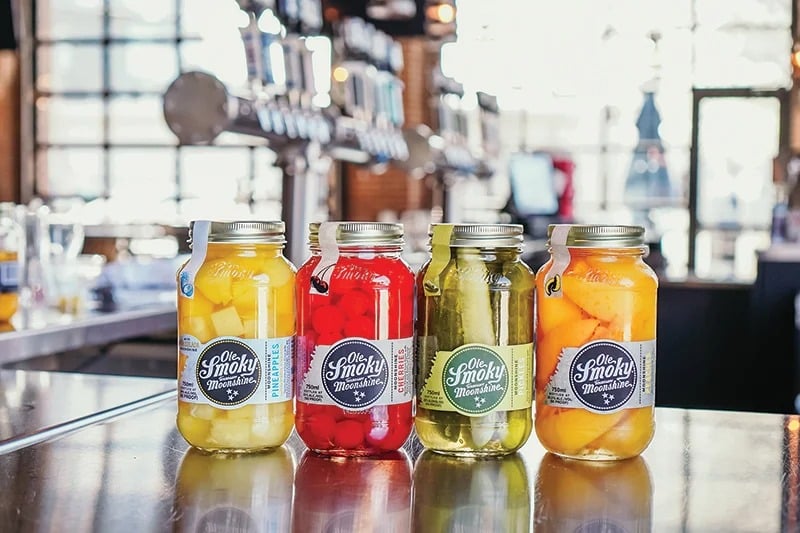 Americans living in remote places making their own alcoholic beverages have long figured in history and folklore.
From the Prohibition era forward, they have been known as moonshiners, that is, people engaged in producing homebrews variously called mountain dew, choop, hooch, mulekick, shine, white lightning, white-corn liquor, white-corn whiskey, pass around, firewater or bootleg. The illegality of such intoxicants added a certain romance about them.
Less dodgy but far more available are legal variations of moonshine — produced by Ole Smoky and Murder Creek — that are now commonly found in liquor stores.
Ole Smoky was founded in 2010, according to Sydney Holsclaw, its senior public relations manager.
"Ole Smoky is the first federally licensed distillery in the history of East Tennessee," Holsclaw said. "Due to the overwhelming success of our original moonshine flavors, we began crafting new flavors within the first few years of our company's founding."
Ole Smoky's whiskey line first appeared in 2016, coinciding with the creation of The Barrelhouse distillery in Gatlinburg. There are 16 different Ole Smoky whiskeys today.
Ole Smoky introduced canned moonshine cocktails in 2020 and began marketing James Ownby Reserve Bourbon Whiskey in 2021.
There are three other Ole Smoky distilleries in Tennessee: The Holler in Gatlinburg, The Barn in Pigeon Forge and 6th & Peabody in Nashville.
"Ole Smoky is the leading distiller of premium moonshine in the world and the leading craft distiller in the U.S.," Holsclaw said.
Shaun Brown, director of sales for Chan's Wine World, commented about legal moonshine's popularity.
"I think because it is associated with bootlegging, it is an alluring option for people. It sounds exciting," Brown said. "Moonshine has traditionally been viewed as high octane and tough to drink, but now the flavored stuff that is so popular is often lower proof than most whiskeys."
Alcohol content in Ole Smoky products ranges from 35 to 100 proof.
"I have tasted the flavored ones, and they are delicious," said Mike Kelley, one of the owners of Kelley's Beach Liquors.
Stephen Matthews of Navarre is Murder Creek's founder and distiller.
"Stephen started making his own moonshine, just playing with it in 2017," said Charity Blazek, the company's production manager. "In 2018, they applied for a license and they started in Riverview, just outside Brewton, Alabama, in 2019."
There is also a large Murder Creek Distillery in the OWA theme park, located in Foley, Alabama.
"We started with very basic flavors," Blazek said. "Then as we started branching out, we made some based on old family recipes. Blueberry is from his great grandmother's ice cream sauce recipe."
There are 14 flavors available now, sold throughout the Emerald Coast and all over Alabama. Murder Creek's products range between 40 and 50 proof.
"Our moonshine is distilled to a high purity with no flavors of the mash coming through," Matthews said. "We don't use corn, so we don't have that corn aftertaste. We also hand make every batch, hand bottle and hand label each product."
According to Matthews, "Banana tastes like banana taffy, chocolate tastes like Tootsie Rolls, blueberry mixes well with lemonade, and pickle and Hot Shot make a good bloody mary."
Tours are conducted at both the Brewton and Foley distilleries, and Foley features a large bar and tasting room with events most weekends.
"We're looking to open a third distillery; we've tossed around the idea of another location in Alabama," Blazek said.
---
Ole Smoky Moonshine Flavors
» Original Moonshine
» Some Beach
» Strawberry
» Butter Pecan
» Strawberry Mango Margarita
» Mountain Java
» Margarita
» Shine Nog
» Pumpkin Pie
» Blackberry
» Apple Pie
» Hunch Punch Lightnin'
» Moonshine Peaches
» Blue Flame
» White Lightnin'
» Moonshine Cherries
» Moonshine Pickles
» White Chocolate Strawberry Cream
» Banana Pudding Cream
» Sour Lime
» Hot & Spicy Moonshine Pickles
» Moonshine Pineapples with Pina Colada
» Key Lime
---
Murder Creek Moonshine Flavors
» Peach Cobbler
» Orange Dreamcicle
» Strawberry Cream
» Hot Shot
» Pecan Praline
» Alabama Apple Pie
» Southern Cherry Bombs
» Watermelon
» Blueberry
» Banana Pudding
» Dixie Dizzy Pickle
» Dixie Honey
» Dixie Chocolate
» Dixie Chocolate Mint
---