Stories from the Heart: In the Business of Giving Back
Tracy Sheehan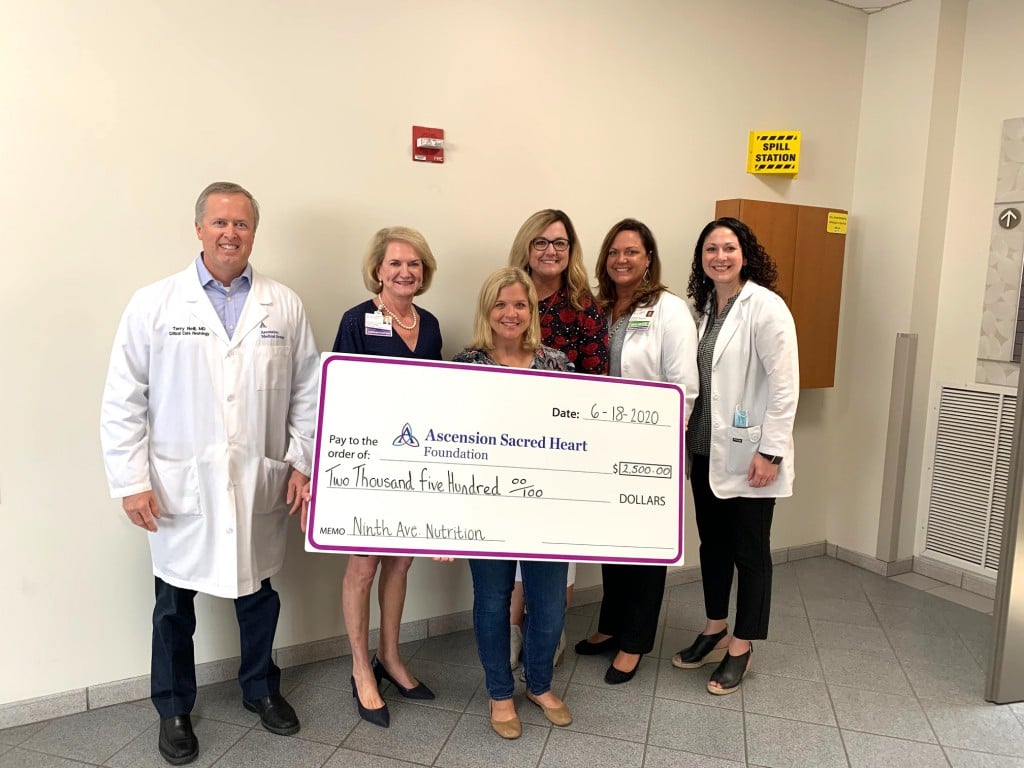 INSPIRING STORIES OF PEOPLE HELPING PEOPLE
The life-changing care Ascension Sacred Heart provides has touched the hearts of many who strive to ensure that this incredible mission of care continues for future generations. Ascension Sacred Heart Foundation is proud to be a partner in this endeavor. Please enjoy these "Stories from the Heart."
---
When Tracy Sheehan's family settled in Pensacola after her husband Heath retired from the military, she was presented with the opportunity to open a business — and she went for it. She is now the proud proprietor of Ninth Avenue Nutrition, a protein smoothie, high-energy tea and healthy juice bar located in Ascension Sacred Heart Pensacola.
Born and raised in Pensacola, Tracy married a military professional after attending the University of West Florida. The couple returned to this area as their retirement home after he served 14 years in the Army as a physician's assistant. Tracy had planned to continue her teaching career, but she wanted to try something different. She couldn't be more pleased with the outcome of Ninth Avenue Nutrition.
Every few months, she and her co-workers seek out an area of the hospital that could benefit from a sizeable donation. "A big part of our heart," she explains, "is to be able to give back some of what we make selling the shakes. That was our intent from the very beginning. We wanted to use money we made to be the hands and feet of Jesus."
Working at Ascension Sacred Heart Pensacola has been an enjoyable learning experience for Tracy. She's made many friends and speaks of the overwhelming friendliness of associates who smile and speak to those they encounter. The desire to be supportive and caring is always front and center for staff.
Yet she wonders if the community realizes how kind everyone is at the facility and how willing they are to assist. It's a source of great satisfaction when she sees associates going out of their way to help others: "I think as human beings," she says, "that's what we are called to do, what Jesus wants us to do. It is greatly displayed in the hospital's environment."
Another reason Tracy thinks the hospital is such a blessing for the community is the level of trust it engenders, providing freedom from worry. Those with medical needs can always rely upon Ascension Sacred Heart to deliver outstanding treatment and comfort.
Tracy's husband traveled extensively while in the Army, inspecting trauma centers and seeing their preparedness to treat "elite people in our government, all the way up to the President." He regards Ascension Sacred Heart Pensacola as a "phenomenal" facility for this area, with its state-of-the-art equipment that can handle any situation. Tracy agrees: "It really is a wonderful place to be for the people I see every day that need care on many different levels." This is just one more reason she has built into her business plan a commitment to give back to Ascension Sacred Heart Pensacola.
---
About the Ascension Sacred Heart Foundation
Since 1915, Ascension Sacred Heart has been at the heart of healing for Northwest Florida and South Alabama. Like our founders, the Daughters of Charity, Ascension Sacred Heart is dedicated to providing quality, compassionate healthcare to the citizens of our regions, regardless of their ability to pay. This steadfast commitment to our community could not have been achieved without the support and generosity of the thousands of individuals, businesses and organizations that have donated to Ascension Sacred Heart Foundation. Through this charitable giving, Ascension Sacred Heart Foundation has been able to provide millions of dollars of free and low-cost healthcare to the poor, uninsured, under-insured and low-income families. With the help of generous donors, we are proud to partner in Ascension Sacred Heart's mission of care along the Gulf Coast.