Stewby's Seafood Shanty Lives Up to Legacy
Stewart Taylor's Shrimp 'Sam'-wich, does his dad justice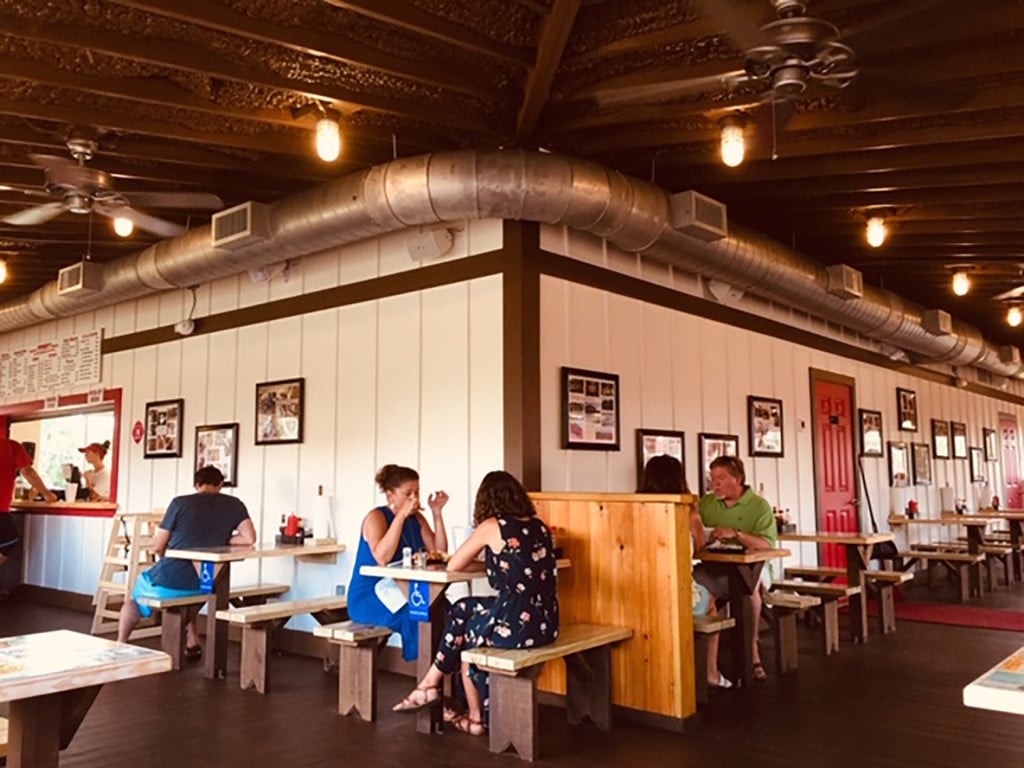 Okaloosa Island in Fort Walton Beach has been "shantied." Just a few weeks ago, Stewby's Seafood Shanty opened its doors at 234 Santa Rosa Blvd., and, if the long line of customers is any indication, it's a hit with hungry seafood lovers from near and far.
Painted a crisp white with cheery red trim, Stewby's is wrapped with a rustic deck and topped with a silvery metal roof. Stewby's is a casual, walk-up seafood joint.
If you are looking for fancy finishes, you won't find them here, but you will find a clean and welcoming spot — with great food at an affordable price.
With 18 tables offering both indoor and courtyard dining, Stewby's seats about 150 and is open daily from 10 a.m. to 10 p.m.
Each time we have visited, there has been a healthy line, sometimes out the door and down the steps of the porch, which tells us Taylor was spot on staking his spot in the sand here on Okaloosa Island (next to the mini golf and ice cream shop.)
The restaurant is modeled after a former family restaurant called Sam's Oyster House, established in the 1960s by local Sam Taylor, which was originally located at the foot of the Brooks Bridge under large live oak trees (where the Paradise Shopping Center is now). At the time, it was the "go-to" seafood restaurant in town for locals and visitors.
Taylor says his father's restaurant paved the way for most of the seafood restaurants in Fort Walton and Destin today.
"Most are modeled after Sam's casual atmosphere and menu, however these restaurants don't have what I have, and that is my father's vision — and most importantly his recipes." We enjoyed sampling some of these recipes on a couple of visits soon after Stewby's opened.
We like that there is one menu during lunch or dinner. So, if you are on a budget you can get a sandwich — or "Samwich" for dinner from just $6.99 (chicken). The famous shrimp Samwich is $7.99. The most expensive is the soft shell crab at $12.99 (and worth every penny).
The nice thing about a dinner is you can avoid the bun, get hushpuppies and your choice of two sides for just a few bucks more. The chicken dinner will only set you back $8.99. The most expensive is again the soft shell crab at $18.99. Enjoy a little of everything (shrimp, oyster and fish) with a Stewby's Platter for just $16.49.
There also are tacos (grilled shrimp, fish or chicken) served dressed with coleslaw, pico de gallo, cheese and sour cream lime sauce. Olé.
And if you aren't super hungry, you can order something a la carte, such as a cup of Sam's famous gumbo ($3.99), fried crab claws or a Caesar salad topped with shrimp, fish or chicken ($11.99).
With a dinner platter, you get your choice of two sides — seasoned fries, fried okra (so yum!), fried onions, hushpuppies, cheese grits, cole slaw, BBQ beans, potato salad or lettuce wedge. A small order is $1.99; large is $3.99.
They also offer a kids menu starting at $4.99.
You can grab an iced-down bottled beverage out of a large barrel or order homemade ice tea or a fountain drink. Large is huge at 32 ounces for just $1.99, including free refills.
We, of course, tried the famous shrimp Samwich, and it did not disappoint. Ours came with fried shrimp piled on a sesame roll slathered with tartar sauce, topped with coleslaw and a side of fresh-cut seasoned fries.
We pushed the server and asked if we could get it grilled instead of fried, and we were not denied. We also asked if we could trade our fries for fried okra; again, yes was the answer.
In comparing the two versions, we think Sam was on to something, because the traditional fried Samwich was definitely a tad tastier.
The only thing we would add to the order is more napkins. It was so juicy, we had it dribbling down our arm.
The fish of the day on another visit was mahi mahi. We got it grilled and dressed it up, and it was one of the best fresh fish sandwiches we have enjoyed in a while.
We washed it down with a freshly brewed ice tea as we sat at a picnic table with the blue sky above us. Being steps from the beach made this meal even more delicious.
Before Stewby's opened, we spoke to general manager Trey Brixey who said: "Stewart is an unbelievable person in how he is as an owner, how he treats his staff, his vision and carrying on his dad's legacy. It's a great story all the way around, and I'm excited to be a part of it."
We'll add that locals and visitors alike now get to be a part of this family's story, too.
And with a second building soon to be finished that will house a fresh seafood market gift shop filled with Stewby's-branded sauces, grilling seasonings, merchandise and "grab-and-go" prepared meals, yummy memories will soon be headed home too.
So, Stewart, you did your daddy proud, and you were not at all scant on this new seafood shanty. We hope you are here for decades to come.