Shrimp's On
And there's no skimping on this Gulf Coast classic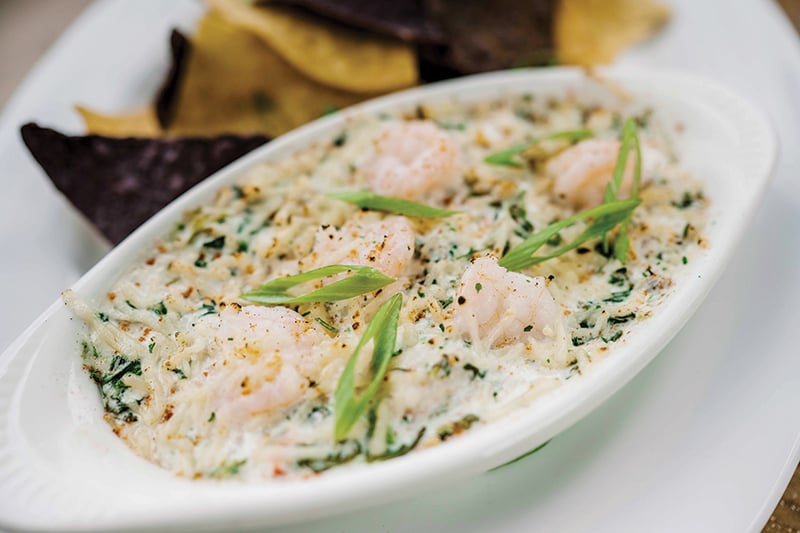 As small as they may be, shrimp can be flavor bombs. Boiled, fried, sauteed, baked, barbecued … the possibilities are endless, and so are the resulting flavor profiles. Naturally, being on the Gulf Coast, area restaurants have a ready supply of shrimp at their fingertips — and oh, the things they do with those tiny little treasures.
"Shrimp is a staple here," said Celeste Lowery, assistant general manager at The Boathouse Landing in Valparaiso. "From starters to salads, lunch specials, dinner features, and Sunday brunch, they're incorporated into every part of our menu."
The Boathouse's star appetizer is the Crab and Shrimp Dip, an excellent starter for the table to share. Another front-runner and crowd-pleaser is their Boom Boom Shrimp Tacos, a creamier version of the popular appetizer.
"Our shrimp are wild, domestic Bay shrimp that are hand-breaded, fried golden, and then tossed in a rich and spicy pepper sauce," Lowery said. "The warm, savory shrimp are then tucked into soft flour tortillas with fresh lettuce, green onion and cheese. They're crunchy yet tender, sweet yet spicy, and all-around delightful."
Naturally, shrimp is the be-all, end-all at Floyd's Shrimp House on Okaloosa Island, and their menu makes it obvious why it's their claim to fame. "We do shrimp on everything at Floyd's — after all, it's in our name," said kitchen manager Mike Rhodes, an 18-year veteran at Floyd's Shrimp House and "chief of all things shrimp."
With 28 menu items that all include shrimp in some way, Floyd's Shrimp House serves nearly 100,000 pounds of shrimp each year. Of course, their all-you-can-eat baskets are easily a best-seller. Fried shrimp is a fan favorite at Floyd's — it's Southern comfort food at the beach. "We do it right — hand-breaded and fried to order," Rhodes said. "Our proprietary flour and cornmeal blend gives our fried shrimp the perfect satisfying crunch without sacrificing the flavor. I've been breading shrimp since I was 14, and it never gets old."
While "crab" might be in the name at The Crab Trap Destin, they certainly know their way around some shrimp. "We offer a variety of shrimp entrees prepared in their own unique way," said Clint Rogers, general manager and director of operations at The Crab Trap Destin and a 26-year member of the team at Saltwater Restaurants, Inc. "Our top three dishes include our Peel and Eat Shrimp appetizer, Fried Gulf Shrimp platter, and the Gulf Shrimp and Crab Pasta. Whether you're looking for fried, blackened, broiled, sauteed or steamed shrimp, we're serving it."
With many ways to prepare shrimp, it all comes down to personal preference. For Crab Trap Destin, their Peel and Eat Shrimp places first — simply steamed, iced down and seasoned with classic Old Bay Seasoning. To top it off, their handcrafted cocktail sauce is made with just the right amount of horseradish to give it that extra kick.
Clearly, the local chefs have shrimp dishes down to a science — but where it all starts is the shrimp itself, right? "Personally, my favorite shrimp are brown Gulf shrimp," Rogers said. "They have a robust and forward profile that makes them stand out in any dish. White Gulf shrimp is by far the most popular at The Crab Trap because of their mild flavor and firm texture. Our restaurants have a strong relationship with local fisheries to continue our commitment to serving only wild, domestic Gulf shrimp."
Rhodes agrees, "The best place to get shrimp really is right in our backyard. Shrimp thrive in the warm emerald Gulf water that's packed with nutrients to give Gulf shrimp their sweet taste and firm texture. There's something to be said about using locally sourced products in our restaurant. When people come here, they want something authentic. If you want a deep-dish pizza, you go to Chicago. When you come to Florida, you want Gulf shrimp."
If you notice a theme, it's because the best dishes demand the best quality. "I believe the best quality and taste comes from wild, domestic shrimp," Lowery said. "We source from the northern Gulf coast for our bay shrimp and the Gulf of Mexico for our large white shrimp. The more local, the better."
Words to cook — and eat — by, to be sure.
---
Shrimp & Crab Dip Appetizer
The Boathouse Landing
Ingredients
2 tablespoons butter

¼ cup red bell pepper, diced

¼ cup green onion, finely chopped

2 tablespoons minced garlic

1 pound fresh domestic bay shrimp

1 pound baby spinach

2 tablespoons lemon juice

3 tablespoons mayonnaise

16 ounces softened cream cheese

Salt and pepper (for seasoning)

8 ounces domestic blue crab claw meat
Instructions
Melt butter in a pot with a thick bottom. Saute peppers, onion and garlic over medium-to-high heat until soft and translucent. Add shrimp and saute quickly until half cooked. Next, add spinach and lemon juice. Cook until spinach is mostly wilted.
Add mayonnaise and seasoning and stir to incorporate fully. Slowly add cream cheese a little at a time until soft and melted. Add cooked crab meat and heat thoroughly. Serve hot with tortilla chips.