Aboard the Miss Bennie
For shrimper Fred Hunter, life has never been a drag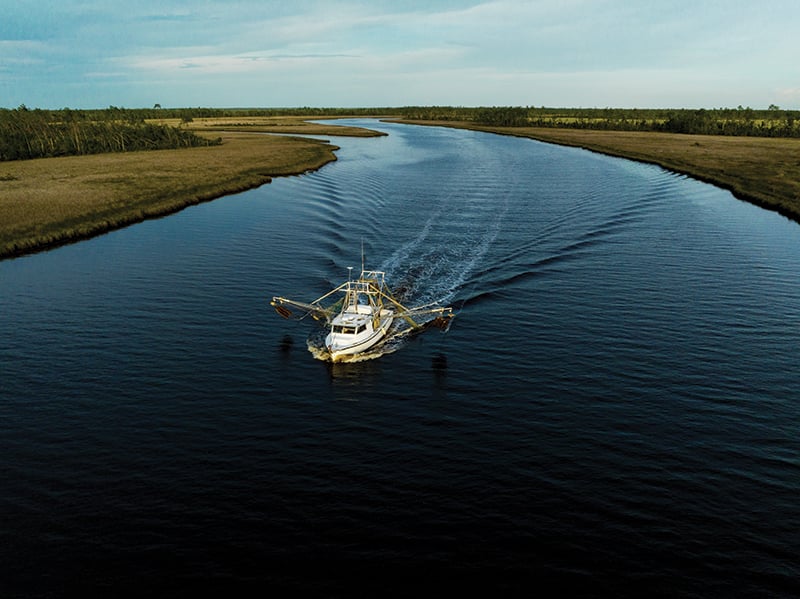 Fred Hunter relinquished the wheel of the Miss Bennie to Gary Adkison but kept a close eye on him, resisted for a time the inclination to course-correct his double cousin, and then could wait no longer.
"You can't just look at one marker; you gotta look behind ya," Hunter advised, smartly but not angrily. In such a way, he reminded Adkison that a marker and the bow of a boat in a strongly running current do not a straight line define. While the bow remains pointed at the marker, the current may slide the boat right out of the channel.
Adkison could be forgiven. While he toiled aboard shrimp boats as a young man, he has worked for most of his adult life running framing crews for concerns including Taunton Truss, Inc., in Wewahitchka and now as a subcontractor for his homebuilder wife, Pam Palmer, a former educator who owns Hive & Home Residential Construction.
But for Hunter, who resides in Overstreet, shrimping has been a living and a way of life. His father, George Hunter Jr., introduced him to the work.
A Massachusetts Yankee, George Hunter Jr. was in the U.S. Navy, serving aboard the USS Antietam out of Pensacola, when he met Fred's mother, Bennie.
His military service complete, he remained in Northwest Florida, landing a job at the St. Joe paper mill in Panama City, where he worked for 13 years. As a sideline, he ran a bait and tackle shop in Highland View in Gulf County and had a small boat used to catch shrimp for use by anglers. It was on that little boat that Fred, then a boy, had his first net-fishing experience.
In 1966, Fred recalls, his father moved his shop to Mexico Beach at the site today of the Shell Shack, which deals in souvenirs, sundries and seafood. In the early '70s, George built Bennie's Tackle Box and Boat Marina, which offered wet and dry boat storage.
"It was a big thing for Bay County at the time, but he didn't hang on to it for very long," Fred said. "We did sea shells for a few years, and then we got back to shrimping. We bought another shrimp boat, and we started retailing shrimp out of the store, and it grew after that."
Hunter said about his father that he was a great fisherman from whom he learned a lot. Then, Hunter went to what amounted to graduate school. He ran away from home, all the way to Land's End, and got jobs on big Gulf boats.
"I was blessed to get hooked up with the people I met when I went down there because it was a fine bunch of fishermen," Hunter said. "They traveled from Key West to Texas every year. I learned how to sew nets and splice ropes. You had to work hard, though. You had to do the job."
George Hunter commissioned the building of the Miss Bennie, named for his wife, in 1979. The boat, with its fiberglass Linsey hull, was finished late in 1980. The old man turned its operation over to his son when Fred was 17. A few years later, Adkison joined him on board as a greenhorn mate.
For years, the Miss Bennie was deployed not just in pursuit of shrimp.
In the winter, Yankee George might strip the vessel of its rigging — no small job — converting it to use as a snapper boat.
"It was a lot easier to take it off than it was to put it back on," Adkison recalled. Indeed, with its system of outriggers, stabilizers, winches, ropes and pulleys, a shrimp boat is an elaborate affair, bewildering to the uninitiated. About it, Rube Goldberg might have said, "You're off to a pretty good start."
There was a time when it was lawful to drag for scallops. Family members would gather round No. 3 washtubs to clean the catch, discarding the guts, saving the meat and turning the shells over to Bennie, who would fashion dolls, chickens and frogs and such from them for sale in the store. She was kitschy before kitschy was uncool.
"It was anything to make a buck," Hunter said. "I'm glad those days are gone."
On this warm July night with near-calm seas and patchy rain about, the Miss Bennie dragged a channel in East Bay. It was less a serious working trip than it was an excursion, carried out for the benefit of two guests — a writer and the photographer. Hunter dressed up for the occasion in a new Shell Shack T-shirt and a spotless pair of dungarees.
As a product of experience, Hunter learned long ago that it is effective to first work the bottom of a channel and then double back and run along its lips. Shrimp disturbed but not caught on the first pass tend to resettle on channel edges, he said. Here, then, is knowledge of a sort that cannot be pulled up with a Google search. And there is no Shrimping for Dummies book.
Hunter recalled his early days as a shrimper spent before he would learn unanticipated lessons the hard way.
"It was exciting; it was a way of being independent," Hunter said, jettisoning chew into the drink. "A lot of people were doing it even though they didn't make much money. To me, it was about the hunt and catching them — and having my freedom, that was probably the primary thing.
"When you get older and go to start a family, then it's all about the money because you got some mouths to feed, but in the early days it was about catching 'em."
Shrimpers never much calculate the risks they run.
"There was adventure on the water, and you were playing with your life, but I didn't really think about that," Hunter said. "It was all about just being here like we are tonight."
Still, Hunter has had his close calls. One occurred when the Miss Bennie, which Hunter described as "the first brand new thing my family ever bought," was just two years old.
"My old man turned me loose with her, and I went to Tampa Bay, and that's a long, long reach," Hunter said.
"I was trying to get back to St. Petersburg to my berth where I tied up," Hunter began to recount a story. "Down under this ice hold, I have a mid-shaft bearing because the shaft is like 14 feet long. The bolts vibrated out of it, and when the bearing slid down the shaft, it knocked a hole in the hull. I was by myself, and I'm bucking those seas to get back to St. Pete and the engine starts surging. I said, 'Damn, I must have run out of fuel or something.' Then I lifted the hatch and all I could see was water."
The Miss Bennie was sinking.
"Me knowing the boat was financed, I knew that if I lose this boat, everything is gone," Hunter said. "The boat was about $75,000 — in 1980. It was expensive. My thought was I could never go home without it because the old man would have killed me. He was a mean bastard, pure Yankee. That's just the way it was."
Displaying grace under pressure that Hemingway would have admired, Hunter succeeded in converting a 12-volt wash-down pump to use as a bilge pump. He managed to get two more bilge pumps working.
"The water level was starting to go down. I was overcoming it, and I sped up and got on into the dock," Hunter said.
With the boat tied up, Hunter could hear the water running into the hull and could pinpoint where it was entering the boat. Fortunately, he had dive gear on board.
"I got a bolt and two pieces of plywood and I dove under there," Hunter said. "I had a friend of mine hold the bolt on the inside while I put the nut on and tightened it."
The patch worked.
Hunter recalled, too, a time in Tampa Bay when his father insisted upon shrimping despite a bad weather forecast and his son's pleadings.
"I told him all of those boats over there are tied up for a reason, and he told me he had a boat payment to make," said Hunter, who believes the Miss Bennie survived seas that night that would have claimed lesser shrimp boats. "She's got nuts," he said.
From 1988–95, Hunter worked as a merchant mariner and spent time on a supply boat off Iraq during Operation Desert Shield. It was his only hiatus from shrimping.
"I was wanting to do the Merchant Marine as a career, but the kids at home were getting to be teenagers and hard to handle, so I had to quit my job and go back to shrimping," Hunter said. "But that was probably for the best because I really blossomed as a shrimper in the past 25 years. I've done well for myself."
Hunter has a son and a daughter, Matthew and Sky, and a granddaughter, Amelia. He does a lot of babysitting, confessing that he "can't go long without having a look at Amelia."
There are drags when the nets, raised from the water, contain almost exclusively shrimp. This night was not like that. The bycatch included hardhead and gafftopsail catfish, mantis and milk shrimp, gars, blue crabs, skates and more. The biomass was spread out on a sorting table, Hunter and Adkison picked 50 pounds of keeper shrimp from the pile and then scraped the unwanted life forms into the water off the stern where dolphins had gathered.
Thankfully, there were no sharks, but Hunter said that increasingly they are tailing shrimp boats and tearing into gear.
"They are worse than ever. They will eat the damn nets right off these doors," Hunter said, referring to the large wooden trawl boards that keep the nets open during a drag.
"They're like a threshing machine. I don't see them bad off of Panama, and I don't see them as bad off of St. George Island, but in between, they are awful. Their numbers are up, and if someone tells you they're not, they are lying."
The shrimper, Hunter concedes, is a dying breed.
"Boats are thinning out every year. There is only a handful of us left, and we're getting older like myself," said Hunter, who is 62. "I'm gonna be phasing out in the next couple of years, and there isn't anyone coming up behind. Mine will be one more boat gone, and it's going to get to be where the public won't be able to get fresh shrimp caught in their backyard. It's gonna come from Mexico or South America. It's gonna go through a fish house, it's gonna be washed and frozen three or four times and it's gonna be treated with preservatives."
Hunter carries his catches to the Shell Shack, which is operated by his brother, George Hunter III.
"We have the finest shrimp because of the way they are taken care of," Hunter said.
Our exercise complete, the Miss Bennie heads in. The in-dash depth finder registers less than five feet of water, and while the boat's draft is four feet, Hunter registers no concern.
"I know these waters like my front yard," he said.
As we near the dock, the Miss Bennie's lights cut out. Hunter figures that the fuel line to his generator may be kinked.
Maybe, it's as simple as that.
One hopes it wasn't a sign.
---
Fewer Shrimp,
Fewer Shrimpers
In November 1994, 70% of participating Florida voters approved a constitutional amendment that outlawed the use of commercial entanglement fishing nets of more than 500 square feet in state waters. The law became effective in July 1995 and precipitated an exodus of many captains from a shrimping fleet that had numbered hundreds of boats in Bay, Gulf and Franklin counties, alone, according to veteran shrimper Fred Hunter of Overstreet. Other shrimpers including Hunter, whose boat, the Miss Bennie, will turn 43 in December, made adjustments and carried on. "You put a shrimper's back to the wall, he's gonna find a way to survive; that's what we do as commercial fishermen." Hunter has found that even as shrimpers have become less numerous, so have shrimp, and that, too, has made his livelihood less attractive. He discounts the belief, held by some, that the Deepwater Horizon oil spill is somehow to blame. The biggest factor, he said, is the deterioration of estuarine environments due to development, the hardening of waterfronts and the use of fertilizers and pesticides.
---
---