Seaside Farmers Market Features Handcrafted Ice Cream
Cream of the Crop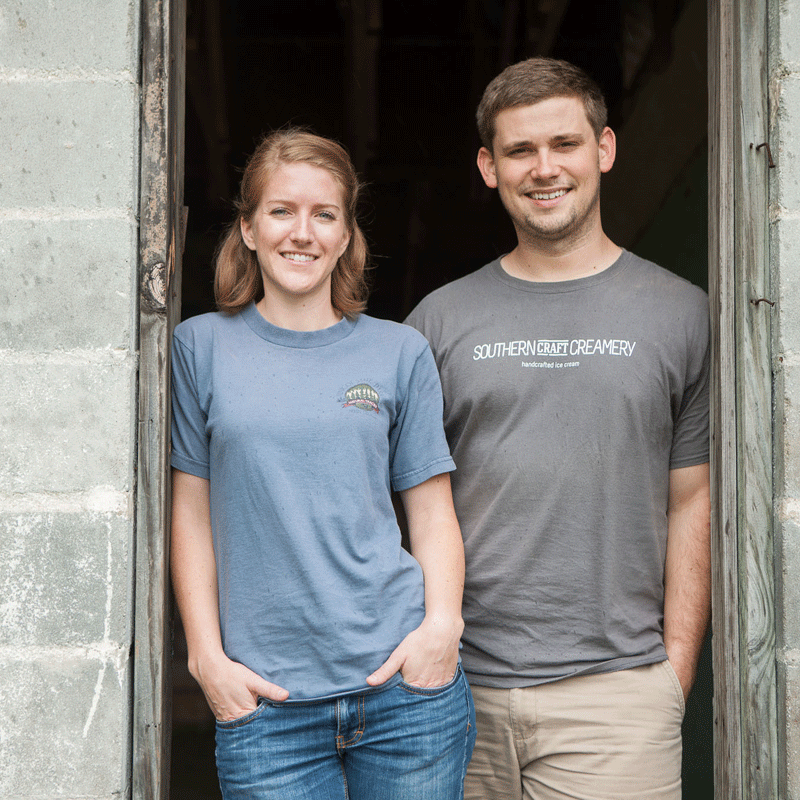 Lauren and Zach O'Bryan standing in the vacant portion of the former peanut warehouse that now houses their creamery.
There's something special about sitting on a blanket under the sun, chasing the drips of a delicious scoop of cold, refreshing ice cream with your tongue, enjoying a pleasant sugar buzz — it's what makes ice cream a summer favorite treat. Ice cream just makes you happy.
A completed pint of Mango-Lime-Chile ice cream.
If you visit the Seaside Farmers Market, a group of local farmers and artisans that offers food and other products each Saturday morning in Seaside, stop by the Southern Craft Creamery truck and meet Lauren and Zach O'Bryan, co-owners of a dairy farm in Marianna, where they make fresh ice cream daily. 
The family farm, run by Lauren O'Bryan's family, has around 300 cows that graze on the green pasture and produce the milk for the ice cream. It was while the O'Bryans were traveling the country enjoying farm-to-table foods, that they realized there weren't a lot of options in the Panhandle at the time. "Instead of complaining about it we decided we'd help with the movement, building relationships with other local farmers," Lauren O'Bryan says. "We settled on ice cream, because it allowed us to explore our culinary interests. We love to cook. And it's an approachable product." 
Southern Craft Creamery caps their homemade frozen treats with a hand-stamped lid.
The O'Bryans wanted to get people interested in local dairy. "Some may not realize the value of local products," Lauren says. Originally, her mom and dad had around 150 cows and have since doubled the herd. Lauren's sister and brother-in-law now work on the farm, too. They milk the cows twice a day — at 1 a.m. and 1 p.m., feed them twice a day and ensure their care. "My mom and sister know each cow, know their temperaments and can detect when one is nearing time to give birth," she says. "They know their cows and what's going on with the herd." 
After getting the fresh milk, Lauren and Zach take it to the ice cream plant, where they pasteurize the milk, assemble the mix and hand craft the flavors. "For the salty caramel, we take cane sugar and caramelize it and add vanilla and salt and pasteurize it together," Lauren O'Bryan says. "Pasteurizing it gives a cooked custard taste. Some large companies try to emulate that taste, like Haagen-Dazs."
The creamery offers the tried and true favorites — sweet cream, vanilla, salty caramel, milk chocolate and salty chocolate, as well as the exotic sounding turmeric ginger and bay laurel. The creamery also features seasonal flavors as a way to feature other local farmers, including strawberry balsamic and satsuma ginger sorbet, and locally roasted coffee from Amavida Coffee and Tea for the coffee flavored ice cream. 
J
ersey, Holstein and mixed breed cows find shade in the field.
Every Saturday morning, the O'Bryans load their pickup truck, equipped with a generator and freezer, and head to Seaside for the weekly Seaside Farmers Market, which is open from 9 a.m. to 1 p.m. and is spread out on the town center lawn in Seaside. If you can't make it to the market, Southern Craft Creamery ice cream is also sold in Modica Market and For the Health of It in Blue Mountain Beach and CK Feed & Supply in Rosemary Beach, as well as some local restaurants. 
Life on a dairy farm is hard work, but Lauren feels privileged to have grown up surrounded by pastures and her beloved cows. "It's something that a lot people in my generation don't get to do," she says. "It's a great way to grow up."