Raising the Bar
World champion pole vaulter Daniel Ryland welcomes curious first-timers and elite athletes to his training center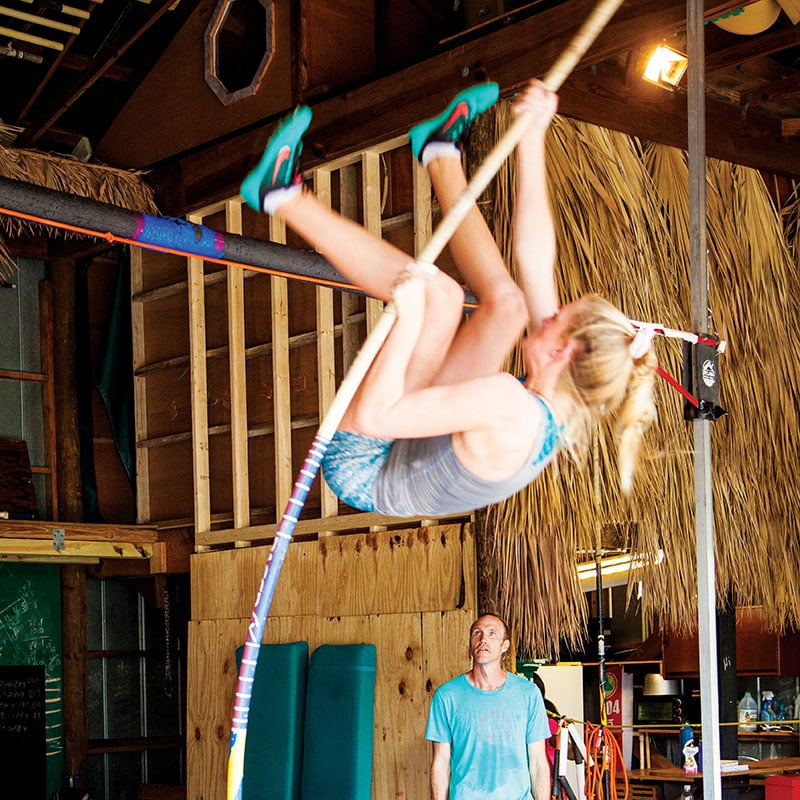 Daniel Ryland's got "pole position."
The lean 37-year-old with aquamarine eyes is a world-renowned pole vaulting champion-turned-coach who now operates the only fully equipped (minus the frills) training facility in the region. This facility, which is nestled on an acre of land just off County Road 283 in Santa Rosa Beach, is quickly becoming a beacon for pole vaulters and athletes from near and far.
Fearless, fast and strong, this self-styled rodeo-cowboy wannabe developed his formidable combination of skills while growing up on his family's farm in rural Deville, La.
"I grew up working hard. Work was a daily routine. Riding a horse every day made me strong and durable. I was unbreakable. I was tough," Ryland says.
By his freshman year of high school, this rough-and-tumble teen suited up as Buckeye High School's quarterback, but track and field was the sport that would take his skills, resume and, eventually, his life, to the next level.
Ryland holds a personal pole vault record of 19' 2.25", and as a decorated pole vault and decathlon champion, his resume boasts dozens of national and Olympic-level accolades.
Having earned his bachelor's degree in mathematics from Arkansas State University and having honed his coaching skills at the notable Bell Athletic Camp in Arkansas and the prestigious IMG Academy in Bradenton, Fla., Ryland has earned the right to put his own name on the door of the Ryland Pole Vault center. His smarts, strength and speed combine to create a formidable champion — a winner. And his indomitable spirit, education-based coaching style and approachable personality have made him a magnet for thousands of hopeful athletes, from novice to masters, who come to Ryland year round to "up their game."
But this athlete/entrepreneur is quick to explain that he doesn't do it alone. His wife, Catherine, who has deep family roots in Grayton Beach, also is a vaulter and assists with operating the facility. They have two little girls, Scout Elizabeth and Chapel Grace. Scout, 2, is already sprinting down the runway with a pole in hand.
The success stories that the Ryland facility has churned out since opening in 2012 are too long to list, but clients range from first-timers to established, elite pros.
Armand Duplantis of Lafayette, La., known simply as Mondo, is the only high school vaulter to have cleared 19 feet (19' 4.25", to be exact). Ryland is a longtime friend of Mondo's father, professional pole vaulter Greg Duplantis, who encouraged Mondo to train with Ryland in 2013, when Mondo was 14 years old — a year before he became a world champion. Now 18, Mondo is a YouTube sensation and has been called "The Tiger Woods of Pole Vaulting." ››
"I've known Mondo's family my whole life," Ryland said. "I broke his dad's all-time Louisiana record, and now Mondo just broke mine."
Locally, Ryland has worked with numerous schools along the Emerald Coast, including Niceville High School, where Kobe Babin is an incoming sophomore. Babin, who was ranked the No. 1 middle school vaulter in Florida and No. 2 in the nation, was "holding" 9 feet; after he trained with Ryland, he reportedly improved his best by two feet in just two days. In May of 2016, he cleared 11' 6" to claim first place at the Florida Middle School Track and Field State Championships. Currently, his personal best is 12 feet.
At a recent June training, Ryland hosted several college athletes who were taking turns vaulting from one of three runways. Among them was 18-year-old Darin Meeker, a graduate of Maclay School in Tallahassee, where he held the pole vault state record his senior year. He is enrolled at Colorado School of Mines, where he's studying engineering. He came back for a second time to Ryland to improve his technique, spend a little time in Seaside and, most of all, to "have fun."
Ryland works mostly with athletes from ages 13 to 18, but he welcomes all ages and all skill levels to try a two- or four-day camp priced from $200. The camp includes classroom-style lessons before every workout. (One-on-one coach consulting is available, but it requires previous camp attendance.)
"All I ask is for an open mind and a willingness to work hard," Ryland says.
Hard work is Ryland's key to success. "There is always something more you can do," he says. "Believe that every one of your attempts is an opportunity to learn and grow."
Speaking of growing, Ryland is a passionate gardener. His tomato plants tower as high as his pole-vaulting record. "I really love growing things," he says. "Every time I start a new garden, I get better." Ryland Pole Vault campers can attest to the truth of that statement, since they dine each day on the bounty from Ryland's on-site organic gardens.
"Grow it, and they will come," Ryland says, playing off a line in "Field of Dreams," a film starring Kevin Costner. Then, most fittingly, he dons a straw hat and ventures, barefoot, into his patch of corn.
---
Daniel Ryland's athletic resume includes:
11 national championships
2x Olympic Trials qualifier, pole vault
2x Junior National Champion, decathlon
World Championship, Team USA ß
Pan American, Team USA
Louisiana State 100m, 110h, pole vault champion
Ryland Pole Vault 
(850) 213-0696
rylandpolevault@gmail.com, rylandpolevault.com