Picnic Planning
Celebrate summer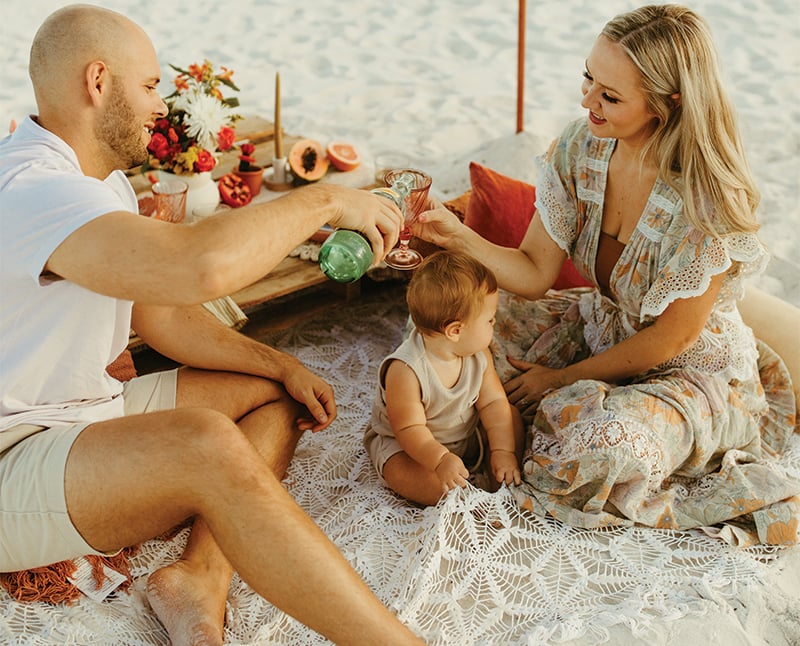 In an idyllic verdant field atop a red-checkered blanket sits a family. Look closer to find soggy egg salad sandwiches, a parade of ants infiltrating the bag of chips and an absence of beverages, forgotten on the kitchen counter.
This is a scene from the past. The picnics of today have been upgraded. Picnic planning companies are invested in elevating a dining experience society yearns to love but can't seem to get right.
Millennials revived the picnic with nostalgia for simpler times made sublime.
Picnics pair well with Instagram aesthetics, and picnic planning services are capitalizing on the trend.
Mariann Greene, owner of Pensacola Picnic Co., has noted an influx of business since 2020.
"I think people originally wanted COVID-friendly options in our perfect beach town," said Greene. "Now people are wanting to purchase experiences more than ever — valuing memories over possessions."
Pensacola Picnic Co., Serenity Picnic Company in Destin and Fresco Picnic Co. in Santa Rosa Beach plan picnic services for all occasions. Included are intimate dinners for two, group picnics, bachelorette parties, baby showers, holiday celebrations, engagements and more.
Each company has their own offerings and inclusions, but each focuses on creating a customized experience that fits your occasion — whether a unique date night or group gathering.
"I created my business out of frustration with dining experiences that were expensive, lacked connection and weren't memorable," said Melissa Gross, owner of Serenity Picnic Company. "I wanted to give people dining experiences that are interesting, beautiful and really encourage engaging with one another."
A blanket and a spread of cheeses will do, but a truly immersive experience should include a scenic setting, ideal weather, delicious food, chilled beverages, cozy seating and good company. Additional ambience enhancements include lighting, candles, florals, music, games, cushions and place settings complete with dishes, cups and cutlery.
Fortunately, the Emerald Coast lends itself to many beautiful vistas.
Tia Glenn, owner of Fresco Picnic Co., suggests a setup on any beach along the Gulf of Mexico, a park, poolside, at a private residence or on a rooftop.
Generally, Northwest Florida makes for ideal picnic weather year-round. Golden hour makes for the best temperatures and lighting. If you dine al fresco during cooler weather, be sure to have blankets or shawls available for guests.
Greene, Gross and Glenn agree that charcuterie is one of the most requested food options. When selecting your picnic fare, they advised foods that don't need to be heated and can be eaten at room temperature.
Pack a cooler with ice packs and prepackaged bag or jar foods, such as salads, charcuterie, sandwiches, chips, dips, fruits, vegetables, cookies and the like. Chilled wine, champagne, premixed cocktails, lemonade, tea, sparkling water and canned beverages are palate pleasers to add to the cooler. If you invest in a picnic planning service, many have catering options available.
Blankets or towels are the most common seating option, but cushions, pillows, blankets or camp chairs add to the comfort.
With the basic elements of a picnic established, it's up to you to decide on additions.
For a romantic dinner for two, set out florals, candles, china and stemware to make their heart flutter. For a celebration with friends, select a theme and matching decorations. Don't forget the lawn games.
Picnic planners help curate a picnic that aligns with your wants and needs, including setup and breakdown of rented decor, location selection, space styling, connections with other vendors and more.
"To be outdoors in a beautiful setting is not something we all get to do every day, so we handle all of the details that make this picnic turn into a special occasion just for you," said Glenn.
Longer days and seemingly endless sunshine encourage dusting off picnic baskets, cleaning out coolers and setting sights for the perfect shady spot to celebrate summer.