Oh…is for Oysters!
Baked, fried or raw there is nothing more luscious than a sweet, Gulf Coast oyster.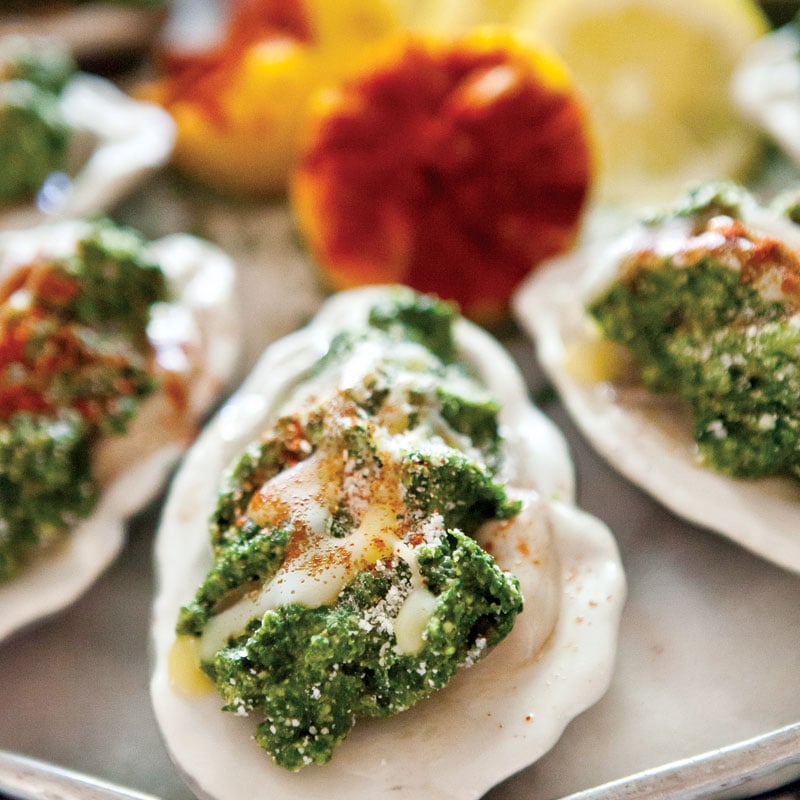 Apalachicola, the old city on the "Forgotten Coast" that produces fresh wild oysters — not farmed — is nearby. And that makes this region the premiere destination for all things having to do with bivalves.
Emerald Coast locals and tourists alike are lovers of ice-cold oysters, and in this climate they are a savored delight. Some may even be reminded of the famed food writer M.F.K. Fisher's book, "Consider the Oyster." A magnificent beach read, it opens with Fisher paying tribute to the most enigmatic of foods as she writes an entertaining synopsis of the life cycle of an oyster, calling it "dreadful but exciting."
In all actuality, Apalachicola adult oysters begin reproducing when water temperatures become greater than 68 degrees, typically occurring from May to October. As broadcast spawners, the oysters release eggs and sperm into the water column. Once fertilized, the egg develops into larva that remains free swimming for three weeks. Towards the end of this period a foot or pedi veliger develops, and the oyster settles to the bottom of the water column looking for a hard substrate. Once a hard surface like an oyster shell is located, the larva cements itself, and metamorphoses to the adult form. Florida's Eastern oysters (Crassostrea virginica) feed mainly on single-cell plants and flourish in Florida's estuaries, where nutrient-rich fresh water rivers meet coastal saltwater.
Getting Down to Business
Rich in history, Apalachicola began commercial harvesting of oysters in 1850, and it is a unique fact that the Union Navy allowed oyster harvesting to continue uninterrupted in Apalachicola Bay during the Civil War, even though the Federal blockade of the Southern coast was in effect.
By 1907, Apalachicola Northern Railroad ran oyster specials to Atlanta with oysters packed on ice, which paved the way for the country to enjoy these marvelous mollusks.
The Apalachicola oyster industry is currently valued at more than $10 million, accounting for 90 percent of Florida's supply and approximately 10 percent of the nation's supply. That is about three million pounds of oyster meat!
Like fine wine, oysters exhibit a discernable terroir, and there certainly is something to be said for eating food just steps from where it was harvested.
Apalachicola oystermen are but a few who continue to manually harvest with oyster tongs, the last place on the Gulf Coast where this is still tradition. They can be seen using the long-handled wooden sticks while out in the Apalachicola Bay; their small boats and skiffs in the estuaries where oysters are scooped from the sandy bottom beds.
EC Magazine's Top Dozen Oyster Bites
Just one cup of Apalachicola's beautiful bivalves has 169 calories, 2 grams of fat, 10 grams of carbohydrates and packs a protein punch with 17 grams. A great source of zinc and omega-3s, oysters are not only delicious but also good for you! The flavors of oysters may vary widely, but the manners in which they are enjoyed vary equally. Gussied up, raw or stewed, here are a dozen of our favorite oyster bites along the Emerald Coast.
ACME Oyster House in The Village of Baytowne Wharf serves char-grilled oysters and delicious po-boys, but their soulful Oyster Rockefeller Soup deserves a silver spoon.
Take in the stunning Gulf view and the brisk, foamy sea air while you slurp down a dozen of the plump oysters served at The Back Porch Oyster Bar in Destin. They discount their oysters during their daily happy hour from 3 to 5 p.m.
LJ Schooner's Dockside Restaurant in Niceville serves up a delectable dish called the Dockside Dozen. It is topped with a special garlic, spinach and Parmesan sauce. Dockside also offers a different oyster special each week.
Chef John Jacob of Vintij Wine Boutique in Miramar Beach serves an Oyster BLT Sandwich that is so popular it has been a signature item on the menu for more than 10 years. At dinner the corn meal pan-fried oysters on spinach crostini, topped with pickled onions and lemon butter, is all the rave.
Magnolia Grill in downtown Fort Walton Beach has many requests at lunch for its deep-fried oyster sandwich, but come dinnertime the Oysters Rockefeller are in demand.
Poppy's Crazy Lobster at the ever-popular HarborWalk Village in Destin says char-grilled are the best seller, with toppings that include Cajun, Greek, Caribbean and coastal seasoning.
David Biegler, owner of the Hurricane Oyster Bar in Grayton Beach off 30A, serves Apalachicola oysters for $5 per dozen at happy hour from 3 to 6 p.m. daily. Biegler says, "The Around the World Oysters are a big hit featuring Russian, Japanese, Mexican and German toppings."
The Boathouse Oyster Bar is one of Destin's best-kept secrets. Their award winning Apalachicola oysters are served raw and fried. "Baked S.O.B." is also a favorite, with cocktail sauce, cheddar cheese, jalapeños and nacho chips.
The High Tide Restaurant and Bar, located in Fort Walton Beach east of Brooks Bridge, has seating inside and out for you to enjoy a dozen or more freshly shucked oysters. A popular spot among locals and visitors.
Stinky's Fish Camp on 30A in Dune Allen Beach (and also in Navarre) serves "Oyster's All Day All Ways!"  You can try Smoked Bacon, Raw with Ceviche or Champagne Broiled, to name a few. Another fanciful dish is the Stinky's Stew, full of buxom bivalves and fresh local seafood in a basil butter broth.
Peg Leg Pete's Oyster Bar on Pensacola Beach offers waterfront dining and an oyster shooter with beer or vodka. The Crabmeat Imperial Oysters are topped with a crabmeat stuffing, Alfredo sauce and then are baked to a golden brown.
At what once was an old fish camp in the 1900s, you will now find Nick's in Freeport on Basin Bayou. Nick's offers waterfront dining and cold fresh raw oysters. The juicy fried oyster sandwich with tarter sauce on a hot bun is legendary.
Busting Open Oyster Myths
Getting oysters fresh and keeping them cold is key. At Boss's Oysters in Apalachicola they are kept chilled from "bay to belly." Raw oysters contaminated with Vibrio vulnificus can be life threatening, however, there are myths that encourage and discourage people on eating raw oysters. We cracked open some crusty myths to get to the true "pearls of wisdom" behind them.
Myth: Eating raw oysters are safe if you drown them in hot sauce, which kills everything.
Fact: The active ingredients in hot sauce have no more effect on harmful bacteria than plain water. Nothing but cooking them at a high enough temperature will kill bacteria.
Myth: Avoid oysters from polluted waters and you'll be fine.
Fact:  Bacteria thrive naturally in warm coastal areas (such as the Gulf of Mexico) where oysters live and have nothing to do with pollution.
Myth: Alcohol kills harmful bacteria.
Fact: Alcohol may impair your good judgment, but it doesn't destroy harmful bacteria.
Myth: An experienced oyster lover can tell a good oyster from a bad one.
Fact:  Don't rely on your senses to determine if an oyster is safe.
Myth: Avoid raw oysters in months without the letter "R" and you'll be safe.
Fact:  Oysters are delicious year round, and if cooked properly can even be eaten by those with compromised immune systems.
Myth: Raw oysters are an aphrodisiac and will cure a hangover.
Fact: There is no scientific evidence that either of these commonly held beliefs is true, but we would like to think so.