Oh is for Olive Oil
The Emerald Coast Strikes Liquid Gold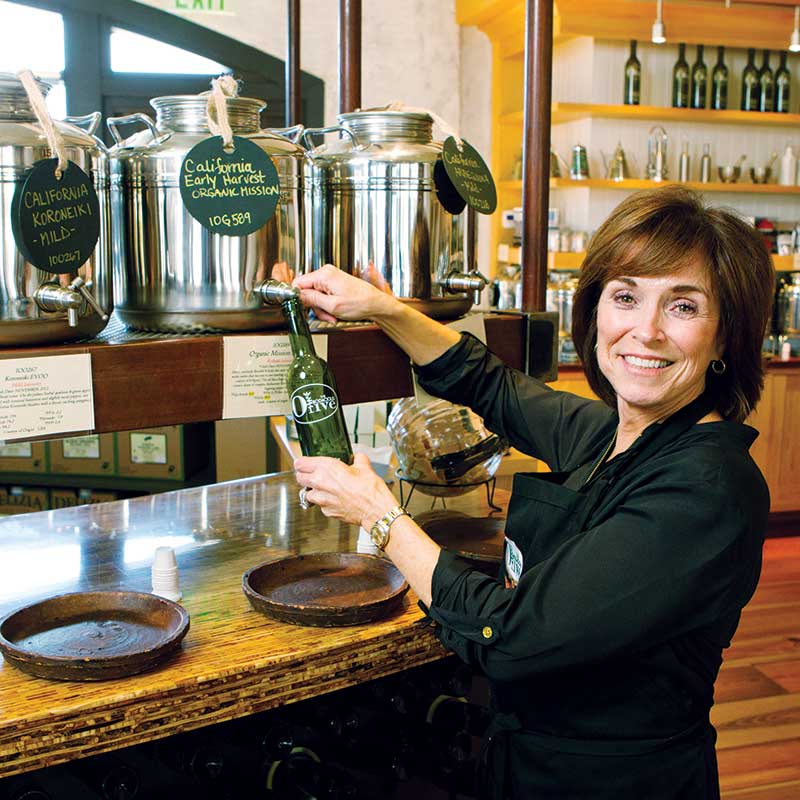 Revered by Homer and thought to be a gift from the Goddess Athena, olive oil was once thought by ancient civilizations to be worth its weight in gold.
Today, as Americans grow exceedingly health conscious, it is viewed more like a liquid gold, containing properties that can make you smarter while possibly extending your life. 
A fat obtained from the fruit of the Oleaceae, a traditional tree crop of the Mediterranean Basin, olive oil is extracted from ground whole olives and is commonly used in cooking, cosmetics, soap and pharmaceuticals. 
Consumers are interested in getting the best quality for their dollar and are digging deeper to find out more about the products they are using. And what they're gradually learning is that the majority of olive oils in supermarkets labeled as "extra virgin" are actually adulterated imitations. Indeed, according to farmprogress.com, 69 percent of U.S. supermarket oils labeled as extra virgin showed defects in flavor and composition when tested.
Check It Out … Carefully
Extra virgin is the highest grade of olive oil and must be extracted from the olive without heat or solvents. International and U.S. Department of Agriculture standards require that extra virgin olive oils meet specific criteria for chemical makeup and sensory qualities, including flavor and aroma.
According to Tom Mueller, author of "Extra Virginity: The Sublime and Scandalous World of Olive Oil," extra virgin is deemed as "olive oil with zero taste flaws and some perceptible fruitiness, peppery-ness or bitterness." Because of these standards, the "extra virgin" oil commands a top price.
Based on studies by UC Davis Olive Center at the Robert Mondavi Institute in California, however, most olive oils fail standards. Poser oils contain refined nut and soy oils that not only debase the olive oil's quality but can exacerbate health conditions such as food allergies and cancer. Charmed by popular brand name labels professing veritable Italian legacies, consumers falsely assume that they are purchasing oils beneficial to their health. 
Unfortunately, the adulteration of olive oil is at the bottom of the list of concerns for the United States Food and Drug Administration (FDA). As a result, there is limited legislation and few safeguards regulating the production of extra virgin olive oil. So buyer beware!
O So Good For You
Good olive oil truly is liquid gold with its many health benefits. Considered the most important component of the traditional Mediterranean diet, this extraordinary fruit juice and its effects are still not fully understood, yet some health benefits have been firmly established from consuming only two tablespoons of olive oil daily. 
According to mayoclinic.com, the top five most scientifically supported health benefits of olive oil today are that it lowers LDL or "bad cholesterol" due to being one of the best monounsaturated fats, lowers blood pressure, lowers risk of heart disease, helps prevent hardening of the arteries and helps with cognitive function. 
But be aware that heat, light and air affect the taste and health nutrients of olive oil, so store oil in a dark, room-temperature cupboard, or even in the refrigerator. Olive oil can slowly degrade over time, so it is best to use within six months to one year once opened.
Where You Can Get It
Stepping through the doors to The Bodacious Olive, an epicurean market located in Downtown Pensacola, one is instantly lured by the store's operating mantra, "Taste before you buy," and the sight of the professional-grade, stainless steel fusti — small tanks housing the oils. The Bodacious Olive strives to educate consumers about olive oil while offering a comfortable environment where they are free to try the authentic extra virgin olive oils, balsamic vinegars and gourmet salts from around the world. 
Owner Rishy Studer says, "We serve the highest quality and freshest olive oil available, from over 70 farmers in 20 countries." The Bodacious Olive proudly stakes the claim that Pensacola is not just the first European settlement of North America, but also the birthplace of the North American olive. While Don Tristan de Luna's settlement was destroyed by a hurricane shortly after arrival, the ships in his expedition were laden with barrels of olives, becoming the first archeologically documented olive trees in North America. 
The shop incorporates community-minded activities by featuring local food producers, offering tastings, and it has teamed up with Pensacola Cooks to present "Learning Lunches."  Says Studer, "The lunches are extremely popular and sell out fast. There is a waiting list." Carrying a dizzying array of the finest artisanal olive oils available on the market, The Bodacious Olive features traditional, spiced and naturally infused selections. 
Though the favorite remains traditional extra virgin, popular choices include California Garlic, Whole Fruit Lemon and the Cilantro & Roasted Onion. Another sought-after oil is the handcrafted Roasted Walnut Oil made in Saumur, France, by strictly following 150-year-old traditional methods. It is slowly roasted to perfection, then expeller-pressed and lightly filtered, adding a rich walnut taste to salad dressing, pasta and grilled meat. Prepare yourself for a delicious detour as you also sample hot baked breads, freshly made pastas and international selections of fine wines and cheeses.
 Another olive oil store, named Olive, opened its doors in late 2012 to rave reviews. Located in the heart of Destin, Dar Zook was inspired to open Olive after a trip to California had her importing oil for personal use. Meanwhile, Gina Seton, a friend, had visited a store in New York similar to what Dar wanted to open on the Emerald Coast. "When I asked Gina to open Olive with me," Zook now says, "it was serendipitous!"
Wanting a supplier that provided testing, Olive sells organic oils from Veronica Foods. "The Extra Virgin Olive Oil is made from the freshest, highest quality olives, tested by an independent Australian lab using state-of-the-art chemical and sensory analysis and is certified to be 100 percent pure," Zook says.
The test data is available on almost all of the products in the store, so you know what you're getting is top quality. "There are many factors from growth to harvest to production that can seriously diminish the quality and healthiness of extra virgin olive oil," Zook explains. Extra care must be taken throughout the production process (like temperature control, storage and handling of the product) to ensure that each bottle contains the highest levels of polyphenols-Oleic and free fatty acids for optimum health benefits.
"We want customers to taste and experience the oils," Zook adds. "Our No. 1 seller is the extra virgin, but people are really loving the Tuscan Herb, Garlic, Butter, and Blood Orange infused oils as well." Offering different bottle sizes for purchase from the sample size at a cost of $4, to the 24 ounce large bottle for $28.99, the most popular size is the medium 12.6-ounce for $16.99. With so many oil varieties and options, there truly is something for everyone. 
Bringing Menus O-live
Jason Shaw started looking at the possibility of growing olives on his family farm in Lakeland, Ga., and after experimenting with a few hundred olive trees, and investing in samplings, he and his family now produce 100 percent Arbequina olive oil. Used by many of the South's award-winning chefs such as Jospeh Lenn at Blackberry Farm to Linton Hopkins at Restaurant Eugene, Georgia Olive Farms Olive Oil can also be found on the plates at Fish Out of Water at WaterColor Inn & Resort, and is available for purchase at Modica Market in Seaside. 
Local Chef Edward Reese of Edward's Fine Food & Wine in Rosemary Beach swears by the olive oil that his neighbors and friends at Mac Farms create from their trees purchased in Italy and transported to the San Joaquin Valley in California over 15 years ago. The four classic species of olives present in their blend are Frantoio, Leccino, Maurino and Pendolino. This particular variety is also used at Stinky's Fish Camp on 30A and in Navarre. Mac Farms olive oil can be purchased online at Stinky's Fish Camp, For The Health of It and at Modica Market in Seaside.
Here's to "gold mining" all along the Emerald Coast.
The
O
list
The Bodacious Olive
407 D South Palafox St., Pensacola
(850) 433-6505
Olive
34940 Emerald Coast Pkwy., Destin
(850) 460-2210
Modica Market
109 Seaside Central Square, Seaside
(850) 231-1214
For The Health of It
2217 West County Highway 30A, Santa Rosa Beach
(850) 267-0558
Stinky's Fish Camp
5960 West County Highway 30A, Santa Rosa Beach
(850) 267-3053
Mac Farms in Santa Rosa Beach
Macfarmsflorida.com