Nothing is More EC Than Yoga By The Sea
The Destin company provides the beach, waves of relaxation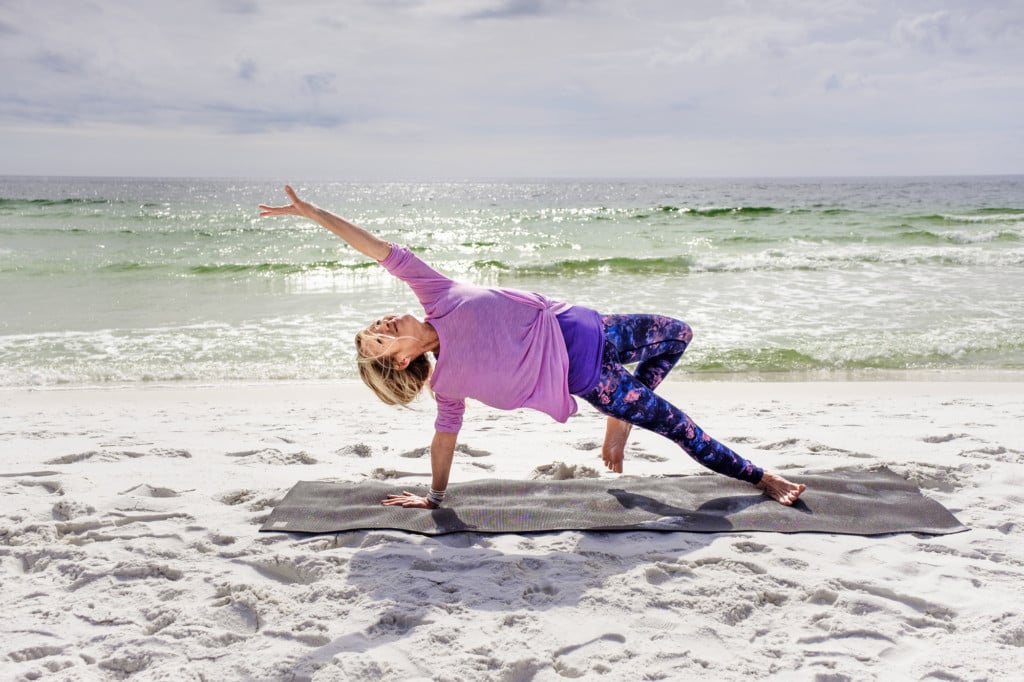 The refreshing breezes, rhythmic breaking of waves and sensational beauty of Emerald Coast beaches offer an ideal setting for reflective meditation, peace and relaxation. And a perfect place for yoga classes.
"Yoga has come into the mainstream and people are enjoying its many benefits," said Rhonda Comparin, a 500-hour certified yoga teacher and owner of Destin Yoga by the Sea.
"There are as many different types of yoga as there are places to practice it. Being on the beach is very freeing and tranquil. You don't have to be in a yoga studio and imagine you're on the beach. There is no bad lighting, weird noises or air conditioning to deal with."
Comparin is a big believer in getting out of closed environments.
"People spend too much time cooped up in their homes and in their cars," she said. "I think that beach yoga helps open the senses and can help prevent depression. You can't help but be inspired by the beauty of the area."
Comparin's 60-minute classes attract women, men, visitors and local residents, civilians and members of the military. Classes typically include 15 to 25 participants, but there is plenty of space for everyone.
As classes get underway, Comparin projects her voice above soft music and gently cues students to become aware of their breathing, notice their posture and release tension.
"Yoga is supposed to bring awareness to what is going on in your body," says longtime student Alexandra Brown.
"It helps to increase flexibility, improve balance and contribute to overall well-being. When you have a little something wrong, then you can work on that. A lot of people don't pay attention until that little ache becomes big and suddenly you are at the doctor and are in physical therapy. Awareness is so important. You have to be a little selfish."
Brown and Comparin agree that beach yoga beckons all ages with an interest in maintaining fitness in an environment free of competition and judgment. First-timers blend right in.
"I encourage people to pick their variation," says Comparin, "and modify whatever movement or pose I am doing to something they can continue working on. In yoga, we call it practice. It is always a work in progress. I give people options when I demonstrate the movements because everyone doesn't stretch or move the same. There are a number of ways to get the same result. We have one elderly man who uses a walker, and he holds onto something so that he can keep moving."
Comparin tries to hold her morning classes as close to the water on packed sand as possible. The yoga mats and sand are easy on the knees. But during the summer or times when it is really hot or raining, she holds classes under the pavilion at James Lee Park in Destin.
"There can be distractions," Comparin said, "with the occasional beach wedding preparations, parties and beachgoers, but we just internally acknowledge them and keep going. It is never a problem."
Comparin recounted an especially poignant distraction during one of her classes.
"We had a seagull fly in during class and it had a hook stuck in its mouth," she said. "It hung around the class as if it knew that we would come and help and figure out what to do. One of my students got a tool from his car, took the hook out and the seagull just hopped away. It was a pretty awesome moment.
"We also have a dolphin rule in class," Comparin laughed. "If you see a dolphin, we all have to stop and look.
"I want to share yoga with as many people as possible," Comparin said, "and teaching on the beach lets me do that. I don't have any overhead, except for my permit, and that lets me keep my price low."
Destin Yoga by the Sea
Rhonda Comparin offers yoga classes Monday through Saturday. Starting times vary by season. Seasonal offerings include sunrise and sunset classes. For more information, go to yogadestin.com or visit Destin Yoga on Facebook.