New Menu at Seagar's Cures Winter's Chills
Talk about a perfect place to shake off the winter blues.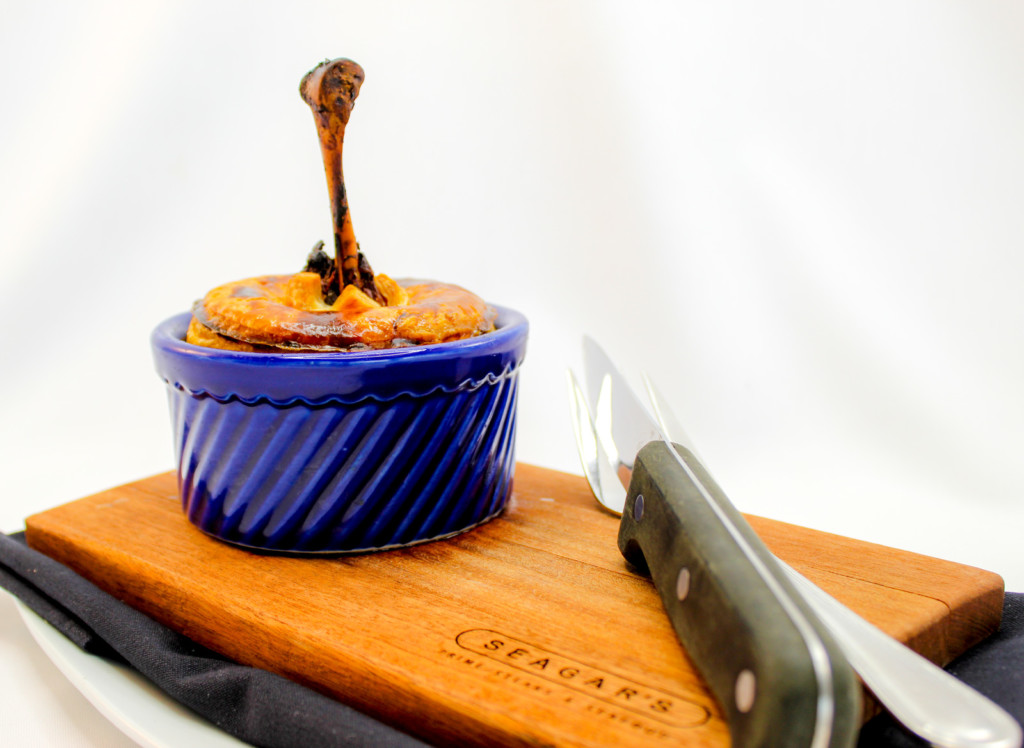 While Emerald Coast residents merely tolerate the dreary, drafty days of winter, Executive Chef Lee Guidry delights in it. Now is the time that he repairs to the kitchen to perfect his own classic comfort food recipes.
On a blustery January day, media representatives gathered at Guidry's domain, Seagar's Prime Steaks & Seafood at the Hilton Sandestin, and sampled his winter menu.
"For me, dishes that involve braising — cooking items at a low temperature over long periods of time — are the epitome of hearty," Guidry said. "These dishes are a little bit richer and tend to soothe the soul when it's cold outside."
Aptly, we warmed up with a robust spread of hors d'oeuvres: braised short rib and locally sourced pork belly cannelloni, drizzled with wild mushrooms, poached carrots and piquant, pork jus; tempura-battered jumbo lump blue crab accompanied by warm, ginger-dressed veggies; beef carpaccio and a roasted beet salad tossed in a dulcet, champagne vinaigrette; and an artisanal charcuterie and cheese board, complete with house-made crackers and bread and butter-style pickles, house-smoked slices of prime rib and spreadable, savory pate.
Guidry, who trained at the Delgado Culinary Institute in New Orleans, may have been most proud of his duck cassoulet.
His take on the Creole staple — containing herbal tea-infused white beans, mirepoix, pork belly and duck confit — is enveloped by a delicate, puff pastry. A duck bone protrudes from its core, teasing at the pastry's tasty contents.
The garnish evokes a primal response — the dish was all but licked clean.
But the carnivores weren't left to mourn long, as a new wave of surf-and-turf entrees flooded the tabletops.
"As we're primarily known as a steakhouse, seafood is a creative outlet I wanted to explore in our seasonal menu change," said Guidry. "I do like to keep those dishes light, but since we are a French-style restaurant, a little bit of butter and beurre blanc finds its way in."
It does so splendidly with the pan-roasted grouper, whose creamy, beurre blanc saturates its roasted pepper risotto and julienned vegetable trimmings with notes of basil.
In another dish, seasonal, sautéed red snapper is embellished with a warm shrimp salad, and sits pretty atop a bed of wilted spinach and white bean stew.
But it was the seared diver scallops, served with truffle and rock shrimp agnolotti and a delectable assortment of baby bell peppers, asparagus and mushrooms, which took the cake.
Still to come for dessert was not cake, but a brûléed, poached Bosc pear. Deemed "too pretty to eat" by the table, a brazen hand finally took the first stab, and others followed suit.
A scoop of the caramelized fruit is enhanced by a smattering of walnut butter and velvety, mascarpone cheese, then made complete with the contrasting crunch of maple shortbread cookie crumble.
For guests, whose bellies and souls had sufficiently been warmed, it was a sweet send-off.