Maple Bacon Bourbon is The "Real Deal Shake"
The sweet and salty combination goes great with a burger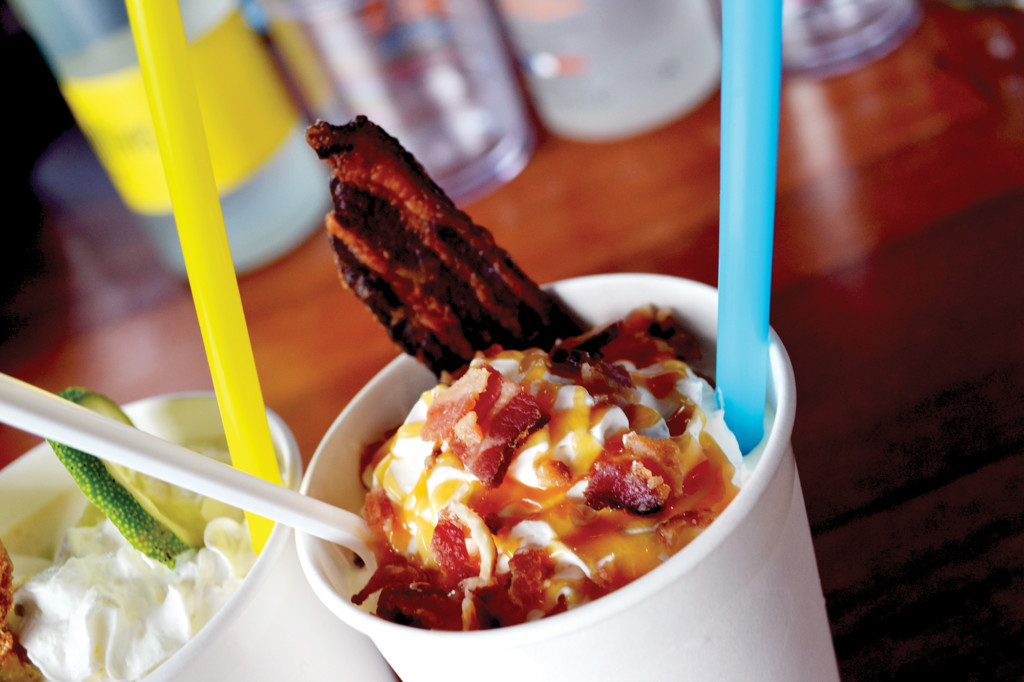 Al's Beach Club and Burger Bar, which opened in 2016, is the latest addition to the dining and entertainment complex known as The Boardwalk on Okaloosa Island.
Caleb Thomas, who has been bartending for about 17 years, came to the Emerald Coast from New Orleans about five years ago.
He has become a key "utility player" at the complex, which includes The Crab Trap, Floyd's Shrimp House and Rockin' Tacos.
"I've done it all pretty much," Thomas said. "Wherever they need me."
His favorite role is bartending at Al's, the open-air bar that is open from March through October.
And his favorite cocktail is the Maple Bacon Bourbon "Real Deal Shake" for adults.
"The whole concept of Al's Beach Club was classic American burgers and fries and milkshakes, so it fit the concept," said Misty Rae Ruthrauff, marketing director for Saltwater Restaurants, which owns and operates all four restaurants.
"And when Al's opened, that big trend with bacon had started," Ruthrauff said.
"Well, bacon goes with everything," Thomas was quick to add.
Ruthrauff estimated that in a given season, Al's uses 785 gallons of frozen vanilla custard that is made exclusively in its kitchen.
That's enough to make about 11,000 Real Deal Shakes over the span of eight months.
"It's one of my favorites because it's got something frozen in it, of course," Thomas said.
"It's different; it's not the common bar drink. It's part of the beach bar atmosphere, and that's different from where I come from."
Thomas estimated he made "60 to 70" of the Maple Bacon Bourbon variety, one of three Real Deal options, each week during Spring Break.
"I've never had anybody say they didn't like it," Thomas said with a little smile. "They're surprised we came up with a mix of those ingredients, and I can make one in about two minutes."
And that's not all.
"Custard is not like regular ice cream," Thomas said. "It's softer and doesn't have the aftertaste that ice cream usually gives you. The candied bacon is made right here in the kitchen, the maple whiskey gives it more flavor, and the whipped cream is another extra."
Ruthrauff called it the "perfect blend of salty and sweet and simple. It's a heartier cocktail, and I think it can also give people dinner and dessert in one."
Clint Rogers, director of operations for Saltwater Restaurants, has known Thomas for about 20 years.
"I was the general manager at Pompano Joe's in Destin and I hired him when he was very young," Rogers recalled. "He is a huge asset, he has a great work ethic and he's very passionate about his job. We're fortunate to have him on the team."
"Real Deal" Maple Bacon Bourbon Shake
Blend 3 to 4 scoops of frozen vanilla custard
Add 1 ounce of Jim Beam Maple Bourbon and 2 tablespoons of bacon bits
Top with whipped cream and garnish with a full slice of candied bacon
Enjoy!