Local Chefs Give Their Opinion on The Best Cookware
The variety of pots and pans on store shelves is dazzling — and dizzying. How does one choose?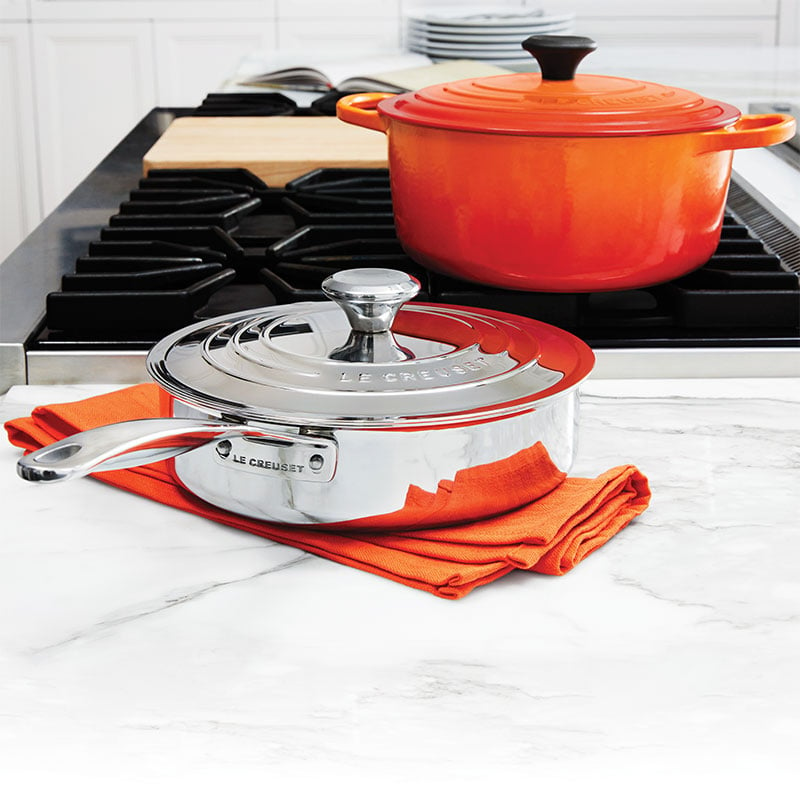 We're becoming pot heads. No, no, not that kind. We're talking cookware here, an au courant topic now that we all want to cook healthier and more creatively. It seems as though every manufacturer offers a different metallic concept, with layer upon layer of heat-conducting alloys and easy-cook surface coatings. The variety is truly startling, and nobody could blame you for wondering what pan might make a difference in the way your Saturday morning omelet turns out.
The questions keep coming. Stainless steel or aluminum? Thick bottoms? Steel handles? Lids? Copper? Coated non-stick pans? Why not just buy a cast-iron pan like the one Grandma wielded for those amazing chocolate chip pancakes? How about those matched sets by celebrity chefs such as Rachael Ray, Paula Deen and Marcus Samuelson?
And then there's the cost factor. Goodness, some sets can run into the thousands of dollars, but might an Escoffier set of copper cookware actually catapult you into a Food Network competition for home cooks?
Ask the Chefs
Who'd be able to advise you better than professional chefs, and we've found good input from some who run busy kitchens at popular Emerald Coast eateries.
Dominic Damiano, the award-winning chef and owner of Fat Clemenza's, Uptown Clemenza's and Mama Clemenza's European Breakfast, says he's a big fan of All-Clad pots and pans.
"The heat distribution is superb," he says. "And isn't it odd that so many home cooks don't realize that cooking is all about the heat? You have to heat up a pot or pan before putting in the food. Otherwise, the food sticks. And if the heat distribution isn't even, the food won't cook evenly."
Damiano explains that the quality of cookware depends on technology and metallurgy. Some metals are better heat conductors than others. For instance, copper is an especially good heat conductor. Stainless steel is not, but it's durable and easy to care for. Aluminum heats quickly but is somewhat pliable. This is why manufacturers bond various metals together, to take advantage of each metal's special properties.
All-Clad, for example, is an American product handcrafted especially for elite chefs and serious home cooks. One of its top products features five-ply construction, bonding an inner core of copper with aluminum and stainless steel interiors and exteriors. This combination of metals provides quick heat-up time, maximum temperature control, even heat distribution and easy care. The line includes anything for cooking, from Dutch ovens and stock pots to paella pans and woks. Williams-Sonoma lists a 30-piece set of All-Clad at $3,999.95.
Crystal Castillo, executive chef at Tommy Bahama in Grand Boulevard at Sandestin, also favors All-Clad products.
"I think the home cook should have some of this cookware," she says. "They are easier for the average person to maintain than the steel French pans that I also prize. I thought I was going to die when my mother-in-law tried to wash my French pans with soap."
Damiano also likes Scanpan, Danish non-stick cookware praised for high quality, including a ceramic titanium coating that's said to be eco-friendly. The price for a set consisting of three pots, three pans and four lids is $1,039.
The Cast-Iron Debate
Now about that cast-iron pan we know from Grandma's kitchen and cowboy movies … It has become quite trendy, with many home cooks applauding how well it holds heat, is naturally non-stick when properly seasoned, and lasts forever.
Lincoln Centurion stainless steel cookware
Courtesy of All-Clad and the Vollrath Company
The other side of the debate holds that raw cast iron is porous, hard to clean, heavy and awkward. That cast-iron pan wasn't the secret weapon Grandma made it out to be, say critics. Except perhaps for hitting a burglar over the head.
Chef Damiano, however, points to the famous Le Creuset line. It's cast iron, but colorfully coated inside and out for good looks and easy care.
"I like to use a Le Creuset pan for braising," he says. "Yes, it's expensive. A pan can set you back $200, but it will last you a lifetime."
Chef Dave Bishop of Bud & Alley's Waterfront Restaurant in Seaside puts himself in the cast-iron fans category.
"I love it," he says. "Just season it and put it in the oven, and it works great." But his all-over cookware favorite is Lincoln Centurion stainless steel cookware, which features a half-inch aluminum bottom for great and even heat distribution. The aluminum is protected by a thin layer of stainless steel to prevent denting and scratching.
Non-Stick Surfaces
The types of non-stick surfaces are hotly debated by foodies. On one hand, they applaud how these surfaces allow for lighter, healthier cooking, but Teflon coatings, especially, have caused concerns. Teflon contains PFOA (perfluorooctanoic acid), and some say it emits toxic fumes when heated. Damiano simply says that Teflon peels, so he doesn't like it.
The new ceramic-coated pans get good marks from wellness experts. They say these surfaces are safer because they don't contain PFOA, and the ceramic-based nanotechnology they're based on is stable when exposed to heat and resistant to flaking.
Porcelain enamel surfaces are smooth and easy to clean and are the perfect choice for Dutch ovens, stock pots and roasters where slow, even cooking is important.
Celeb Cookware
Damiano laughs at the idea that cookware by famous chefs should be especially wonderful, and Castillo says that just because a fancy chef sponsored it doesn't mean that it is always a great product.
"Shoot, I bought a copper-bottom pot at Big Lots years ago, and it's my go-to pasta pot," she remarks. "You need to know what your needs are and what you're looking for."
That sentiment is echoed by chefs Damiano and Bishop. Buy what you need, they say.
Unless you have one of those fancy kitchens where the cookware is on exhibit, you don't need a matched set. If you're just starting out, buy a couple of pans and a few pots of different sizes. In time, you can add specialized items, such as a wok, an omelet pan, an egg poacher, etc.
"Consider your budget and needs," Castillo says. "I'll say, though, that some expensive pieces are a good investment. If they're taken care of, they'll last you for a very long time."