Light Thy Fire
Get stoked for summertime barbecues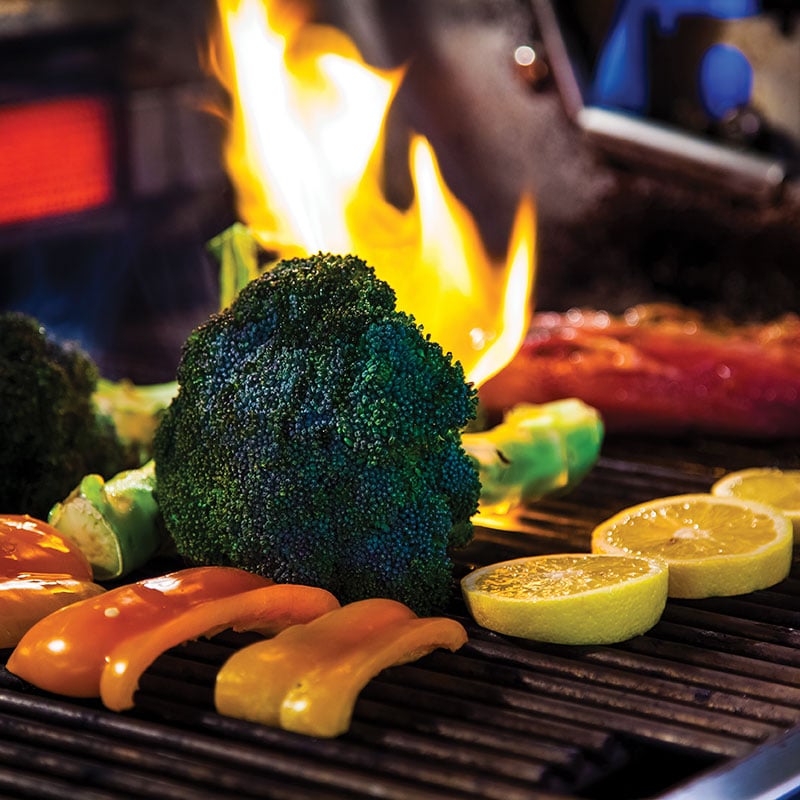 The Vision: Your friends are over for a cookout and, after an hour or so of adult beverages and conversation, you sit down to enjoy a bounty of tasty ribs, mouth-watering steaks and juicy hamburgers with all the fixin's.
The Reality: The coals don't seem to be getting hot, but, as time goes by, your friends are. Who knew the kitchen spatula would melt on the grill? When the food finally hits the table, the ribs are chewy, the steaks that looked so perfectly brown on the outside are mooing on the inside and the hamburgers are so burnt and dried out you could use 'em as frisbees. Not to mention, the potato salad has been sitting there so long waiting that a prudent person would give it a pass.
Never fear, the pros are here, sharing advice, tips and tools that will have you grilling like a boss this summer.
According to the Hearth, Patio & Barbecue Association's (HPBA) biennial survey taken in 2015, 75 percent of us own a grill or smoker and 37 percent planned to buy a new one in 2016. The majority (61 percent) of grill owners use their grill or smoker year-round and 30 percent planned to grill more in 2016 than the previous year.
While a mack-daddy grill makes your cookout more impressive, easier and more versatile, it's entirely possible to create delicious food using a basic charcoal grill, says Tallahassean Josh Cooper. By day, he's a political strategist and researcher. By night and weekends, he's an award-winning competitive grillmaster and food blogger (epicuriouscoop.com).
"I would say everybody should learn how to cook on a Weber kettle grill first, because once you can cook on that thing, you can cook on anything," he says.
The first grilling skill is heat control — and the secret to that is basic science.
"The more air, the more oxygen that hits the fire, the hotter the fire is going to be. The less oxygen that you allow to hit the fire, the lower the temperature is going to be," Cooper says. On your basic Weber, you push those little dampers on the tops and bottoms of the grill to control the air flow. Fancier charcoal grills feature external thermometers, while others take it to the next level with thermostat-like devices that use a fan to keep the heat at a steady temperature — a lifesaver for those who want to cook "low and slow" without having to tend to the grill all day.
The other concept to understand is direct versus indirect heat.
"The idea with indirect is you're trying to turn your grill into an oven. You're not hitting it directly with the heat; you're baking it, basically," says Cooper. "If you're cooking something indirect, you're going to do things that take a little bit longer to cook — ribs, larger pieces of meat.
"For direct, you're going to want to do things that cook quickly — steaks, chicken, hamburgers, pork chops, hotdogs, sausages … stuff like that, that is more of a sear than a slow cook because it's going to be 'hot fast,' as they call it, rather than low and slow. It's getting kissed directly by the heat source."
The experts agree, a must-have grilling accessory is a meat thermometer: either an instant-read or a probe that stays in the meat — deluxe versions will send the temperature readout to your smartphone.
"You want to know what the temperature is," says Wayne Paul, owner of Bay Breeze Patio in Miramar Beach. "It makes a big difference. Five degrees and a chicken breast can go from tender and moist to overly dry … especially on a gas grill, (which) has a tendency to dry your food out."
Overcooking is probably the No. 1 rookie mistake he sees. "And that means if you want 160 degrees, you don't cook to 160. A whole turkey might go up 15 degrees (after being taken off the grill) and that's way overdone," he says. "With steaks, if you want a medium-rare steak at 135, you pull it off at 128, 129, 130, because it's going to raise that last five degrees."
Once the food is off the grill, let it rest. For how long? "That's variable. If you're cooking a big standing rib roast, you might let that rest for 30 minutes," Paul says. "Chicken breast, you might let it rest five or 10 minutes to redistribute the juices."
While most seasoned grillmasters use charcoal grills and smokers, 62 percent of households have a gas grill, according to the HBPA survey.
"People like the convenience and the ease of using gas grills," Paul says. They heat up quickly and there are no ashes to dispose of. One of his business's specialties is designing and installing outdoor kitchens, and there are "all sorts of side accessories," such as power burners big enough to accommodate shrimp boils and fried turkeys. Many outdoor kitchens are designed with both gas and charcoal grills as well as an array of refrigerators, storage, warming drawers and sinks.
"At our house, I have more equipment outside than we do inside," he says. "I have more space in our outside kitchen than our indoor kitchen. … Even if your outdoor kitchen is near the house, why keep running inside for a pair of tongs, knives and wine glasses?"
Buying a gas grill built from American 304 stainless steel can be important, especially if it will be installed along the coast. They're more expensive, but the salt air will quickly deteriorate the lesser grade of stainless used in most grills found in big box stores.
A big trend at the HBPA trade show held in March in Atlanta was pizza. "Pizzas really are the big thing happening in grills right now. Companies are doing pizza stones to fit on your current grill (as well as) pizza ovens that run off pellets for 300 bucks, all the way up to a $15,000 Italian pizza oven," Paul says.
About those pellets.
If you want to check out the new, new thing, consider a pellet grill. While east coast grillmasters are fond of ceramic charcoal-fired grills like the Big Green Egg, pellet grills are more of a west coast phenomenon that's working its way east, says Paul. So far, pellets only account for about two percent of the grill market, but several manufacturers at the HBPA show were showing new models this year, and the trade group is predicting a boost in sales.
The grills use food-grade wood pellets as fuel, combining the flavor of wood fire with the ease of use and cleanness of a gas grill.
"I think the pellet grill is probably the easiest of all grilling methods, especially if you want wood flavor, because it's sort of a 'set it and forget it' kind of concept," says Kevin Louthain, whose love of barbecuing led him to leave the corporate world to join Paul at Bay Breeze Patio. "You hit the temperature that you want it to be and then you just walk away. It regulates its temperature. Until you change it, it's going to stay at that temperature."
A bit boggled by all the information and choices?
Consider visiting barbecue competitions and cook-offs. Participants are often friendly and generous with their advice. Traditional competitions feature four meats — pork butt, ribs, chicken and brisket — judged by taste, appearance and tenderness, while others feature more fanciful, but all grilled, fare.
Bay Breeze Patio has a variety of operational grills onsite, and there's usually something cooking about four days a week. "Part of the mystique of any grill is the confidence to work on it — and we have to show people how it works," Paul says.
Pretty much any food you can imagine — and a few you've never thought of before — can be cooked on a grill, say the experts. Cooper has made everything from Beef Wellington to cold-smoked lox. Louthian made smoked barbecued pecans. Some of the more exotic things grilled by Paul include cookies, smoked butters, smoked ice cream, even smoked water that can be frozen into cubes and used to chill whiskey.
But the joys of grilling go far beyond just cooking food or showing off one's prowess to friends.
"I think food, more than anything else, can bring people together," says Cooper. "I find, whether it's around the kitchen counter or a barbecue outside, we get back to that human interaction — that social interaction — that we've gotten away from. Put your phones down, get off Twitter, get off social media and engage in conversation once again. In today's society, we don't do that enough.
"I work in politics. It's a divisive time right now. Well, when you come to my house for a barbecue, it's a bipartisan event," he continues. "There's people everywhere from all walks of life, and we're all enjoying the same thing: a good meal and friendly conversation."