Let's Get a Little Corny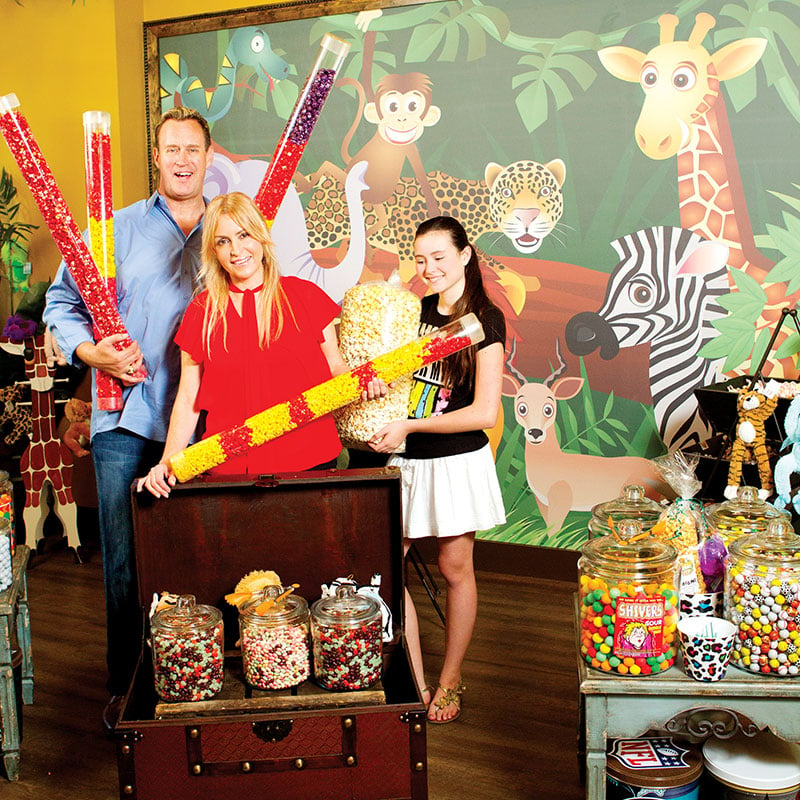 A novel eatery has just popped up in Destin, literally. Swing in to Popcorn Jungle, located on the second level of HarborWalk Village, to fill up on nearly three-dozen flavors of gourmet popcorn, specialty sodas and old-style candies. 
Todd and CeCe Warton (pictured with their daughter, Skye) fell in love with the Emerald Coast and moved here two years ago. They hope their animated popcorn shop — complete with wild mural and a custom music soundtrack that play into a jungle animal motif — will allow them to put down permanent roots in the area. "This is a ground-up store with a fun and novel concept we haven't seen much," says Todd Warton.
This Boston-born entrepreneur hopes locals embrace Popcorn Jungle as an "upscale, family-oriented hangout." In addition to bags of fresh popcorn, you can also purchase pre-packaged tins and holiday-themed gift baskets. Some popcorn and plush animal package purchases include a donation to local conservation and wildlife rescue organizations. "We wanted to find a way to keep with our animal theme and give back to the community," Warton explains. 
Warton contends there is "certainly an art" to popping great corn. Popcorn chefs shake up fresh batches daily on the premises using two different varieties. "The larger butter corn kernel is great for layering coatings, such as caramel, banana, coconut, while your small kernel is better for cheese and that nature," Warton confides. 
Though he won't divulge the shop's recipe secrets, Warton says the proof lies in popping it into your mouth. "We hope folks feel welcome to come in and try different flavors to find their favorites," he says. "We have a lid to fit every pot so to speak."