Electric Vehicles Answer Climate Concerns
Take a closer look at the newest EV and hybrid cars on the market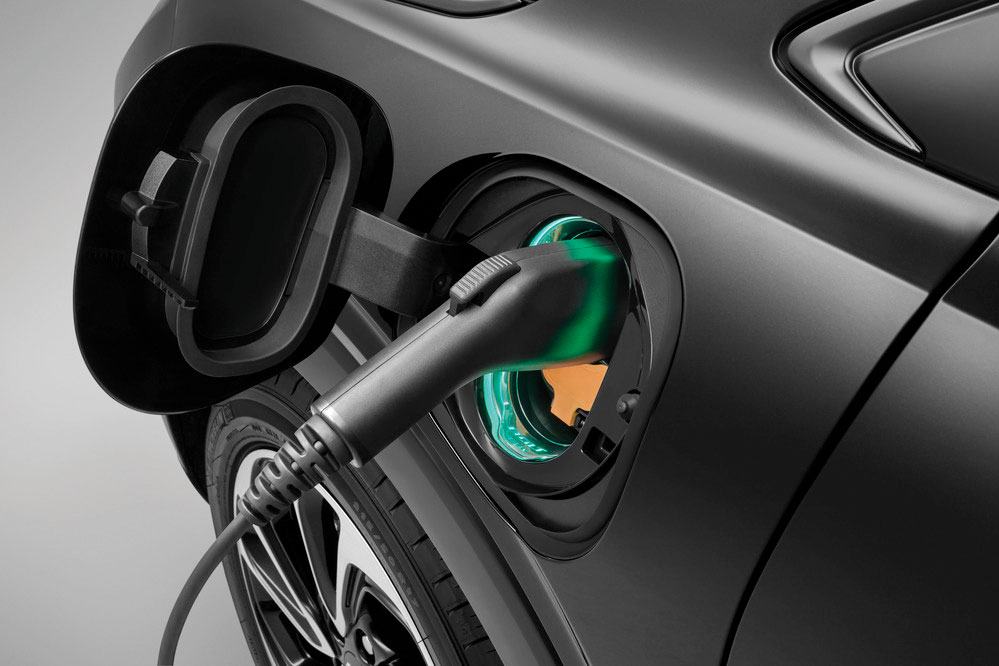 According to the Environmental Protection Agency, the United States is currently the second-largest producer of greenhouse gases in the world, with transportation accounting
for a whopping 29 percent of those emissions.
Government policy shifts and consumer demand for greener travel and alternative energy sources have sparked a movement in the automotive industry. More and more of those whacky charging stations are popping up in public spaces, and you're likely seeing more electric and hybrid car commercials than ever before.
General Motors has pledged that, by 2035, it will sell only electric vehicles (EVs). So, move over, Elon Musk. Take a closer look at the newest EV and hybrid entries from Ford, Chevrolet and Toyota, and you'll see Tesla has some tough competition in the electric race.
2021 Ford Mustang Mach-E
Boasting "zero gas, zero emissions and 100% exhilaration," the 2021 Mustang Mach-E makes its debut as Ford's first all-electric crossover SUV.
To some, a battery-powered, four-door Mustang with all-wheel drive may seem sacrilegious and downright un-American.
Indeed, according to Drew Colon, service director at Gary Smith Ford in Fort Walton Beach, the prevailing complaint about Ford's entry in the EV movement concerns its blasphemous display of the equine emblem.
"But, those people haven't been behind the wheel to experience that immediate acceleration, that power," Colon said.
In fact, the Mustang Mach-E can go from 0–60 miles per hour in a matter of seconds without so much as a gripe from its eerily silent, 480-horsepower electric motor. It's that stillness, that ease, Colon said, that makes it the most comfortable car he's ever driven.
At this writing, Colon had been commandeering his sleek, metallic white Mustang Mach-E demo for two months after becoming the first Emerald Coast resident to receive one. He's grown accustomed to curious strangers stalking him on the road. He patiently indulges slews of questions thrown at him in parking lots by people, including a certain magazine writer who wants to know, "Can this really compete with a Tesla?"
Colon is prepared to argue that the Mustang's features match what Tesla has to offer. Slide inside, and you're greeted with a 15.5-inch vertical touchscreen that serves as a command center. You're able to map your routes, monitor your vehicle's fuel economy, activate one-pedal driving and select from three driving modes: Engage, Whisper and Unbridled, the latter of which is reminiscent of Tesla's "Ludicrous" mode.
"Engage is the most fuel-efficient, energy-saving mode and ideal for just driving around town," said Colon. "With Whisper, you get a little more power, but Unbridled is the power."
But before you go all Fast & Furious, you'll want to charge up. Officially, the EPA gives the Mustang Mach-E a range of 211 to 305 miles on a charge, but Colon said he's seen up 310 miles.
"The best I've personally gotten from a full charge is 285 miles, but that's because I have too much fun driving it and can be kind of silly with it," he laughed.
Unlike Tesla, the Mustang Mach-E is able to use universal chargers. Many drivers opt to install a Ford Connected Charge Station at home and plug in their vehicles overnight, as you need a little over 10 hours to fully charge a 300-mile Mach-E battery.
Find a direct-current fast-charger, and you'll get up to 61 miles per 10 minutes of charge time. But most public charging stations you'll find at hotels, shopping areas and restaurants use the J-1772 universal charger, which much like the Ford Connected, take time.
"Range anxiety is real," said Colon, whose battery once ran out of juice on a trip home from Biloxi and stranded him for several hours in Pensacola. "I could have planned my trip better and definitely learned my lesson."
Thankfully, the Mustang Mach-E command center is smart about notifying drivers when the power gets low. A handy map details nearby charging stations, making trip planning easy.
"There's no selling this car because, for the people who want electric, it's already sold," Colon said. "It's reasonably priced, loaded with safety measures that check all the boxes, and at the end of the day, you can feel a little bit better about yourself by not contributing carbon emissions into the atmosphere — and, man, does it look cool."
2021 Chevrolet Bolt
For the best insights into the status of EVs, Ben Myers, general sales manager at Pete Moore Chevrolet in Pensacola, would have you look no further than the 2022 Bolt EUV.
"With the development of EVs, we're seeing more and more moves being made into the autonomous driving vehicle," said Myers. "Things like the Bolt's lane-keep assist with lane departure, and adaptive cruise control and Super Cruise is getting dumped into the EV market much more than the ICE (internal combustion engine) vehicles."
GM Super Cruise, currently classified as a Level 2 type of autonomous technology, utilizes GPS, cameras, lidar mapping (light detection and ranging) and radar sensors to automatically brake, steer and even change lanes along select highways. According to GM, the system is currently compatible with up to 200,000 miles of North American roads, with plans to expand its radar each year.
The system, which was premiered in the 2018 Cadillac CT6, has since expanded to a few other Cadillac models and the Chevy Bolt, adding to what Myers calls its "IKEA appeal."
"I say that because you get inside the Bolt, and you'll see it's very techy, very streamlined and clean," Myers said. "Your command center is full of displays, various graphs that calculate your driving, how much fuel you're saving, your estimated range and how much power you're regenerating."
The latter refers to the Bolt's regenerative braking, which absorbs the kinetic energy expended during deceleration and redistributes it as electricity to power its motor. Like the Mach-E Mustang, the Bolt is equipped with one-pedal driving, meaning you can simply let off the gas to slow your vehicle to a stop. That can take some getting used to, said Myers, but it's like learning to ride a bike: Once you master it, there's no going back.
And, you may never go back to ICE vehicles after you've tested the Bolt's acceleration, he said. "The thing about EVs is there's no real power transfer, it's an electric motor that goes from nothing to full board by flipping a switch. There's no loss of torque, so you push the gas on an electric vehicle, and it takes off like a shot."
But speed demons aren't the Bolt's only fans. The vehicle's affordability (pricing starts at $33,995), paired with its 250-mile range and spacious seating, attract many young people, families and commuters.
"The national average for a commute is 40 minutes, but mine is 14," said Myers. "I could come home from work with an empty battery, plug my Bolt into a standard 240-volt charger and have it fully charged in seven hours, so it's ready for the next day."
With the DC fast charger, Myers said the Bolt could accumulate 100 miles in just 30 minutes. With the myChevrolet app, customers can map their road trips with access to over 80,000 chargers in North America. The app will send real-time alerts relating to your range, upcoming charging stations and even facilitate payments through its click-to-charge feature.
Myers cites Chevrolet's dealer support as another huge draw. "Tesla has one repair center in Pensacola, and I'm not sure where the next nearest one is," he said. "But, within about 25 miles of where you are, you can find a Chevrolet support facility."
Myers drives an ICE truck himself, as he often pulls a trailer or fishing boat. But, he's looking forward to the day EVs can haul loads and transport freight. Until then, he said, he's minimalizing air pollution with the solar panels on his house.
"The interest in EVs has grown exponentially over the last five years, and it's definitely the future," he said. "It's a wave that's growing bigger and bigger. If I didn't need a truck and was looking for a family vehicle or commuter, going electric is something I'd definitely consider."
Toyota 2021 Highlander Hybrid
If you're looking to shrink your ecological footprint but are not quite ready to commit to electric, hybrids such as the 2021 Toyota Highlander help ease the transition.
While this is not a plug-in vehicle and does rely on a gasoline-fueled engine, the Highlander also puts to work its two electric motors, combining for 243 horsepower and 186 pound-feet of torque.
The Highlander uses those electric motors as generators so that when the driver brakes, energy flows back into the battery for later use. That makes for ideal fuel economy, considering the Highlander gets an EPA-estimated 35–36 miles per gallon.
Panama City Toyota general manager Robert Gates doesn't drive a 2021 Highlander, but his wife does. When
he borrows her car, he said, the ride is almost meditative.
"Behind the wheel, it's smooth, sturdy and very quiet," Gates said. "The 2021 model is the second year of the fourth generation of Highlanders. Toyota did a great job of enhancing its body style to make it longer, wider and more aerodynamic and ergonomic."
The new and improved Highlander, equipped with standard four-wheel drive and an optional all-wheel drive, features third-row seating and abundant cargo storage space. But where this entry really shines is in its four Hybrid Drive Modes.
In addition to the conventional Sport and Eco modes you'll find in most modern vehicles, the Highlander adds its EV and Trail Modes. EV Mode allows for an all-electric drive utilizing power saved by regenerative braking and can be engaged while traveling short distances at lower speeds. If you're vacationing in higher altitudes, Trail Mode enhances all-wheel drive by boosting traction.
"Toyota has been in the hybrid business for a long time," Gates said. "They've been making the Highlander hybrid for 15 years. People worry about reliability or the cost of replacing the battery, but the technology has been out for so long, Toyota knows what they're doing."
In fact, Gates said, with all the hybrids Toyota has been manufacturing since 2000, he's never seen a hybrid battery out of a vehicle. And, if you're truly concerned, the hybrid powertrain has a 96-month, 100,000-mile warranty. The battery itself is backed by a 10-year, 150,000-mile warranty.
Potential buyers can customize their Highlander by choosing from among six different trim levels. At its most simplistic, the Highlander L goes for about $38,735. Climbing the rungs, you'll upgrade to various features, including wireless smartphone charging, heated seats, rain-sensing windshield wipers and a digital rear-view mirror.
The fully tricked-out, souped-up Highlander Platinum starts at $48,690. A fair price, Gates said, considering that between its deluxe accommodations and electric and gas hybrid engines, you're getting an "unparalleled range."
"Toyota just put out a press release saying that, by 2030, 70 percent of the vehicles they manufacture will either be all-battery or electric hybrid vehicles," Gates said. "You look at models like the Toyota Sienna van, and it's only available as a hybrid now. There's no question that the future is electric, and we're already on our way."