Where Are They Now? Andy Herrmann
This young innovator is engineering his future at UWF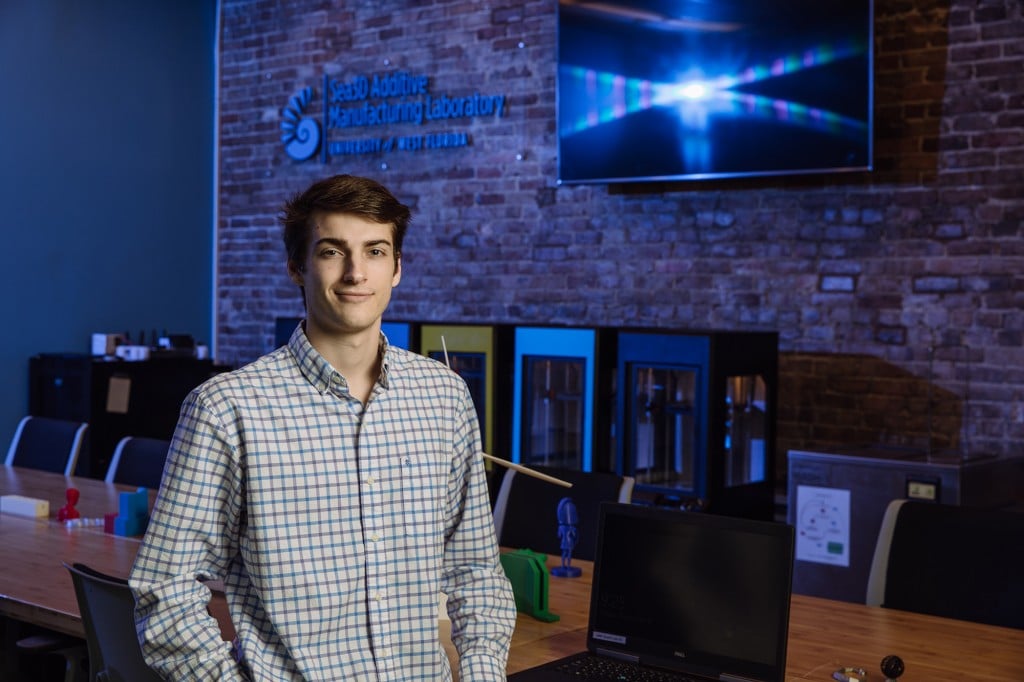 A glass artist-turned entrepreneur, a senior entrepreneur-turned rock guitarist, a charming but controversial developer, a middle school inventor, a 10-year-old globetrotting philanthropist, and a STEM education advocate tapped by the president of the United States.
For two decades, Emerald Coast Magazine has filled its pages with interesting stories about compelling people making a difference in words and deeds — or sometimes causing a stir.
We hope these stories inform and even entertain; if we are lucky, they inspire.
As part of our anniversary celebration, we reflect on the many people who have graciously shared their stories with us.
After all these years, we still often wonder … what happened to him? What became of her?
Here, we catch up with one of six remarkable locals who have appeared in past editions of Emerald Coast Magazine to answer the question: Where are they now?
For the select few who, during childhood, are lucky enough to experience an event so momentous that it sparks passion and predetermines his or her's calling, time is on their side.
Destin native Andy Herrmann is one of them. In 2010, a family beach day churned waves of innovation in a then 11-year-old Herrmann's mind, giving rise to the invention of the Shore Surfer.
Now rebranded the Kid Slider, a decision, Herrmann said, to boost its appeal in the national market, the sled-type toy is equipped with handles and knee pads to allow children to safely glide across the shore, snow or any other smooth, sloped surface.
It's a quick ticket to fun — especially for those on the coast too young (or uncoordinated) to master the art of skim boarding.
Two years ago, the Kid Slider entered a licensing deal with a California-based company, and the Herrmanns now receive royalties for the invention. It's a direction, according to him, that the family wanted to go all along.
"We took it as far as we thought we could," Herrmann says. "And the new company has found a way to take it further, so that it's still being sold today."
But it wasn't so much as early exposure into the business world that tailored Herrmann into the senior at the University of West Florida (UWF) that he is today.
Once he got a taste of what it was like to see a product from conception to completion, Herrmann knew he wanted to be a mechanical engineer.
"I can still remember coming home from the beach that day and sketching the design of what I wanted the Kid Slider to look like," Herrmann laughs. "And design and manufacturing is exactly what I see for myself — ideally, in the airline industry."
Presently, Herrmann works at the Sea3D Laboratory of the UWF Innovation Institute, an additive manufacturing lab in downtown Pensacola.
"Basically, people come in and pitch us their ideas, and we do the prototyping," Herrmann explains.
"Using our software and different 3D printers and plastics, we can create for them a physical model of their designs."
He describes his niche as a wonderful "stepping stone" to what will hopefully lead to aviation internships and a career.
Attending college in a city considered the home of naval aviation is the perfect fit for Herrmann now, but eventually, he intends to spread his wings.
"I can see myself going anywhere there's a big aviation presence, anywhere the job takes me," Herrmann says.
"Right now, I'm happy to be working for people who have genuine ideas. The combination of school and real work experience is helping me get there."