High-Quality Comfort Food
Vin'tij offers an enlightened menu and boutique wine program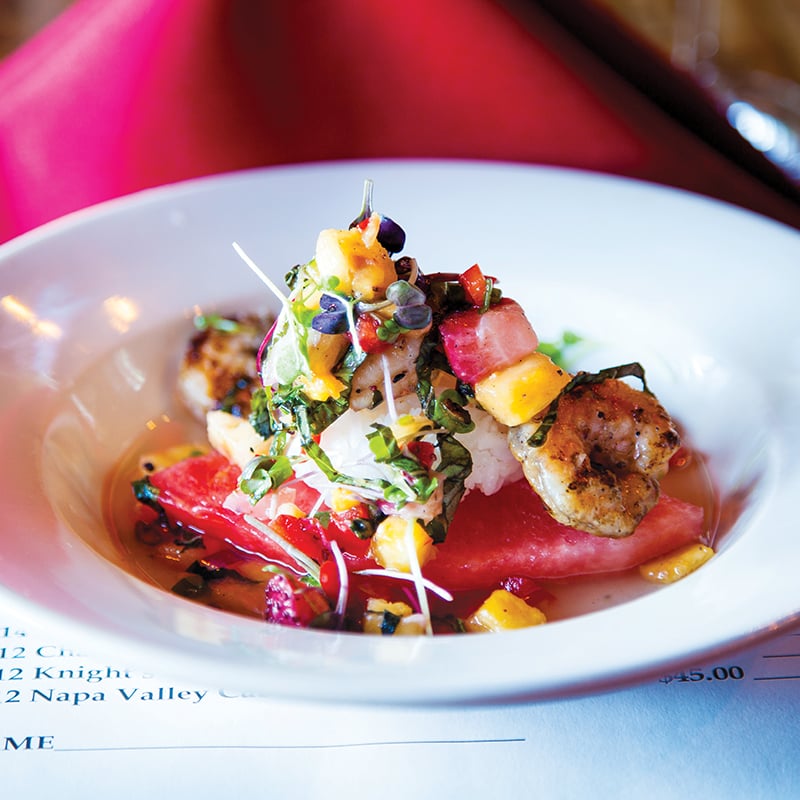 Whether you travel to the Emerald Coast on a regular basis, own a vacation home nearby or are a first-time visitor to our sugar white beaches, you are probably looking for the best dining choices you can find and the freshest Gulf seafood available.
Nestled away in a strip mall on Highway 98 across from Silver Sands Outlet Mall in Miramar Beach, Vin'tij is a rare gem. Co-owner and executive chef John Jacob is well known in the area for his high-end cuisine created with a laid-back approach, and since opening its doors in 1998, Vin'tij has been selected for numerous food and wine awards, winning a spot on Florida Trend's Golden Spoon list since 1999. Most recently, Jacob and his partner in Vin'tij, Todd Reber, aka the Wine Guru, appeared on season 10 of Emeril's Florida.
The eclectic bistro has a dedicated area with a progressive wine program that is managed by Reber, who offers curated wine flights and pairings with the menu daily Thursday night wine tastings and special monthly dinners with wine makers. Patrons have the opportunity to peruse the boutique wine library and select a bottle to enjoy with their meal for a small corkage fee, or have one hand-picked for them by the experienced sommeliers on staff.
Jacob builds his menu around seasonal ingredients, the freshest catch of the day, as well as customer favorites like the coveted Oyster BLT, that is so popular it has been a signature item on the lunch menu for more than a decade. The decadent sandwich features plump, pan-fried oysters, Applewood smoked bacon, wild greens, tomatoes and Brie cheese on house-baked bread. 
Chef Jacob prides himself on searching for the highest quality ingredients and uses local fisherman at Harbor Docks in Destin for his seafood. He also has a personal friendship with the owners of Dragonfly Fields, a farm in DeFuniak Springs that provides produce, and adds that he is first in line to buy anything local, saying, "I cook unpretentious comfort food paying attention to detail, and what is on my menu is what I love!"
This artsy hot spot had me at hello in 1999, and I can vouch for the creative menu preparations, especially the starter of Griddled Sea Scallops served with field pea relish and red-hot lemon butter, while pork lovers will rejoice over Bad Byron's Butt Rub® Tenderloin, served with with basmati rice, coconut curry and berry salsa. While savoring the last bite of the daily made Flourless Chocolate Torte, you definitely will be making plans to return before your departure.
---
Roasted Salmon
Chef John Jacob, Vin'tij, Miramar Beach
Ingredients
Fresh wild Alaskan salmon fillet

with skin removed

Bad Byron's Butt Rub® Seasoning

Molasses

Crushed garlic cloves

Balsamic vinegar
Preparation
Apply a liberal coating of Butt Rub® on both sides of the fish. Let it sit while you prepare the glaze.
Molasses Glaze
In a saucepan combine molasses, a couple of cloves of crushed garlic and balsamic vinegar to taste. Be careful not to overpower with the vinegar.  Also if you have a strong molasses, you can add a small amount of good (grade B) maple syrup. Let this mixture simmer for a few minutes. 
Cook
In a 450–475° oven, roast the salmon fillet on a sheet pan with the molasses mixture on top for about 10–15 minutes. Serve with your favorite vegetable, or cool and serve on top of a salad.