Here's to a Skinny Night Out
Have a happy hour with resolutions safe and sound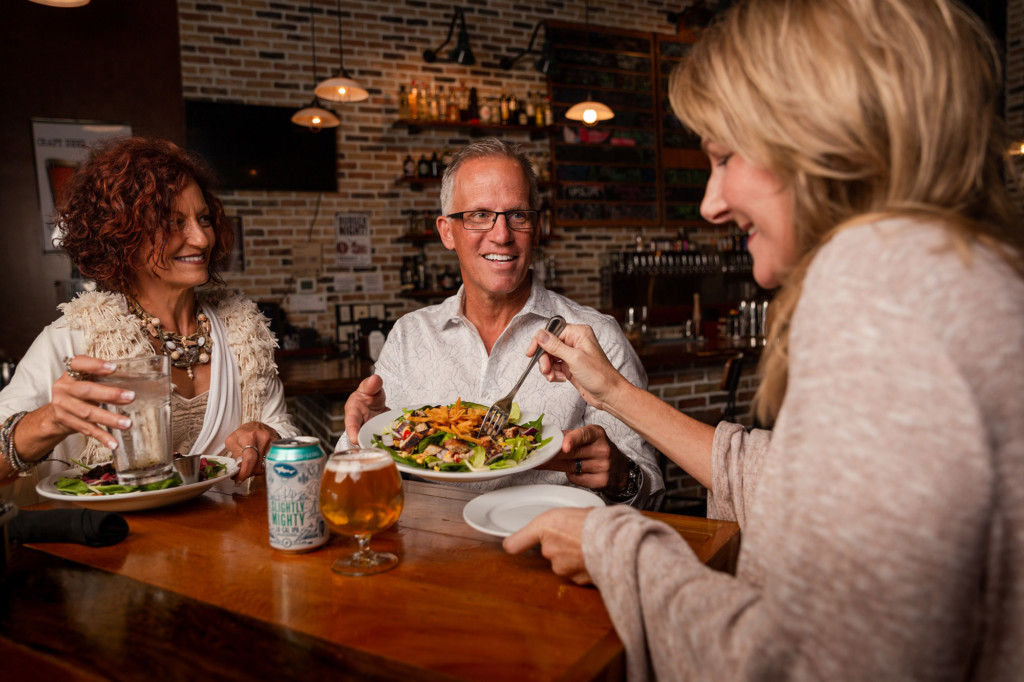 It's a couple of weeks after New Year's and you've been maintaining your healthy habits. You've been to the gym or walked around the block after dinner with resolve. Careful eating at home? No problem. Support from family and friends? Check.
But then … the first invitation hits your phone. "Come to a bottomless mimosa brunch with the girls," or, "Let's have a boys night at the pub and catch the game!"
Fortunately, sticking to healthier eating and drinking habits does not relegate you to an antisocial existence. Time can be spent away from home with friends or that special someone while preserving goals for a healthier you.
If you might be tempted with delicious apps and entrees, one way to hold onto a weight plan is to replace a meal with a fortified smoothie or shake. According to Theresa Smith, owner of Axis Nutrition Center in Fort Walton Beach, specialty shakes are designed to "offer better nutrition for people looking to gain weight, lose weight or discover healthy diet alternatives."
Axis Nutrition Center offers more than 30 flavors of smoothies, including fan favorites Nutter Butter, Snickers and Banana Nut Bread, that consist of three crucial elements: tea, aloe and shake. "Aloe is good for your digestive system and helps with acid reflux and gird," says Smith. "The tea is thermogenic and helps burn calories, while the shake consists of your actual meal portion of protein."
But if you are planning on dining out, there are a few tricks Brittany Stiles, a fit, 34-year-old who sees clients at Workout Anytime Niceville gym and is a personal trainer at Brittany Style Fitness, shares with her clients: Always drink water before your meal, tell the wait staff not to bring the free bread or chips to the table and select a healthy entrée, such as a salad.
"The pitfall is usually the fatty dressing that comes with the salad," said Stiles. "You may be adding hundreds of calories with that alone, so I ask them to bring me oil and vinegar."
Laurel Blackerby, Nutrition Educator & Weight Loss Coach at Dr. Bawa & Associates, agrees.
"Salads can be very misleading," she said. "With salads, choose a base of colorful vegetables. This will provide antioxidants and fiber to keep you fuller."
Blackerby also advises you choose grilled options over fried toppings for your salad. Be mindful of extra fixings: cheese, bacon and avocado are all fats (even though they are healthy fats) and can add an additional 650 calories to your salad if you get all three.
If you're ordering outside of the salad bar, Blackerby stresses you adhere to the plate method. "Half your plate should be vegetables, then a quarter protein and a quarter carbohydrate," she says. "Opt for a lean protein and vegetables. Carbohydrates should be the smaller portion of the plate and not the main attraction. Carbohydrates in restaurants are typically hidden with added fats, so be sure to limit portions and chose one over the other: If you have the baked potato with sour cream, then skip the bread and butter."
When the entree arrives, she said, immediately ask for a to-go box so you may plan what to take home and not just dump in what is left over. Peruse the menu before you go so you stick to your plan, and don't let any carb-loaded specials tempt you.
And, one should avoid fasting all day in order to "save room" for more calories. "Your body will struggle with satiety and have the tendency to overeat past the point of being full," Blackerby says.
Then comes the inevitable. Your friends want to order a round of drinks, so will it really be all that bad if you just have one?
If on a low-carb or keto diet, said Blackerby, then yes.
"When in ketosis, our liver is in a state of glucogenesis, to make glucose for us," she explains.
"If we consume alcohol, even low-carb alcohol, then the liver is going to have to choose between making us energy or detoxing alcohol from our bodies. The result can be dangerous, resulting in hypoglycemia that may make you dizzy or even black out. Those around you make think that you're just intoxicated not even realizing that you blood sugar has dropped."
Like soda and other sugary drinks, alcohol packs empty calories.
Choose soda water with lime or for favorites like mojitos or martinis, and ask the bartender to go light on sweeteners. Increasingly, bars offer cocktails made with agave nectar instead of simple syrup.
"Low carb beer and champagne have the fewest calories, actually," says Blackerby. "After that, clear liquors (vodka, white rum or tequila) with sugar-free mixers such as club soda would be the most waist-friendly."
And, there's never any shame in ordering a "mocktail."
"You can have just as much fun, if not more so, with a virgin drink because alcohol is a depressant," says Dr. Bawa, a board certified internal medicine physician. "Have a cranberry spritzer with a lemon twist … and have more fun."
Note: Martha J. LaGuardia Kotite and Shannon Colavecchio contributed to this story.