Getting Personal With 3 Local Chefs
We grill — well, not so much grill — we pepper chefs with a few questions about what makes them cook.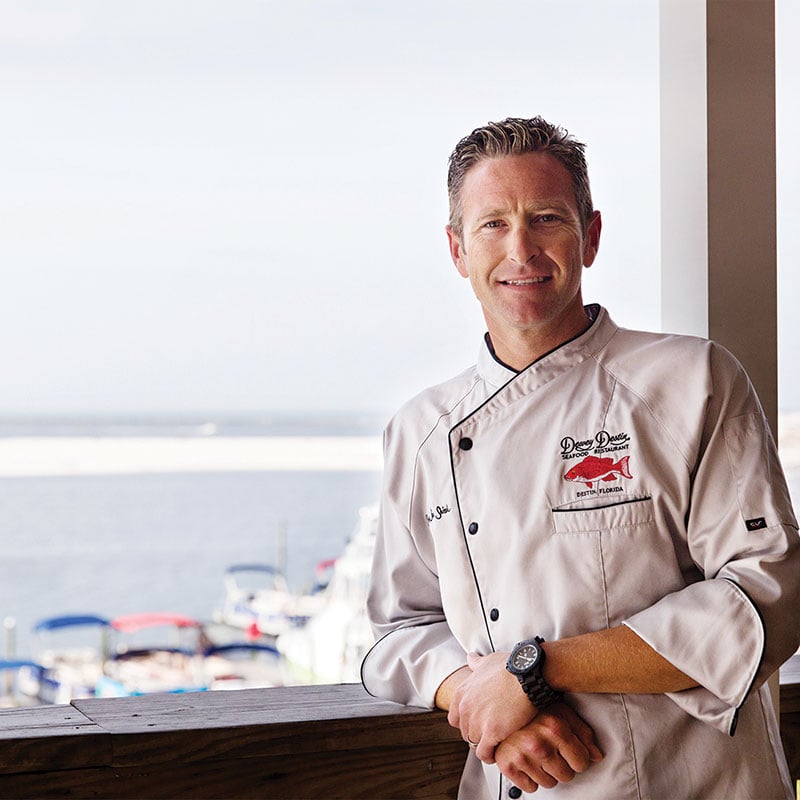 Man's relationship with food is ever evolving. We are born knowing instinctively what we need, grow to discover what we like and over time may increasingly become concerned about what foods like us. But never do we outgrow a taste for special occasions with food at their centers. It's how we treat ourselves.
The perfect dining experience involves multiple components: ambience, service, company, conversation and libations, but those ingredients are merely instruments. Chefs, artists whose medium happens to be edible, are the conductors. They are managers, too, who must keep the cooks in the kitchen attuned to concerns including preparation, presentation and promptness. And they are chemists who experiment with various combinations of textures, flavors and temperatures to see what results. When they are satisfied, we are more than satisfied.
Here, we present profiles of three Emerald Coast chefs of note, men whose culinary favorites range from seared scallops to deep-fried Brussels (not mussels) and Pasta Carbonara, whose very name conjures heavy cream and Parmesan and eggs. We explore, albeit briefly, their inspirations, motivations and goals in an effort to account for their passion and their dedication to their craft. The exercise is a lot like trying to reduce a favorite dish to a recipe card and necessarily is incomplete. 
Our featured chefs are trailblazers, finally, people who lead us to experiences and gustatory delights that we never would arrive at on our own. Take yourselves out to dinner, gentlemen. You deserve it.
---
Tommy Lemasters 
Chef de Cuisine, Brotula's Seafood House & Steamer
How would you describe your cuisine? Fresh Gulf seafood with a Southern-style twist. For example, the shrimp and grits. Our Southern twist is fresh Cajun shrimp with chicken stock, gouda cheese grits and herb buerre blanc. 
What is your favorite dish and why? Believe it or not, the Brussels sprouts. They showcase a different level of flavor. We deep fry fresh Brussels then toss them in balsamic butter, salt and pepper and finish them with parmesan cheese. The layers of flavor paired with the crunch is what sets it apart.
How do you measure your success? Success is measured by the guest's experience — smiling and returning guests are the result of hard work, dedication and a true sign of achievement! A unique experience that always brings a smile to the customer's face is the true Gulf-to-table "hook and cook" program we offer. Our most satisfied guests are the ones who bring in a fish they caught in the Gulf that day and allow my team and I to put our own creativity to their trophy catch.
What made you want to pursue this career?  My pursuit of a career as a chef was driven by my passion for food, knowledge and the ability to get creative with every dish. Brotula's has given me the opportunity to get my hands on a variety of fresh products.
What is your philosophy? My philosophy is simple: learn and teach. Each day I to try to learn one more flavor profile and try my hardest to teach my crew the passion for serving the guest the best possible meal.
What is the most important item in the kitchen? The single most important item in any kitchen are the people — they are the driving force behind the finished product.
What inspires/influences your cuisine?  The inspiration and influences in the menu derive from a true Gulf-to-table experience. Having the freshest food possible is key for any chef. I'm truly blessed to be a part of owners, Chris and Tyler's vision — to create friendly casual and exciting dining experiences while incorporating fresh and sustainable ingredients into the culture, art and diversity of the cuisine.
Chef Jim Shirah 
Executive Chef, Dewey Destin 
How would you describe the cuisine?  The best way to describe the cuisine here at Dewey's on the Harbor is a simple Southern coastal cuisine.
What is your favorite dish and why? I have multiple favorites: crab claws, seared scallops and fresh Gulf fish fried in corn meal with cheese grits. They are never a disappointment.
What is your philosophy? The word "can't" is not in my vocabulary — if there's a will there's a way. And, always treat others the way you would like
to be treated.
What is the most important item in the kitchen?  There is more than one important thing in the kitchen. For instance, fresh quality food and teamwork! If you don't have these, you may as well start from scratch. 
How do you measure your success?  I measure my success by customer satisfaction. We have regular and return customers that have been coming to Dewey's for years. Our
staff has grown, and we get busier every year. I like that I am able to educate people and our youth. 
What inspires/influences your cuisine? My cuisine is inspired by my heritage and training. Having grown up on the Gulf Coast, I learned to cook many traditional Florida seafood dishes. In culinary school, I spent time in France, which gave me exposure to European cuisine and sauces. The seasons also influence my ideas. I love traditional dishes that I can put a spin on. Sometimes, even colors inspire me. I go through different phases of inspiration, which have proven to be beneficial.
​Mimmo La Innusa
Owner, Mimmo's Ristorante Italiano
How would you describe your cuisine? I would say traditional authentic Italian cuisine. We use the best and freshest ingredients. All sauces, breads, dressings, desserts, brick oven pizzas and so much more are homemade. We try to bring a little taste of Italy to every dish.
What is your favorite dish and why? Pasta Carbonara because I love the flavor of the smoked pancetta and the richness of the cream sauce. However, a close second, is the lasagna. The Bolognese sauce reminds me of Sundays at my grandparents house cooking and enjoying time with the whole family.
How do you measure your success? By being considered a local favorite. I love looking around and seeing a full restaurant of familiar faces and watching everyone have a great time.
What made you want to pursue this career? Looking back, I would say I was about ten years old. Growing up in Sicily with a huge Italian family, we spent a lot of time in the kitchen. I loved watching my grandparents, aunts and uncles creating the best meals for our family and friends. I saw how food really brings everyone together. So, I decided to watch and learn. I knew then I wanted to explore an opportunity in the culinary world.
What is your philosophy? With hard work and perseverance, you can make your dreams a reality. Stay humble and be grateful for your blessings.
What is the most important item in the kitchen? My team. They make everything come together and run smoothly. Without them, we would not be where we are today.
What inspires/influences your cuisine? My family, heritage and most of all my grandmother. She taught me that the simplest ingredients can make the best meals.