Newly Formed Fort Walton Beach Cultural Arts League Seeks to Vanquish the City's Imperfections
10-Member Advisory Board Takes on Four Community Art Projects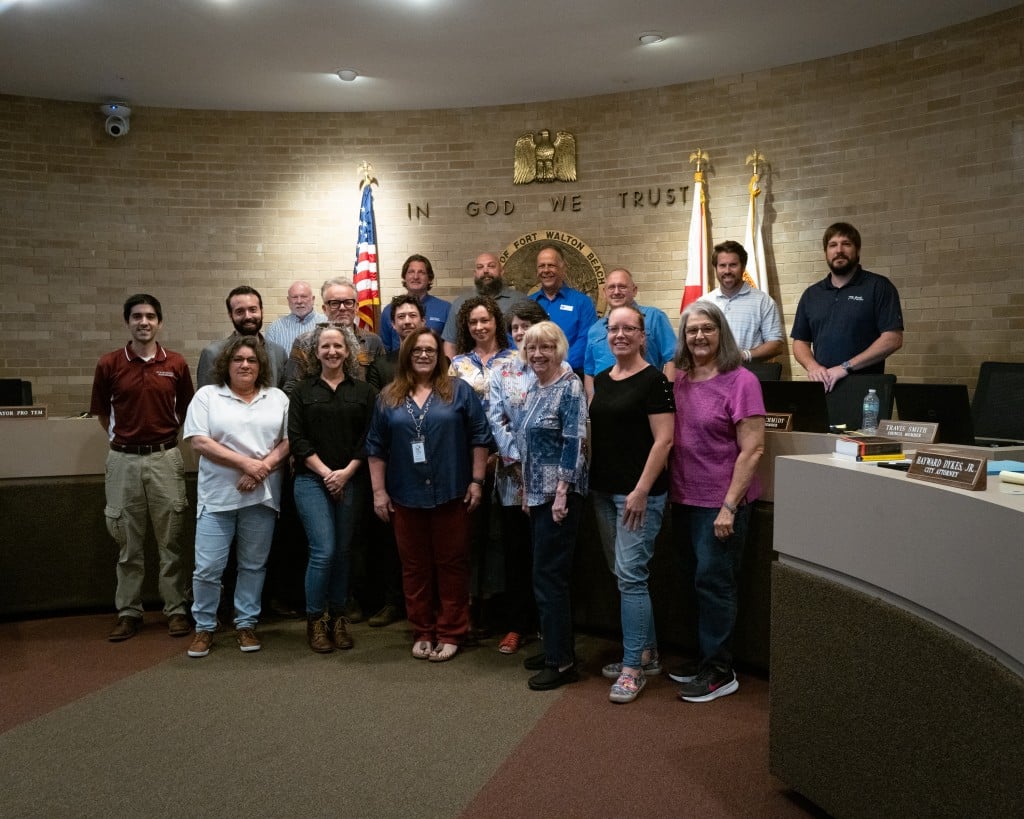 They may not have capes, but Fort Walton Beach has a band of new heroes. In an animated presentation to the Fort Walton Beach City Council on Tuesday, Community Redevelopment Agency (CRA) administrator Alisa Burleson introduced the newly minted members of the Fort Walton Beach Cultural Arts League.
The 10-member Advisory Board, led by Burleson, is on a mission to "highlight the various talents and abilities of the Fort Walton Beach community and encourage artistic growth, education and expression."
At present, the creative clutch includes Sean Murphy, Murphy Photography (Art), Mercedes Feris, Latin Flair Events (Culture), Maxine Orange, Maxine Orange Art Studio (Design), Bobby Parker, VP of Marketing for Corcoran Reverie (Drama & Literature), Cole Huffer, Enlightened Studios (Music), Arts & Design Society Board, (Art Society), Nikki Via, Artesano Boutique (Business), Jared Williams, Get the Coast (Communications), Sally Reagan, retired teacher (Education). Culinary is not yet filled.
The first order of business when the Fort Walton Beach Cultural Arts League first met in December was to name the group, design a logo image (artist Maxine Orange took up this task), set up social media channels, and identify achievable projects that align with the League's overarching goal.
Essentially, to "support individuals and organizations" that will drive cultural tourism in the city.
To sell the strategic vision to the Council, Burleson laid out some historical context dating back to the Works Progress Administration during the Great Depression which "acknowledged the role of art in civic welfare." She spouted research saying "studies conducted by the National Governors Association Center for Best Practices show direct economic benefits to states and communities are that they (the cultural arts) create jobs, attract visitors who generate revenue and stimulate tourism."
Heads turned when Burleson shared visuals of vibrant murals and public artworks located in other Florida regions such as St. Pete/Clearwater that have benefitted from fostering the cultural arts.
And if that wasn't going to win them over, this 7-month-old administrator went for the icing on the cake — literally. After showing a slide of a plain single layer cake and then a colorfully decorated cake tower she said, "Not only is it still very tasty and compelling, but now, it is pleasing to the eye, much sweeter, more desirable and it tells the story. The imperfections and rough edges are no longer visible."
The Cultural Arts League is taking on four projects: beautifying buildings with murals in concert with local business owners; upcycling trash cans on Brooks Street in collaboration with local high school art students; revitalizing ocean-themed paint to storm drains on Highway 98; and raising awareness of the Florida Trail exhibit, among others.
The League is not flush with funds, but City Manager Michael Beedie said they would "get a line item during the budget process next year." In the meantime, Burleson said they are developing a sponsorship package in the hope that businesses and individuals will sponsor League-endorsed projects in exchange for exposure.
City Council members gave Burleson and the League members in the audience a round of applause at the conclusion of her 30-minute presentation. After a few questions, several members expressed their support. Chair Nic Allegretto was the first saying, "Congratulations. This is exactly the type of thing that this board envisioned when we sat in this room in 2020 and all through 2021. To have finally found you, thank goodness, because this is the exact type of community involvement and outreach we thought the position could provide if the right person were in it. And, so far so good."
In the audience was Jennifer Dennis, president of ADSO and member of the League. What is her hope for the League? "Getting out in the community and being involved in these things is just going to advance the arts in our town in general," she said.
What does this art advocate envision? "I travel quite a bit and I look for art districts wherever I go. So, I would like people who come here looking for those same things to be able to find them," she said.
A projected slide foretold the vision for this inaugural endeavor. It read: " to unify the artistic community and encourage creative expression by fostering appreciation and education for the citizens of Fort Walton Beach." Clearly, with this League of creatives enlisted, the city of Fort Walton Beach is on its way to enjoying dare we say — beautiful poetic justice.
The Fort Walton Cultural Arts League meets at 3:30 p.m. on the third Thursday of each month. The next meeting is on March 17 at ADSO, 17 First Street SE. Those interested in learning more are invited to attend.